What If Our Weakness Is Our Biggest Strength?: Natalie Grant & Mary Marantz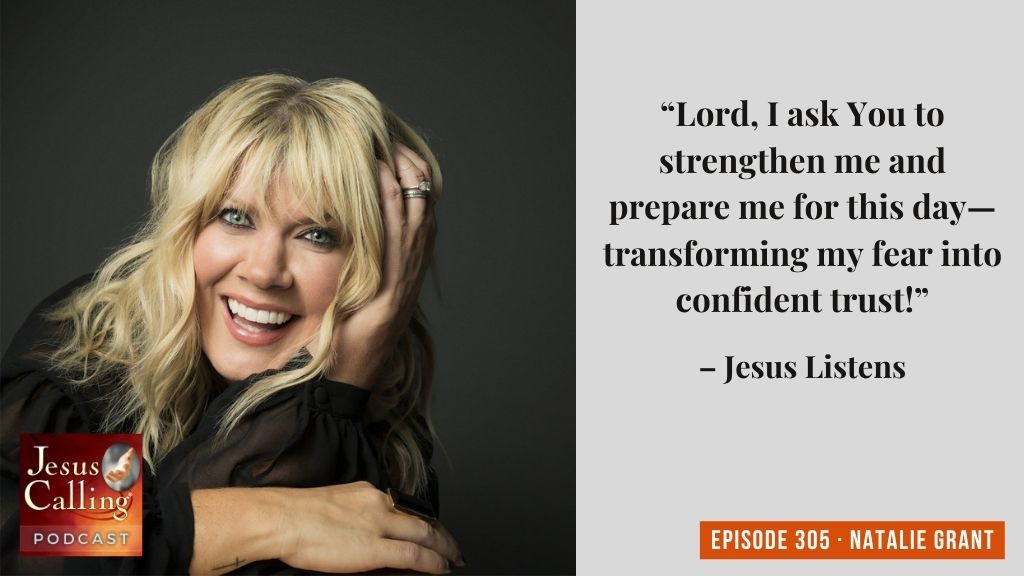 Natalie Grant: I couldn't shake the feeling that God just was saying, "Hey, it's never the easy road, but I'm calling you to live a life of faith and to step out of your comfort zone and to dare to take Me at my Word."

What If Our Weakness Is Our Biggest Strength?: Natalie Grant & Mary Marantz – Episode #305
Narrator: Welcome to the Jesus Calling Podcast. Maybe you've discovered yourself so aware of your apparent weaknesses that you couldn't imagine how your weaknesses could be strengths. Throw in things like financial difficulties, an unexpected diagnosis, or loss of someone close to you, and it's easy to think that life is nothing more than different shades of failure. Moments like these invite us to hear Jesus' words to Paul in 2 Corinthians 12:9: "My grace is sufficient for you, for my power is made perfect in weakness."
Our guests this week know weakness in its various forms. Natalie Grant faced big hurdles to becoming a successful, award-winning Christian musician only to find herself battling thyroid cancer in her forties. Would cancer take away her ability to sing—and if it did, was that really what defined her? Author and speaker Mary Marantz is grateful for what her childhood in rural West Virginia taught her, and carried on the ethic passed on to her from the hard-working logging community where her father made ends meet. In writing her story, Mary hopes that others will find themselves in some of the struggles she had, and that they may also find their weakness might be their biggest strength.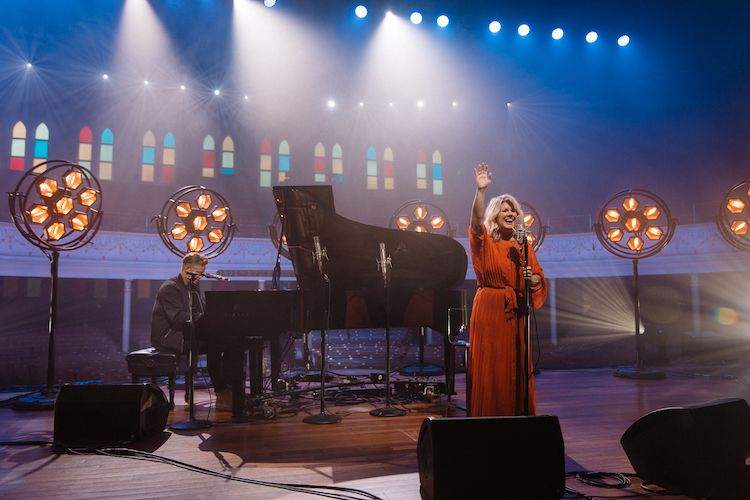 First up, we'll hear from Natalie Grant.
Natalie: Hi, friends, I'm Natalie Grant. I am a songwriter and a recording artist. I'm also an author and have a nonprofit organization that fights human trafficking. But when I think about who I am, I guess most is just daughter of the King and wife of almost twenty-two years and a mom to three daughters.

Growing Up in Seattle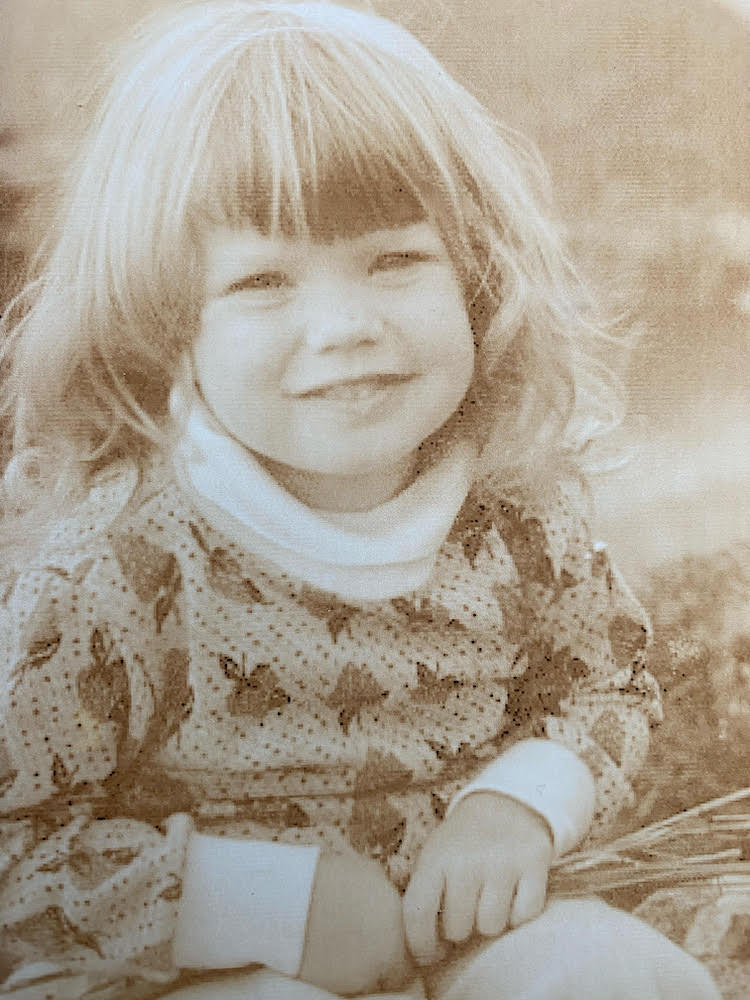 I was born and raised in a Christian family. I was raised in the church. My grandfather was a pastor and in ministry for over fifty-five years. He was a church planter. And so from the time I was a little girl, they had kids' choirs and youth choirs and places for me to learn and grow a gift that I began to understand I had. I've always loved music. My family was musical. All of my siblings sing. We would sing together growing up, but I didn't dream of becoming a professional singer.

God-Opened Doors
I actually wanted to be a school teacher, and I went to a Christian university in Seattle and studied elementary education, and planned on becoming a first-grade teacher. I knew I'd always be involved in the church, involved in music in the church because I'm such a local church girl. I loved serving and doing music in the church.
But about my third year of university, there was a singing group that had been around for years called Truth, and they had been the breeding ground for some incredible Christian artists: 4Him, Avalon, and a bunch of names back in the day. They came to my home church and did a concert, and I auditioned and thought, I'll take a year or so off from college. I'll go do that for a year, and then I come back and I'll finish. It's the very thing that God used to just change the trajectory of my life because I realized as I was traveling and doing ministry with them, that's what God was preparing me to do on my own.
So, of course, I said yes to traveling with this group when they came through my home church in Seattle. But the way that I got to a full-time music career is definitely not something that happened overnight.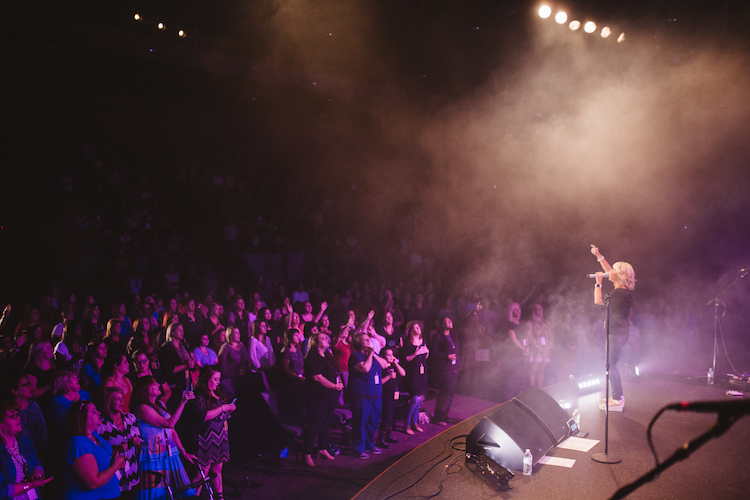 As I traveled with this group, I began to feel like, Wait, this isn't just a gift of singing that I have. I think I have a gift for communicating. I began to notice when I would sing, there was something that happened in the atmosphere, and I could tell it was deeper than just a song and a voice. And so that's one of the reasons that I chose to go into full-time Christian music instead of pursuing a mainstream or pop music career.
I made the decision to move to Nashville, and again, another small step of obedience that was like a risk. Right? I'm moving to a town where I don't know anybody. I don't have a record deal. I don't have a promise of anything. I'm just taking a step of faith.
I moved here with literally $200 in my pocket. A family that had already come through the group that I was traveling with said, "Hey, we'll let you live with us for a while." I remember I got a temporary job at Medicare and had nothing to do with music. I was working that job, and then I got a job working at a church and I was doing these jobs. I didn't have a record deal. I didn't have all of those things that I dreamed was going to happen when I moved here. But I stepped out in faith, and I ended up making a relationship with somebody from meeting someone and getting the opportunity to sing for an executive from a record company.
And of course, they wanted me to do a full concert for them so they could tell whether or not I could actually sing. They were like, "Hey, we need to see what you actually do." And I didn't know anyone, so I didn't know any musicians. I don't play an instrument. I sing, that is my instrument.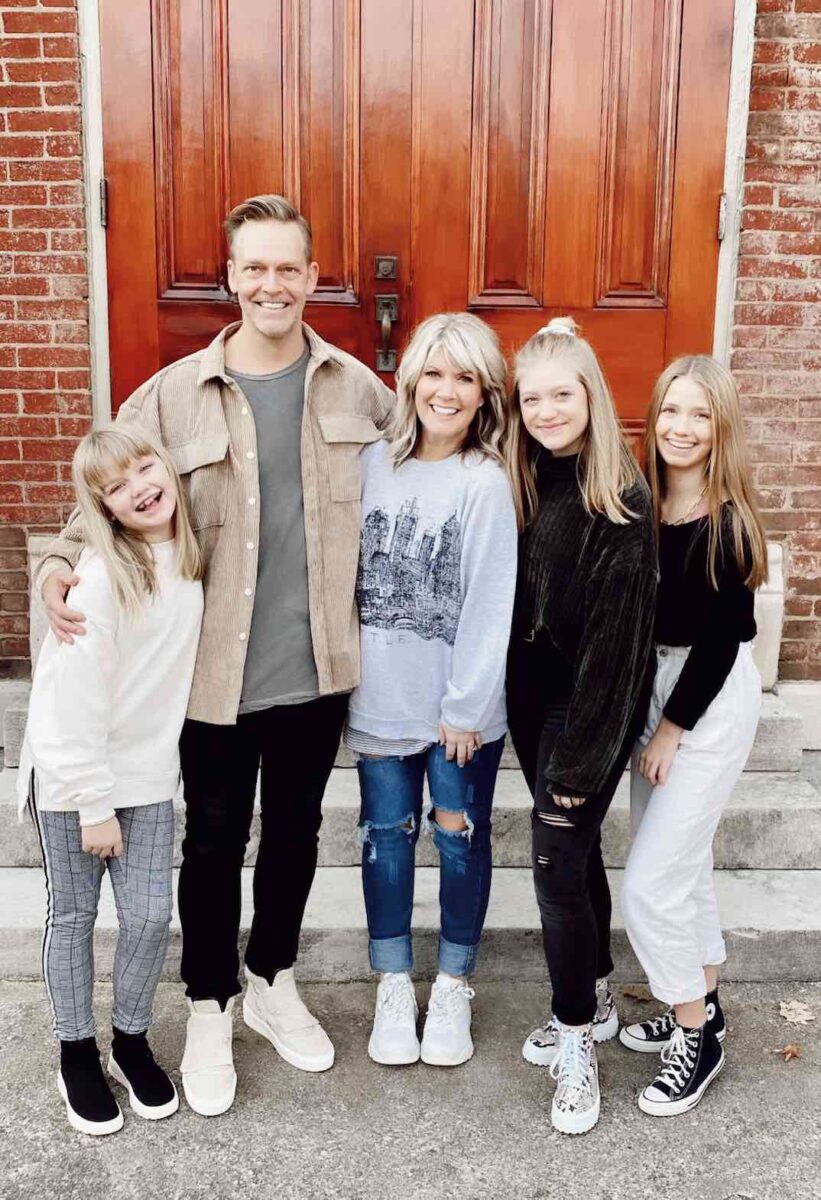 And so somebody from the record company recommended a piano player, and his name was Bernie Herms. I ended up hiring him to play music, to play the piano for me for that first concert. And that didn't just end up being that he would be my piano player, he ended up becoming my husband. And so that was such an incredible moment of meeting somebody that was going to actually do more than just give me a career. It's now almost twenty-two years of marriage and writing and producing and creating music together. But the greatest joy is that we've been able to build a family together.
When I look back, even as a child, and see those things and those moments that have led me to where I am right now, I think people always look at the big decisions, the big moments, the big life-changing, life-altering things. When in actuality, I think that God is consistently calling us to small steps of obedience. And when we choose to say yes in the small, it's often when people begin to trust us with the big.
"I think that God is consistently calling us to small steps of obedience. And when we choose to say yes in the small, it's often when people begin to trust us with the big." – Natalie Grant

Saying Yes Before Getting All the Details
In 2017, I was diagnosed with thyroid cancer. And when I was first diagnosed with cancer, I remember the doctor saying something to the effect of, "If you've got to get cancer, this is the kind to get. No one wants to get cancer, but you're going to survive this. You're going to be okay." But the part that I wasn't prepared for was them saying, "Listen, we're going to go in and we're going to get cancer out. But the cancerous tumor that is in your thyroid is laying on your vocal nerve. So it's very likely that you're never going to sing again. And if you sing again, you're not going to sing the same. You're not going to have the same vocal range. You're not going to have the same vocal strength."
And I just remember sitting there listening to this, and I don't know if anyone listening has had this experience where you get news that's so hard to digest that it's almost as if all you hear is white noise. You can't even really process what they're saying to you at that point. I had a real crisis in that moment of realizing, Okay, I know I'm going to survive this cancer, but who am I going to be if the singing is gone?
"I know I'm going to survive this cancer, but who am I going to be if the singing is gone?" – Natalie Grant
By the grace of God, I'd won awards and been Female Vocalist of the Year and these things don't define me. They don't define me. They're a gift. We often can say the things that we're supposed to say, but we know underneath it all if that's the truth of what resides in our heart. And I think that I would be lying if I didn't confess that, of course, myself got in the way oftentimes, that some days I did a better job of others at denying myself, taking up my cross, and following Him, especially in the creative world where your face, your name is the thing that's constantly put out.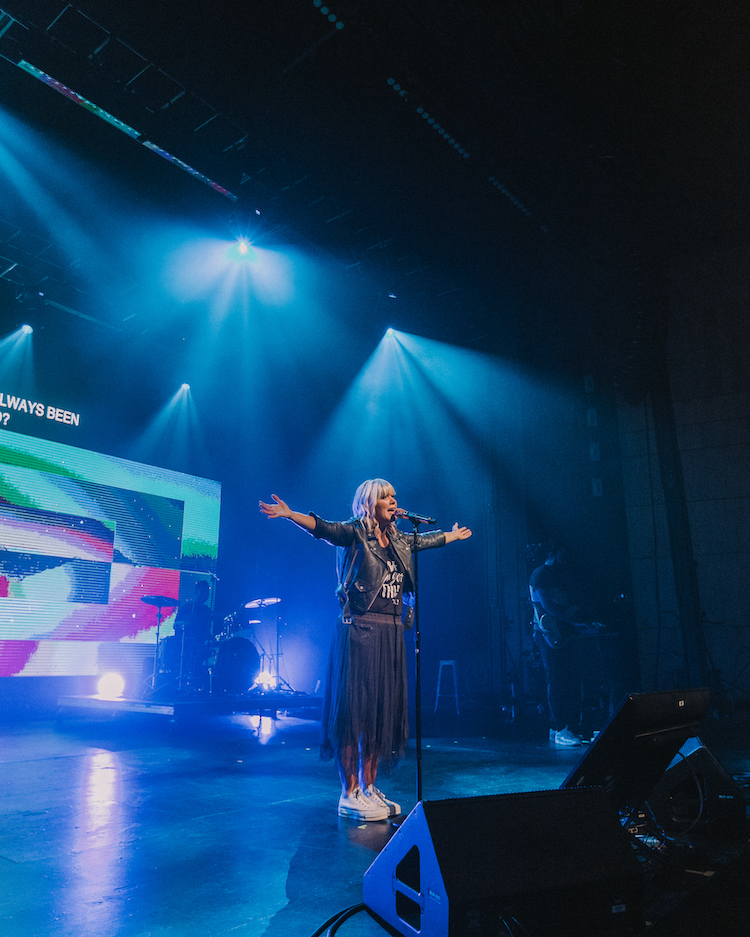 I had often said, "Singing is not who I am, it's just what I do," until I was faced with the reality that I may never sing again. And I had to come to terms with the fact that I was lying. I was like, "Singing is totally who I am. That's who I am and I don't know who I'm going to be without it."
And you know, obviously, the end of that story is that I can still sing. In fact, my voice came back stronger than it ever has been. And a lot of people will say, "What a miracle." And I do know that is a miracle, but I have to honestly tell you that I actually view that more of just a gift—a gift from God, a blessing from God that He didn't have to do. But what I feel was the greatest miracle that came through that season was that I came to a place in my own heart and in my faith before I ever knew what my outcome, what the answer was going to be, before I ever knew how it was going to turn out, I could say, honestly, "My outcome does not determine His goodness." That He is still good, that He is still faithful, that He is still true, that He is still worthy, that He is still loving.
"My outcome does not determine His goodness." – Natalie Grant
When I begin to go, Okay, I actually trust God, I take Him at His word. I can't see it right now that this is working for my good, but I know that He's promised, that He's working all things together for my good. I know that He's promised that for me. And so I don't see it now, but I know by faith that it's coming, and I'm going to see it eventually and so I can continue to walk through what I feel is an open door. I can continue to do what it is that God has put in me to do, knowing that He is going before me. And I think that that is an I dare you moment, of stepping out of your comfort zone and beginning to look at what His word says. What His revealed will is, make sure that we're pursuing that with all of our heart and then those other desires that we have to step out and do these things that we feel that God's put in us, we can take that risk. We can dare to step out in faith knowing that He's already ahead of us and where we're going.
Throughout this time that we've been able to spend together, I've talked about taking those small steps of obedience, those small steps of making a decision that when you feel a God nudge, you just say yes, even when you don't see where it's leading, even when you don't really know where it's going to end up. But you understand that the still, small voice inside is leading you to say yes. And oftentimes in my own life of faith, my experience is that God asks for the yes before He gives the details.
"Oftentimes in my own life of faith, my experience is that God asks for the yes before He gives the details." – Natalie Grant

The Neverending, Unfailing, Unchanging Love of God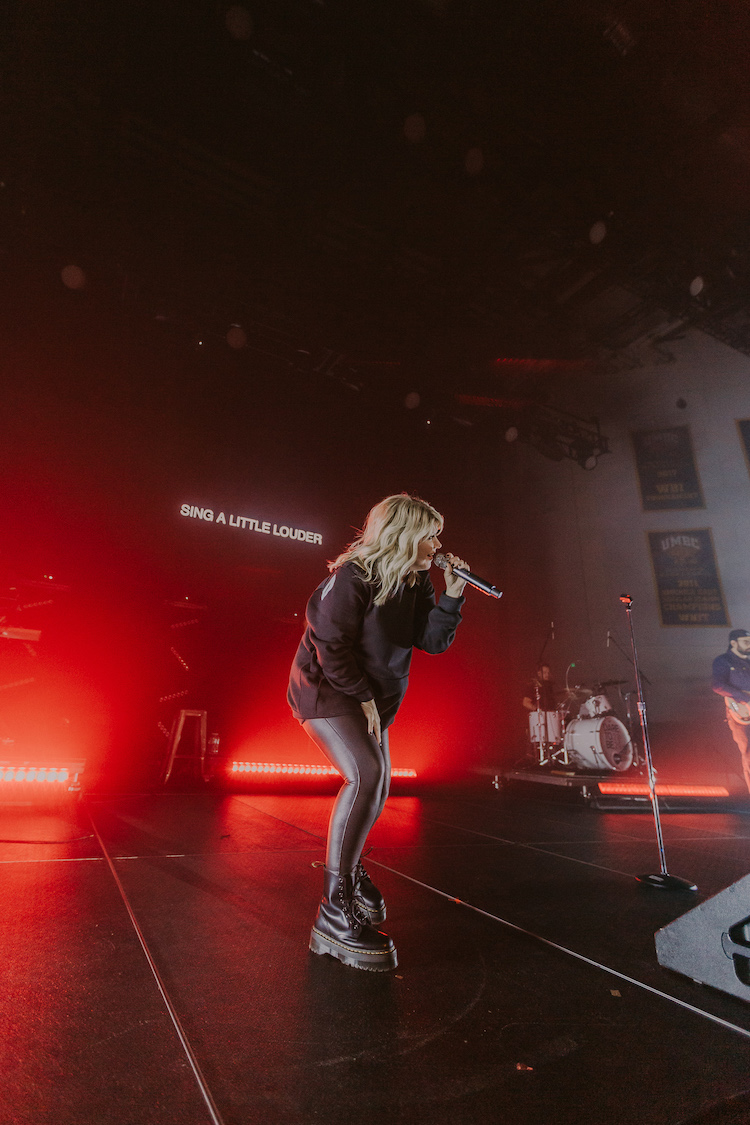 When you look in God's Word and you see how much He calls us to live a life of unity, He doesn't call the world to be unified. He calls the church to be unified. And we are living in a time with so much opinion, with so much division, with so much angst, with so much hurt, with so much emotion. And I feel like more than ever before that we need to lay down these things that are dividing us and remember the person that unites us, and that is Jesus Christ.
I love Jesus Calling, I became aware of it years ago through a mutual ministry friend that introduced me to it, and then Jesus Calling for kids we've used for years with our children from the time that they were small. And I think that what I love about it is, number one, it's something that you can digest. It puts it in a way that helps you digest scripture in such a beautiful way. But also it's doable. And I think sometimes devotions can be overwhelming because it seems like I don't have time for that. I don't have time for this. It puts structure to something that you are able to do and digest every single day, and it takes some of the guesswork out.
I'm going to read Jesus Always, February 8th:
MY LOVE WILL NEVER LET YOU GO! It has an eternal grip on you. You live in a world that is unpredictable and unsafe in many ways. As you look around, you see a landscape littered with broken promises.
However, My Love is a promise that will never be broken. Though the mountains be shaken and the hills be removed, yet My unfailing Love for you will not be shaken. The prophet Isaiah is painting a picture of dire circumstances: quaking mountains and disappearing hills. No matter what is happening, My Love is unshakable. You can build your life on it!
Sometimes My children believe I care for them but still find it difficult to receive My Love in full measure. I want you to learn to grasp how wide and long and high and deep is My Love for you. Ask My Spirit to empower you to know this Love that surpasses knowledge. Break free from faulty self-images so you can view yourself as I see you—radiant in My righteousness, wrapped in luminous Love.
Oh, it's so beautiful to be reminded of the neverending, unfailing, unchanging love of God that it has an eternal grip on us, the love that never lets us go. As I read through this and I read that though the mountains are shaken and hills are removed, quaking mountains, disappearing hills, the funny thing is we hear that now in our world, things that are shaking comforts and ways that we used to feel really comfortable being shaken. Our very foundation feeling like it's crumbling.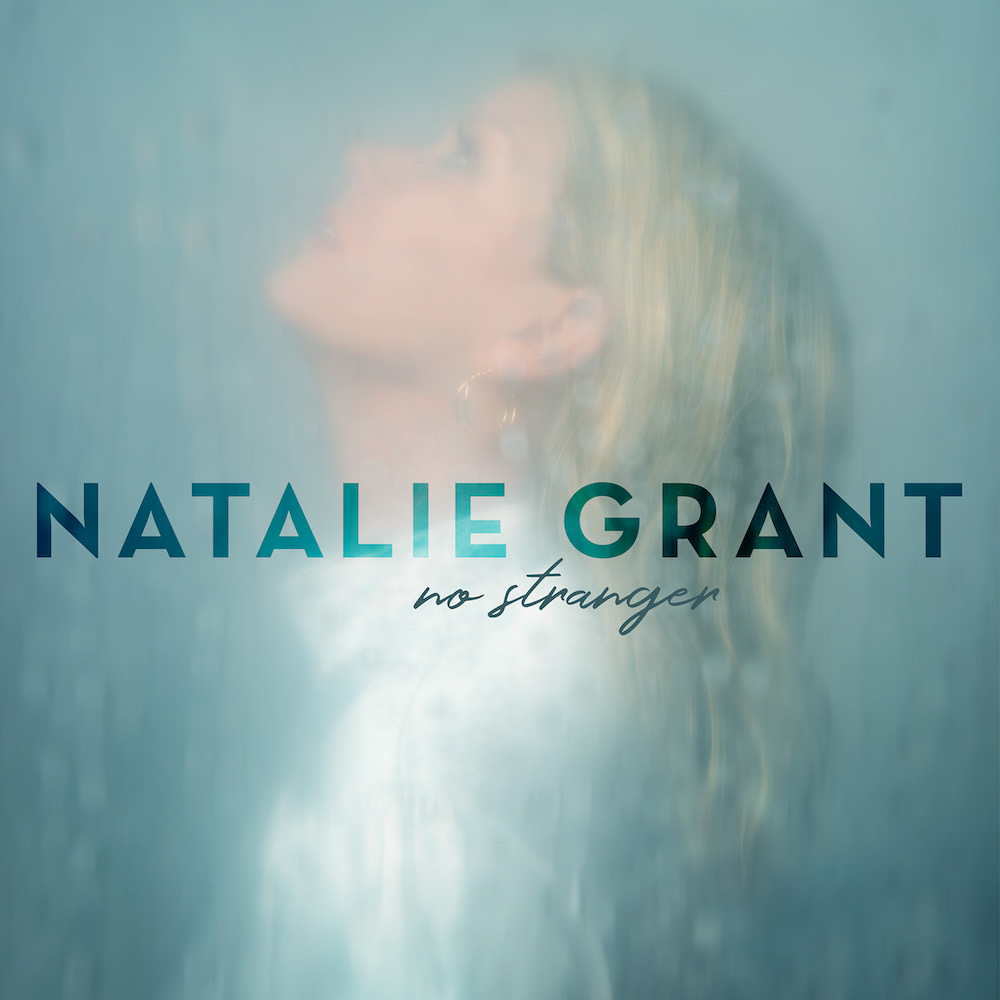 There are so many things happening in the world that every day, I get to decide what I listen to and what guides me through my day or to hold to the never-changing Word of God. Yes, things might look a little bleak in the world. Things change every day. It feels like there's something every moment of the day if you just flip on the news and go, "Oh my word, here's something else that's devastating. Here's somewhere else that's falling apart. Here's something else that seems uncertain." These things are all uncertain. That's why we don't place our hope and our value in the things of this world. We place our hope and our value in the love of God that never lets us go.
That's why we can choose to not fear even when things seem so scary. We can have an anchor knowing that God's love will never let us go. The world is unpredictable, but we don't have to live according to that unpredictability because we have something that is predictable, that is certain, that is sure, and we can build our life on it, and that's the love of God.
Narrator: To learn more about Natalie, please visit www.nataliegrant.com, and be sure to check out her music on your favorite music platforms.
Stay tuned to Mary Marantz's story after a brief message.
---
Jesus Calling App – Inspiration on the Go!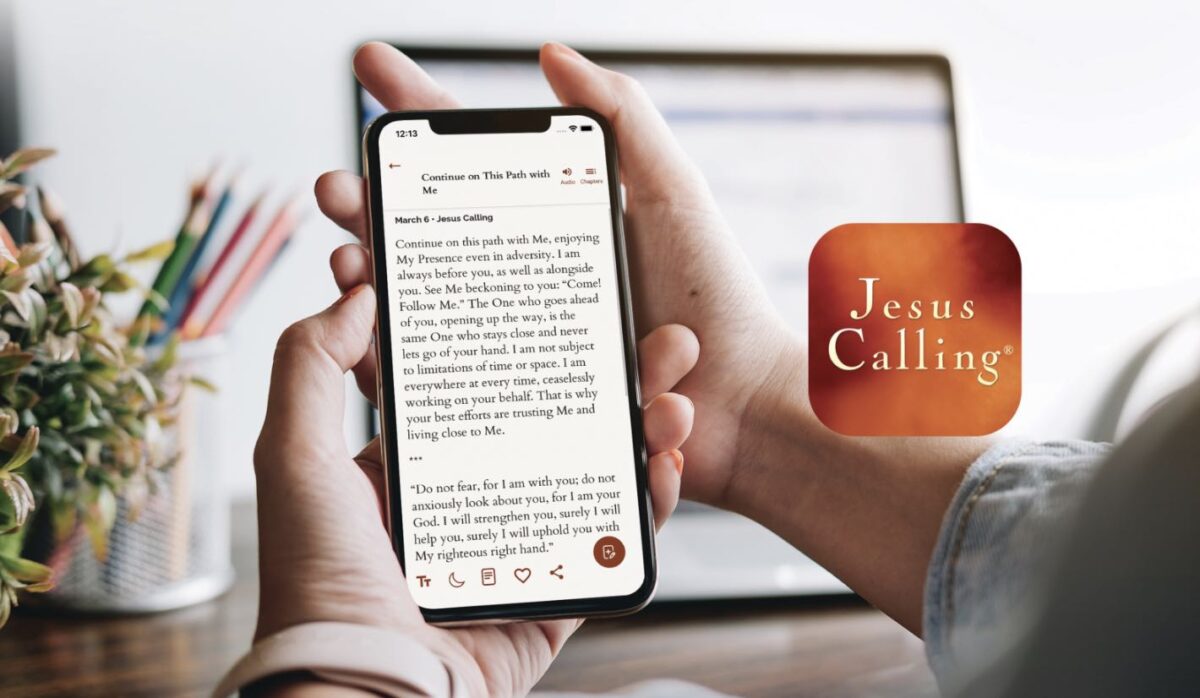 Take God's presence with you wherever you go with the newly updated Jesus Calling mobile app!
You'll be able to read devotions for each day, look up Scriptures, purchase Sarah Young products, and keep notes. You can even check out the latest podcast episodes and read the newest blog posts from our incredible guests.
Download it today at the Apple App Store or on Google Play!
---
Our next guest is Mary Marantz, an author, speaker, and podcast host from humble beginnings who went on to graduate from Yale Law School and become a number one bestseller on Amazon. Her most recent book, Slow Growth Equals Strong Roots, is the "rest of the story" that her 2020 book, Dirt, began. While Dirt does movingly describe the story of a poor girl who made it to the Ivy League, it's so much more. Mary shares about her childhood, how her father advocated for her education, and how writing her story gave her the courage to heal family relationships and make peace with her past.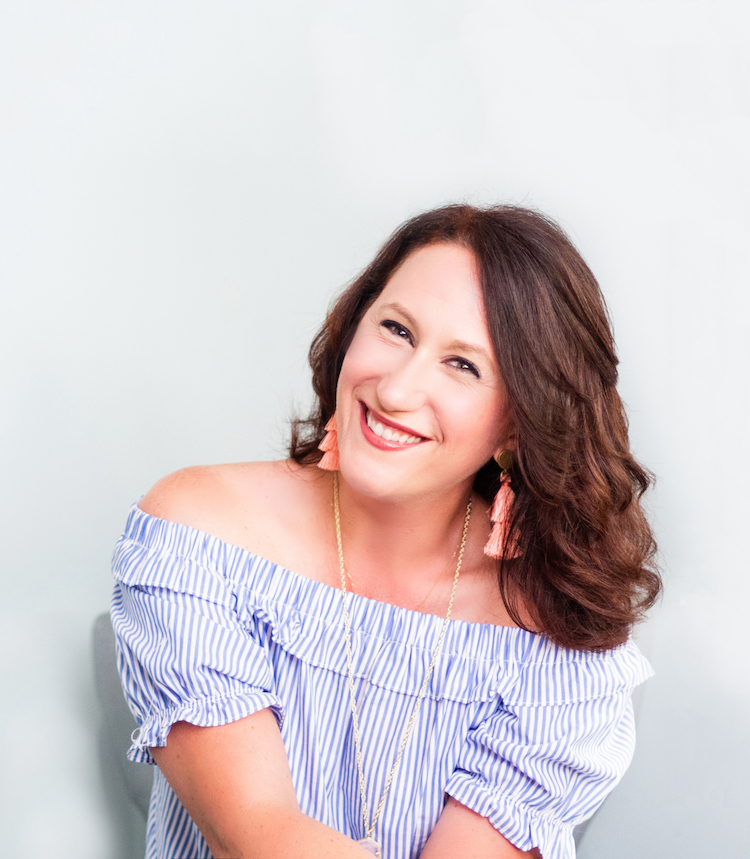 Mary Marantz: My name is Mary Marantz, and I grew up in rural West Virginia on the top of a mountain in a single-wide trailer in the 1980s. My dad's a logger. My mom cleaned houses. And if you fast forward a few years in my story, I actually go on to Yale for law school, which is like a movie I feel like we have seen before. We have heard this story before, except that for me, it's much more about making peace with our story and this redemption song instead of Oh, the Places You'll Go. I've dedicated my life to helping generation changers own their muddy stories. I do that now as an author, a speaker, a podcast host, an educator, a coach, and mostly just getting to sit down with people one on one and have them share their stories.

When God Gives Us Glimpses of a Future and a Hope
I say I was born in 1980, the trailer was born in 1978, and surprising to no one, single-wide trailers from the 1970s were not really built to last. And so I grew up in that trailer from zero until I left for college at 18.
Very early on, the roof began leaking. And, of course, as water does, it made its way through the floor, this particle board of the trailer began to crumble and give way to the point that when you came out of my bedroom into the living room next door, the brown shag carpeting, you had to know exactly how to hopscotch your way across it to keep from falling all the way through. And the trailer was up on cinder blocks, so you would have landed with a thud if you missed the landing.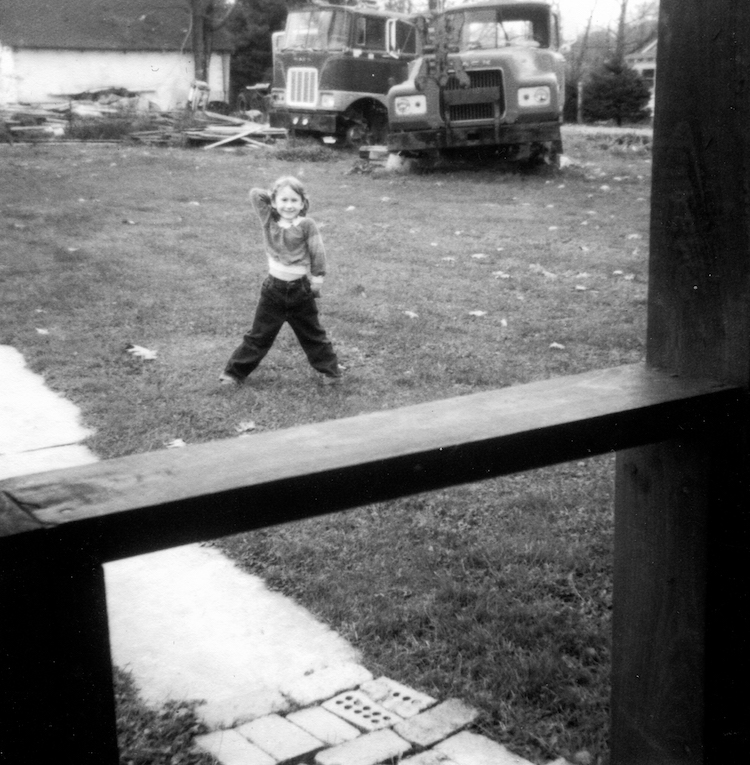 It was a wild and wonderful childhood. I spent from sunup until sundown out in the woods playing with bees in a hive, or snakes, or whatever the case may be. To this day I have absolutely no idea how I didn't die a thousand different ways growing up like that.
My dad never went to church when I was growing up, because he worked hard for six days a week, from sunup to way after sundown. So his church was on the couch and not moving all day. But my Grandma Goldie, who was all the five feet tall—and I say, a giant towering force in our family tree—Goldie was real big on Sunday school. And so six days a week, we would wear our cutoff shorts or ripped jeans and T-shirts and be out digging in the yard. But on Sunday, she was in a pink suit with a ruffly lace collared shirt and her White Shoulders lady perfume. And I would wear the frilliest, the fluffiest dress I had and we would go to Sunday school.
I can remember being very little, being four or five, and feeling like I knew God as a best friend. He was the green of the grass down to the very pigment. He was a bird stepping into flight. He was the feel of cold, hard ground. How, when you broke it up in your hands, you couldn't forget how it felt. He was color and freedom and fire and dirt.
"I can remember being very little, being four or five, and feeling like I knew God as a best friend. He was the green of the grass down to the very pigment. He was a bird stepping into flight. He was the feel of cold, hard ground. How when you broke it up in your hands, you couldn't forget how it felt. He was color and freedom and fire and dirt." – Mary Marantz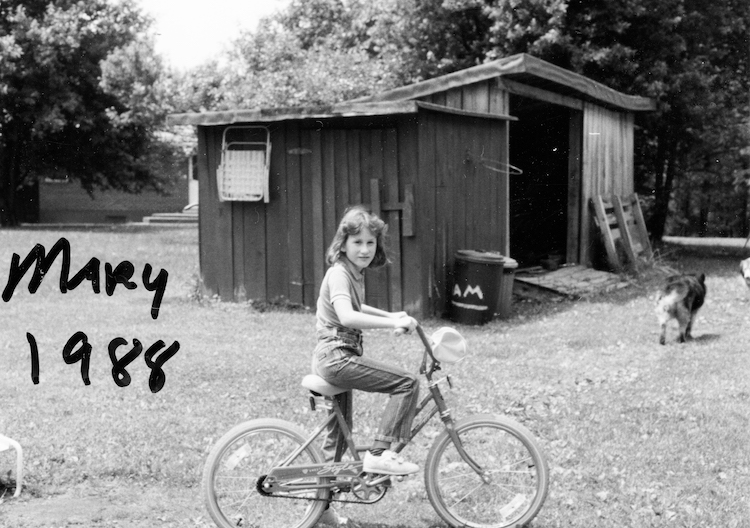 One of the things that happened for me at a very young age is where I grew up in West Virginia, from where I lived to where some of our family was, we would drive right past the birthplace of Nobel Prize and Pulitzer Prize-winning author Pearl S. Buck. You know, there's like a little sign out front: "Birthplace of Pearl S. Buck." And for whatever reason, you can call it God giving you little glimpses, little breadcrumbs: "You are going to use your words. You're going to be a writer." I don't even think I knew the word author at that point. "And you're going to write in such a way that it brings honor to West Virginia." And that was when I was four or five, and I didn't even get around to writing my first book, Dirt, until the year I turned forty.

Knowing When It's Time to Share Your Story
For me personally, if I tried to write that book sooner, I think it would have been a much angrier, much more bitter version of my story that did not drip with redemption. It was not through the filter of grace. And so there's a softening and an unraveling that comes with time. We might know or get a glimpse of where we're headed when we're little, but we're not ready for it until there's time.
"There's a softening and an unraveling that comes with time." – Mary Marantz
I could distinctly feel when God was like, "We have waited. We have struggled with this. We have grown, we have unraveled. We used that time to mature and have empathy because being an adult is really hard. And now you understand that your seventeen-year-old parents"—that's how old they were when they got married—"were maybe doing the best they could. So now maybe we're finally ready to tell this story."
What's really interesting is that my dad's story and my story began to take on this very parallel timeline, very parallel track. We grew up in the same yard. We were going to the same elementary school, we were going to the same Sunday school. And in my dad's eyes, he started working in the woods as a logger when he was twelve years old. He barely finished high school. In my dad's eyes, I think he recognized that pattern.
When he had gone to school, he had not been prepared for that at all. And you know, the first few days in class got called on and gave an answer that was wrong, and the kids laughed a little bit. And for him, that is all that it took. That is so important to remember, so powerful to remember these moments in our lives where we can take what feels like a failure or a stumble or other people laughing at us or opinions and that can burn into our brain this lie that, We were not created to do this. And so for him, that meant he was not created for school or for education, that he wasn't very bright, that he was not destined to be anything than, in his words, a dumb old logger. He thought I don't have the financial resources. I'm not going to be able to necessarily teach you this myself. But he said, "What I do have available to me is that I can prepare you heading into that kindergarten year."
And so when I was four, about nine months shy of going to kindergarten, he started me in these workbooks that were on the shelves in the grocery store at the time. And they had reading and math for every level of grade school, kindergarten through sixth grade, with the assumption, the expectation, being that you would get the workbook for the grade your child was about to enter.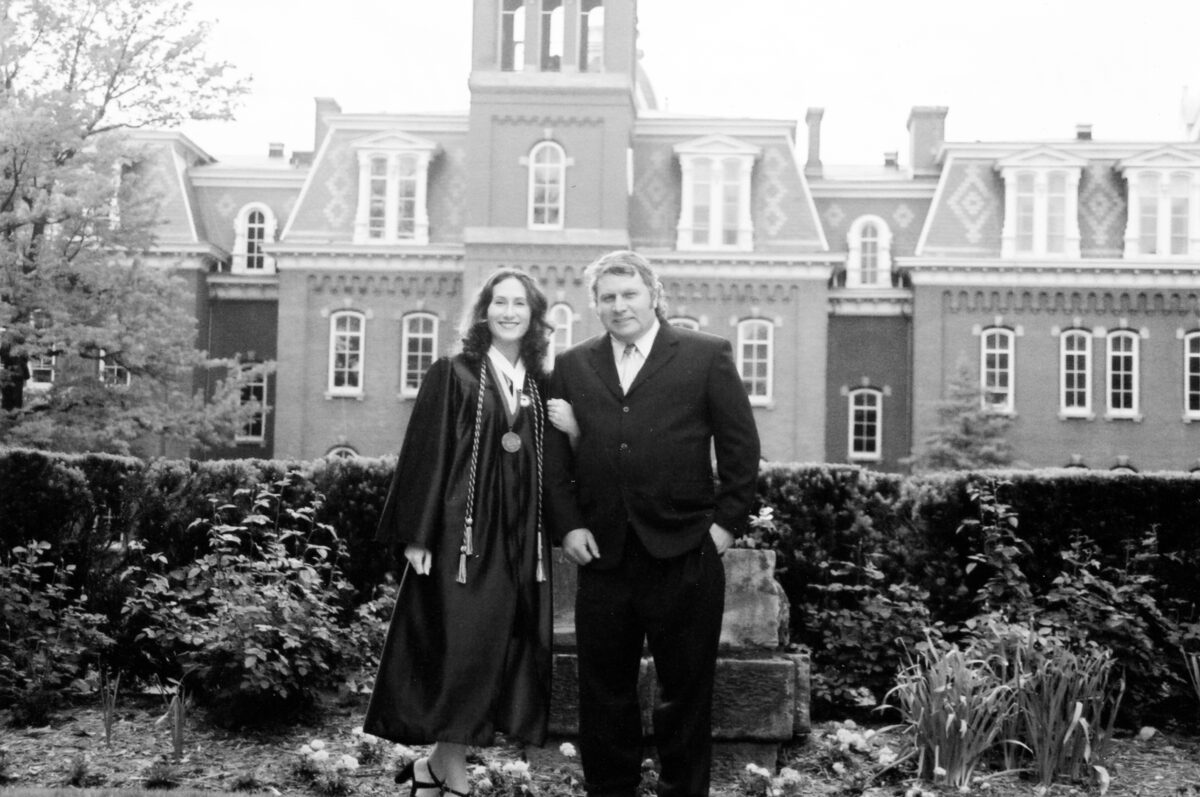 I always say, "My dad, J.R. Bess, was never big on expectations." And so he started me in the kindergarten books. But every time we'd finished one, we would just bump up another grade. So nine months later, when I was starting kindergarten in Mrs. Oliver's kindergarten class, I was in fifth-grade math and a sixth-grade reading level. And what that did is that I started with these labels on me like "smart," "gifted," and, "ahead of the class." And these words we speak have the power to speak life or death. Those labels became a lifeline that said to me, "Maybe you can be more than where you started."
My dad was saying things to me like, "You're going to get out, you're going to go to school, you're going to go to college." I feel like there was something in me that felt like God had said to me at an early age, "This is all going to make sense. This muddy, this broken, this hard, this brutal, this beautiful, I'm going to use all of it. One day, it's going to all make sense."

Telling Your Story Can Be Healing
I think there have been many times when I've been bitter, angry with God. You know, when you're writing this book and you're forty and you lived in the trailer from zero to eighteen, I think some of that bitterness is more of a memory than a lived experience.
Here's the big thing to hear: He can handle that, and He's not surprised by that. And I think it leads to a deeper, more real relationship with Him when you come to Him and say, "I do not understand, I have hard questions for You, and I'm not really happy with You, but I am listening."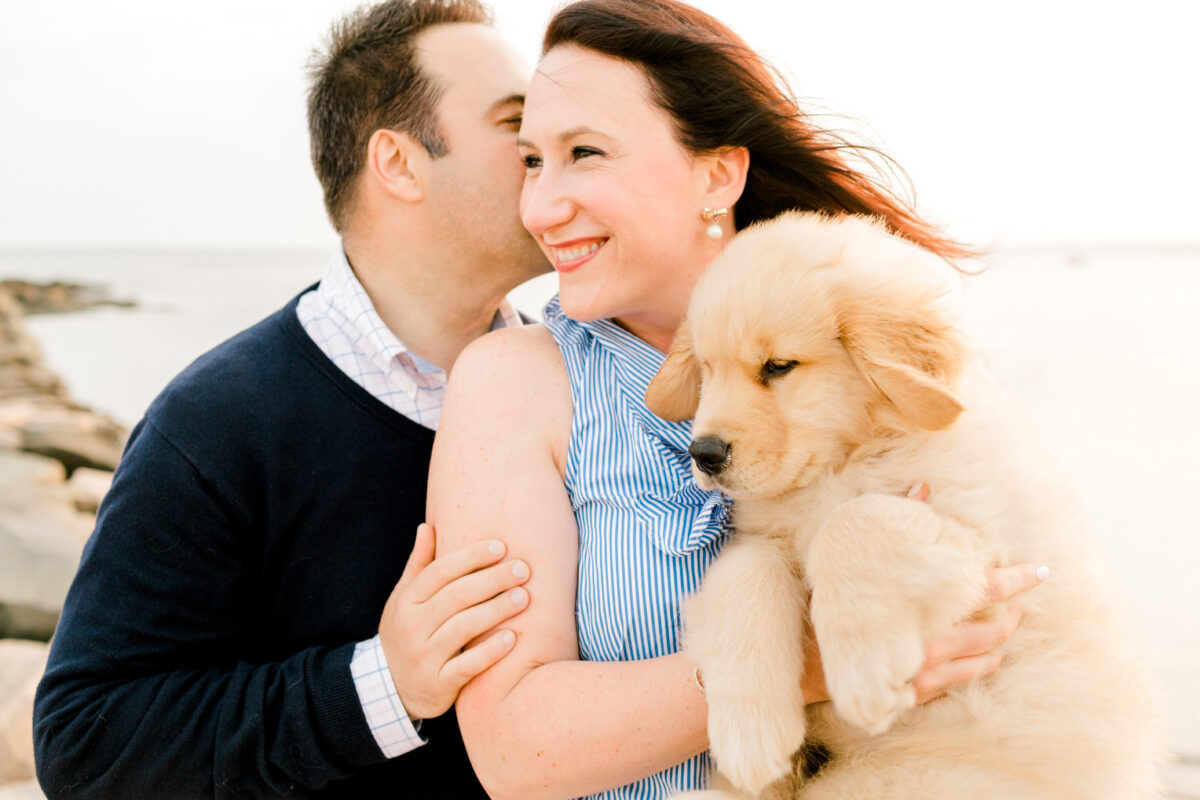 In a lot of ways, writing Dirt itself was a very healing process. One of the most tangible experiences of God I have ever, ever experienced—every day I would wake up and I would say, "I don't think I have anything left in me. I don't even know what I would write about." And piece by piece, 500 words, 750 words at a time, these sections came out and they just started snapping together like these puzzle pieces that were always meant to go together. And so the draft that people now hold in their hands when they pick up Dirt is not only a much more redemptive version but it is written by someone who has changed in the process.
What did I hope for people to get from my story? I really hope other people find themselves in it. I hope they find the courage to forgive, to reconcile if it's appropriate, but forgive regardless. I hope they find the courage to stop thinking that this muddy story disqualifies them before they even begin to make peace with it their past. I hope they realize that in so many ways, the thing they've been hiding away in their story is actually their superpower. We do this all the time. We think that thing that feels like weakness, it's actually the thing other people find the most courage in.
"I hope people realize that in so many ways, the thing they've been hiding away in their story is actually their superpower." – Mary Marantz
That's my hope, that when people read these words, they see themselves in it and they begin to believe that all the things they thought disqualified them actually turned them into this gentle, empathic, empathetic, safe, soft place to land for other people who have hard stories just like them.

Finally Understanding God's Grace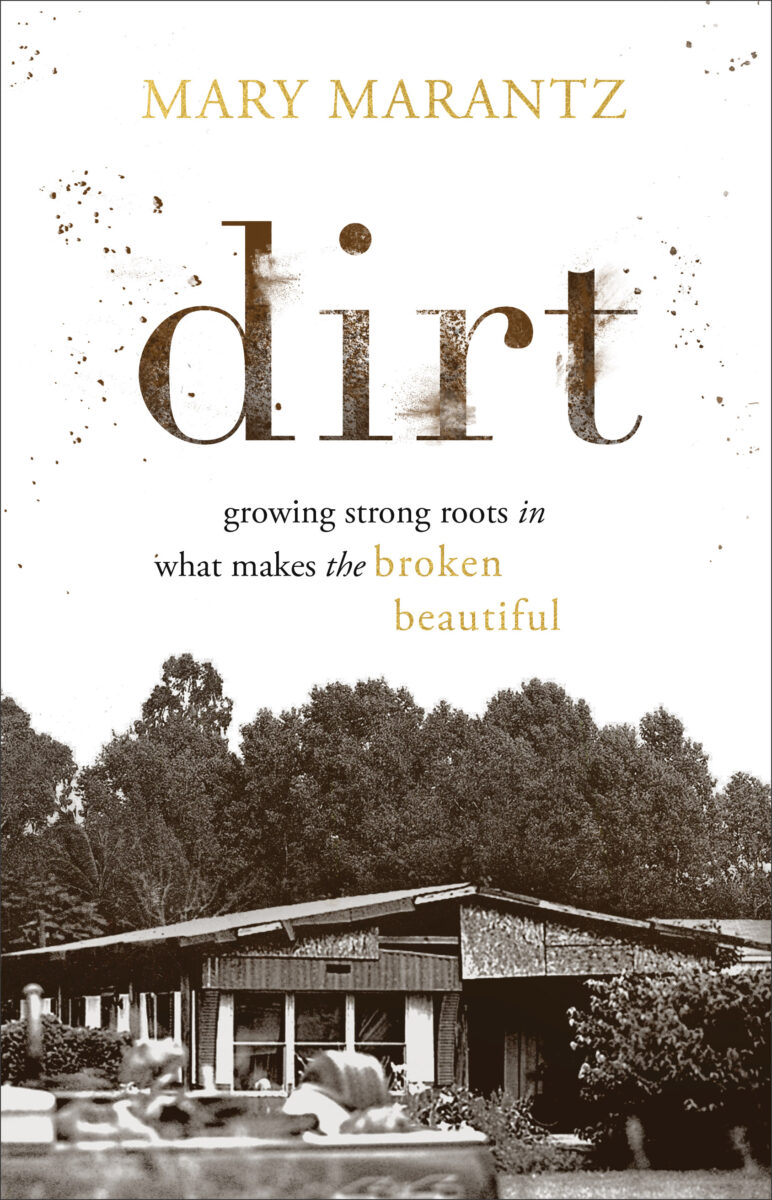 I am trying to take better care of the houseplant that is Mary, which means giving her sunlight and water and food, but also making sure that I'm doing the most important nourishment, which is spending time with God. And I had a really incredible, breakthrough answer to questions I've had for months and months come just yesterday in the form of what is it to give glory to God when you are a person who feels like if you didn't participate, if you didn't roll up your sleeves and work hard, then you didn't earn it? What is it to live in things being handed to you because there is this lavish God who loves you and wants to pour out love on you?
I struggle with that. I think that is probably an Appalachian mentality where we see people who had things just laid in their lap, and it feels like that made them a bad person. The idea of it is the pride that tells us we have to be the one to do it or it doesn't count. So it's crucial, and I'm learning and I'm trying to get better.
Jesus Listens, January 18th:
The world is in such a desperately fallen condition that Your promise to make everything new is my only hope. Help me not to get discouraged when my efforts to improve matters are unsuccessful. I must keep in mind that all my efforts are tainted by the brokenness around me and within me. I won't stop trying to do my best—in dependence on You—but I know that this world needs much more than tune-up or repairs. It needs to be made completely new! And this is absolutely guaranteed to happen at the end of time, for Your words are trustworthy and true.
I have good reason to rejoice because You have promised to renew all things—including me making everything gloriously perfect!
Narrator: To learn more about Mary Marantz's books Dirt and Slow Growth, as well as her podcast, visit www.marymarantz.com.
If you'd like to hear more stories about God's grace in our lives, check out our interview with Emily Ley.