God Mends Our Broken Stories: Jay DeMarcus and Kim Walker-Smith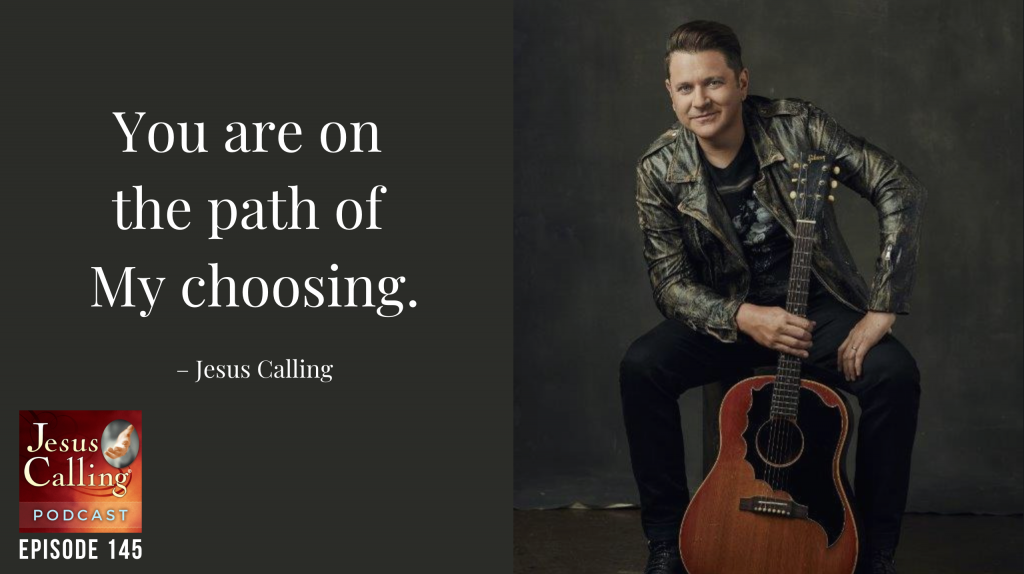 Jay DeMarcus: It's hard to hear somebody say, "You just hang in there and keep going." But I've lived it. And I can tell you that if you keep going, if you keep forward momentum and keep trying and keep picking yourself up, you will eventually get to where you're supposed to go.
---
God Mends Our Broken Stories: Jay DeMarcus and Kim Walker-Smith – Episode #145
Narrator: Welcome to the Jesus Calling Podcast. Today's guests remind us God can use the shattered parts of our lives to create a beautiful mosaic that shows His glory: country music superstar Jay DeMarcus and worship leader Kim Walker-Smith.
For two decades, Jay DeMarcus has been making country music in the award-winning group Rascal Flatts, but his journey to the big stage was an unexpected one. Growing up in Ohio, Jay had no idea how to break into the music business, and when he moved to Nashville after sending in a demo tape, he discovered chasing his dream was a lot easier than turning it into reality. Jay's reflected on his struggles and successes in his new memoir Shotgun Angels.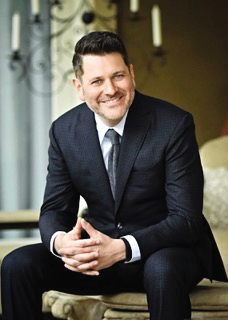 Jay DeMarcus: I'm Jay DeMarcus, and I am one-third of Rascal Flatts. I do a lot of different things. I songwrite. I produce. I act a little bit, when time permits. So I've got my hands in a lot of different things.
I grew up in Columbus, Ohio. My mother and dad were both musicians. They met when they were young. My dad's a few years older than my mother, but not by much. They met playing in clubs together, so they started to date, got married. Both playing in bars together, and my mom would sing praise and worship Sunday morning in church, so I had kind of the best of both worlds growing up.
My mother had a very, very strong foundation. Her faith was really, really strong.
She raised us in the church, and we were there you know every time the doors were open. We'd go to choir practice on Tuesday. We'd go to Bible study on Wednesday, twice on Sunday, so it felt like a little bit overkill for me sometimes. But looking back now, I realize how much it helped to shape me and my personal faith. Even in the times when I struggled with my faith, the foundations and the roots were very, very deep. So I'm grateful that I had a mom who cared enough to really lay the groundwork for me for later on in life.
"I'm grateful that I had a mom who cared enough to really lay the groundwork for me for later on in life." – Jay DeMarcus
A Long, Unlikely Road to Fame
My journey to Nashville was really by chance. I was in my dorm room, and I had written some Christian songs. I'd grown up in the church, obviously, and been in a few different Christian bands. I was really into bands like White Heart, Petra, DeGarmo and Key, and 4Him—early pop Christian music was fun for me, and I loved it. Michael W. Smith, Amy Grant. So I wrote in that vein of contemporary Christian.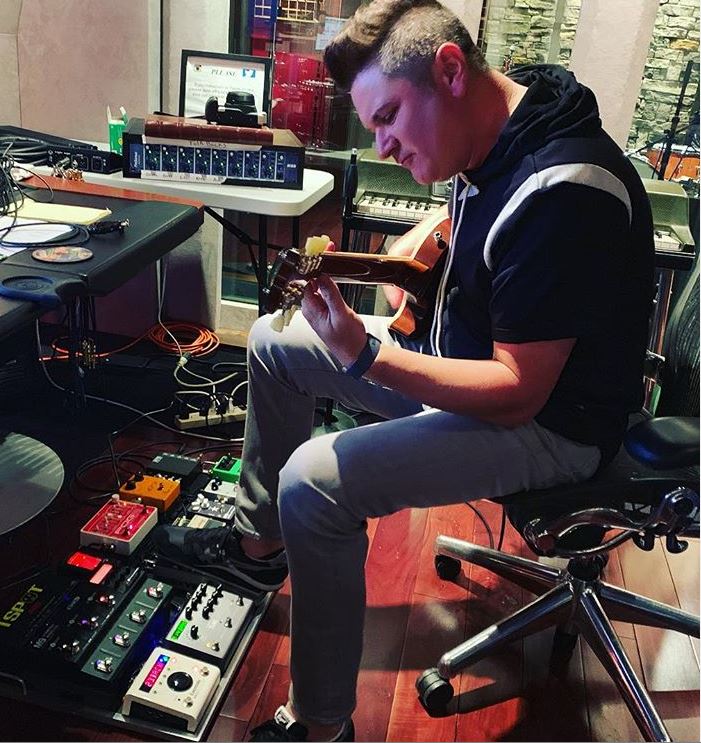 I had my roommate at the time, Neal Coomer, was singing the demos that I would do. So I mailed these away to Nashville to all of the publishing companies that I could find. I got a call one time in my dorm on the pay phone that was in the hallway there, and it was from Don Cook at Benson Records. And he said, "I love your band. It's great. We'd like to talk to you more about cutting some stuff."
I had to explain to him that we weren't a band, that I had just done some demos and was trying to be a songwriter.
He said, "You should go talk to your roommate and see if you guys want to do a band because I love the sound of what you guys are doing."
Long story short, Neal and I went to Nashville, met with Benson [Records], and decided to try it. We had no aspirations of being an act, but we got signed right on the spot, pretty much. My music career was taking off and already [it was showing] signs of [being different from] how I planned or thought I had it mapped out. We were an act on Benson for about four and a half years. Some things happened in my life and some circumstances changed, and we broke up after about four and a half years.
I was kind of, for the first time, lost. I didn't know what I was going to do.
There were a lot of times that I felt like I had reached the end of my rope, and I was broke. I remember my apartment being broken into. All the gear that I had to make a living with was stolen. I didn't know how in the world I was going to get another keyboard or another bass guitar to even make a living.
Those are the times, those darkest times, were the times that I had to dig the deepest. And a lot of the times I'd pick the phone up and call my mom and I'd say, "I've got to come back home. I've got to get a job. I've chased this nonsense long enough. I've got to throw in the towel and come back and get my life together and get a real job, do something that makes sense."
And my mother would not let me come home. She kept pushing me and telling me that I was right where God wanted me to be and that I didn't need to let the enemy defeat me.
"[My mother] kept pushing me and telling me that I was right where God wanted me to be and that I didn't need to let the enemy defeat me." – Jay DeMarcus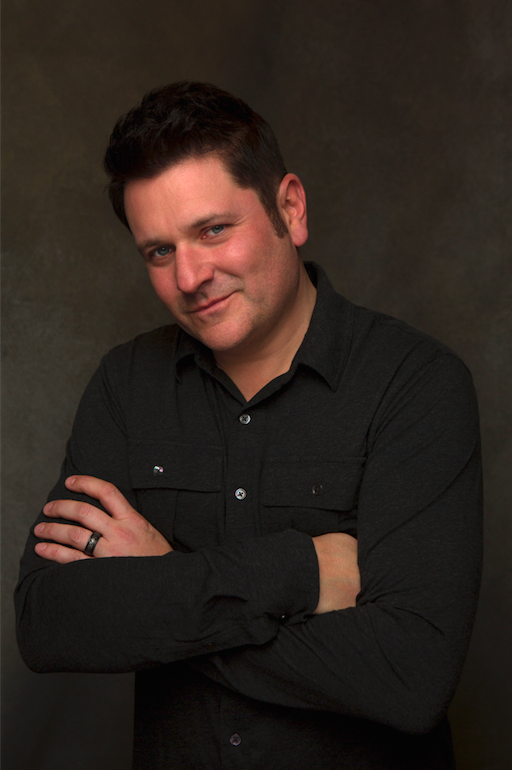 I started to go back over my life and think about things that had happened to get me to this point, and it quickly became apparent to me that I had a really remarkable story to tell—not because of the person that I am, but because of the Person that I serve and the fact that He had His hand on me the entire time growing up in Columbus, Ohio, going on to high school and ending up in college that I never even had plans to go to because I didn't have any money. I grew up really, really poor.
So when I look back over the things that had happened that were miraculous, sometimes even improbable, it started to dawn on me that I needed to tell my story for other people who might have been just like me, who don't know where to start, who are lost, who struggle, who have dreams but don't know how to start chasing them.
I think as long as you keep your ears and your eyes and your heart open, you also can recognize those moments, those God moments when He's nudging you in the direction you should go.
"As long as you keep your ears and your eyes and your heart open, you also can recognize those God moments." – Jay DeMarcus
For me it was like a marquee sign on a church that I would pass, and it would just be enough of a little bit of a hope nugget to keep me going on. And those things—and when I look back on my life they happened all the time. Sometimes it happened subconsciously, and it didn't even register until years later that that was just enough to keep me moving forward.
One thing led to another, I started hanging out in different circles with different musicians who were playing clubs around town, some of the best players this town has to offer. You could find them down on Broadway, Printer's Alley. I loved it because I'd go in there and listen to these world-class musicians, and so my network and my circle started to get bigger and bigger.
Then lo and behold, I ended up becoming the band leader for Chely Wright. And that was a big step in the direction of heading into country music, which I loved anyway. I'd grown up with it. My mom was Country Music Queen of Ohio in 1969, so I was surrounded by all kinds of different music, but really had a love for country.
Early on in Rascal Flatts, I remember we had just released the single "I'm Moving On." And it was starting to pick up steam, and we were at radio station doing an interview, like we'd done a million times. We started to take phone calls into the studio.
There was a guy that called in and he said, "I have to tell you a story. I'm a truck driver, and I spent a lot of time listening to the radio. My wife left me. My life felt like it was falling apart, and I had determined that I was going to kill myself. And I heard your song 'I'm Moving On' and I pulled my 18 wheeler off to the shoulder side of the road and broke down right there in tears. Your song literally saved my life."
And when you hear stories like that, you know that you've been a part of just a small part of helping somebody turn their life around and encouraging them that, you don't need to give up, that there's always hope out there waiting around the corner, I want to be a part of things like that. And that's what keeps me doing what I'm doing. That's the greatest reward you could ever hope for as an artist.
Making Time for What's Important
I think you have to be very deliberate about making time for everything that's important to you in your life, and obviously family is right at the top of that for me. I have a wonderful wife who is very, very patient and very tolerant of the extraordinary responsibilities that I have, and she's very supportive. But she has to remind me sometimes very gently, "Hey, you've got to take a deep breath. You got to slow down for just a minute. You've opened up a label. You've got a book coming out. You're getting ready on tour again." So tomorrow we're going to leave, for instance, and take our family on a trip for a few days just to kind of unplug for a minute and decompress.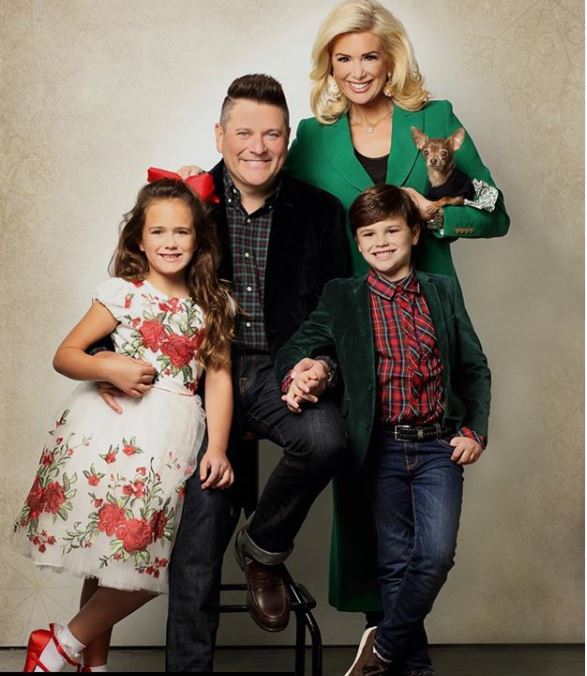 "You have to be very deliberate about making time for everything that's important to you in your life." – Jay DeMarcus
I think that's as important as working hard, is to make sure you take stock of what you've got right in front of you. And it's hard to do because I am a workaholic, and I love to work. But I'm learning more and more how to get myself into a place to where I can go, "You know what? I need to take a break for just a little bit." It's a healthy thing too, I think.
I find in my own personal time in the morning, and it's not long sometimes it's 20 minutes, you know, if I've got a really full day. And sometimes it will only be 15, 20 minutes. But I do find that it makes a difference in how you face the rest of the day, if you take just a few moments to meditate, take some deep breaths and pray and consider the things that He has for you. I think it only makes your day that much better. And I really love that time before the kids are up, before the hustle and bustle of the day starts, just to be able to take a few moments and take in all that He has for me and how much He loves me and how much He loves us. It's some of my most favorite times of the day.
I do have a lot of tools that help me have quality one-on-one time with with God. When I'm home off the road, I start every day by going to my office in my study, and I read a devotional. Sometimes it's from a book. Sometimes it's Jesus Calling. Sometimes it's Grace in the Moment by Max Lucado.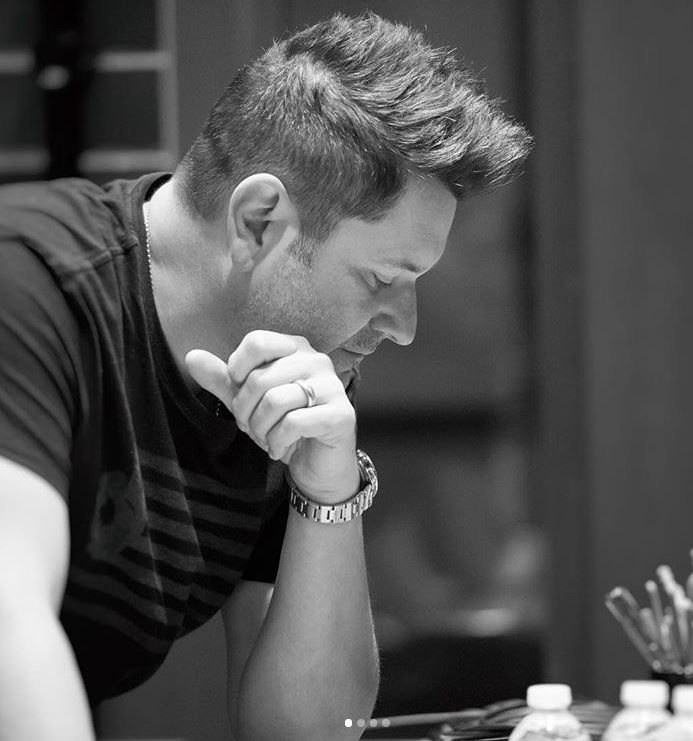 I discovered Jesus Calling a few years ago. A buddy of mine that used to play tight end for the Cowboys in the 80s, Doug Cosbie, turned me onto it. And it's a very easy thing to have on your phone and access in those times when you only have a few minutes to get a quick devotional in.
And the thing that strikes me about Jesus Calling the most that I love is that it's in Jesus voice as though He's talking to you.
The thing I love about Jesus Calling is I feel like He's speaking right to me when I'm reading it, and it's just a very unique way to experience a devotional. And that's what I really really love about it.
October 18th:
"Go gently through this day, keeping your eyes on Me. I will open up the way before you as you take steps of trust along your path. Sometimes the way before you appears to be blocked. If you focus on the obstacle or search for a way around it, you will probably go off course. Instead, focus on Me, the Shepherd who is leading you along your life-journey. Before you know it, the "obstacle" will be behind you and you will hardly know how you passed through it.
That is the secret of success in My kingdom. Although you remain aware of the visible world around you, your primary awareness is of Me. When the road before you looks rocky, you can trust Me to get you through that rough patch. My Presence enables you to face each day with confidence." – Jesus Calling
"The thing I love about Jesus Calling is I feel like He's speaking right to me when I'm reading it." – Jay DeMarcus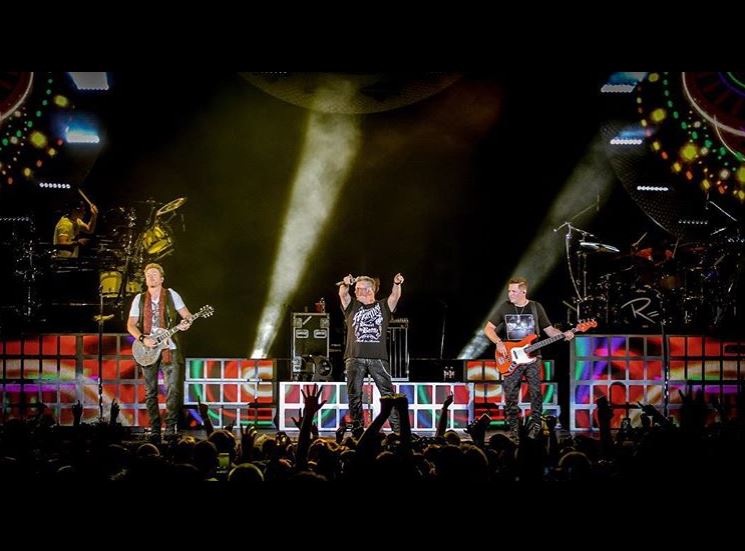 Hope Comes from the Strangest Places
For me, the most important thing is that you can't ever allow yourself get to a place where you're so deep in despair that you don't look for the hope that is there, because it can be in the strangest places. It can be in things like a text message from a friend or somebody that just happens to call you to tell you they're thinking about you.
And I'm not perfect about it by any means, but I try to be deliberate about thanking God for everything that I have and giving Him thanks and also praying for His guidance every day, praying for His wisdom that I'll make the best decisions for me and my family and my career and everything that's going on.
But it's not an easy thing to do. It's hard, and I know a lot of people struggle with it. So I wanted to just be an encouragement to people and hopefully in them taking a look at my life and the things that happened for me, the biggest message is if He'll do it for someone like me, who has failed miserably sometimes in my own life with making bad decisions and struggling with my faith, He'll do it for anyone. That's the bottom line.
Narrator: You can find Jay's new book Shotgun Angels wherever books are sold.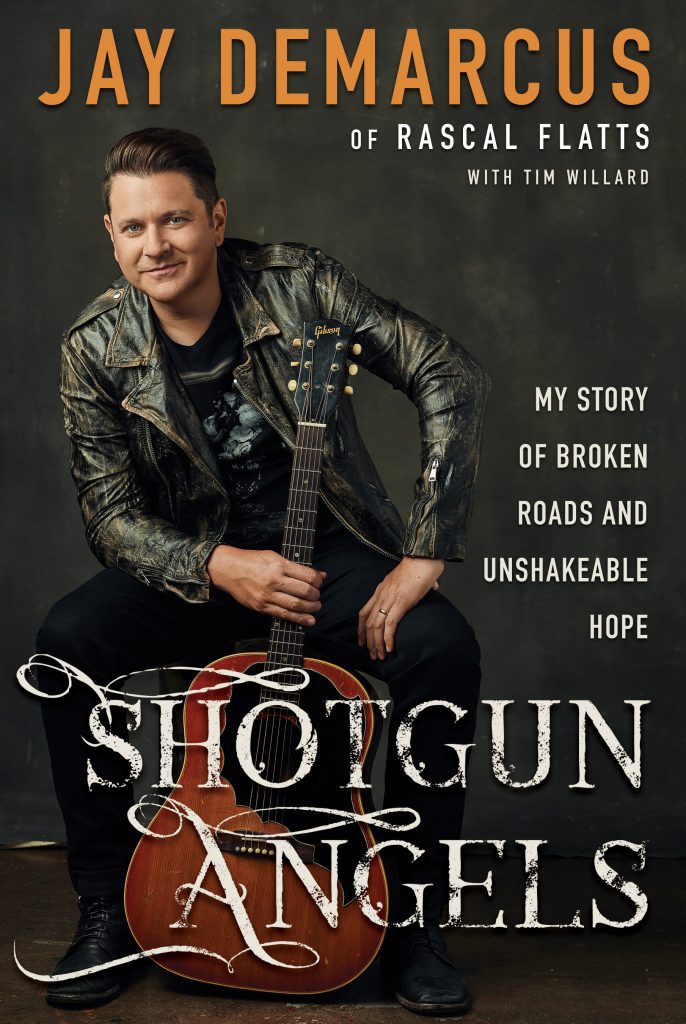 Stay tuned for our next interview with worship leader Kim Walker-Smith after a brief message about a free offer from Jesus Calling.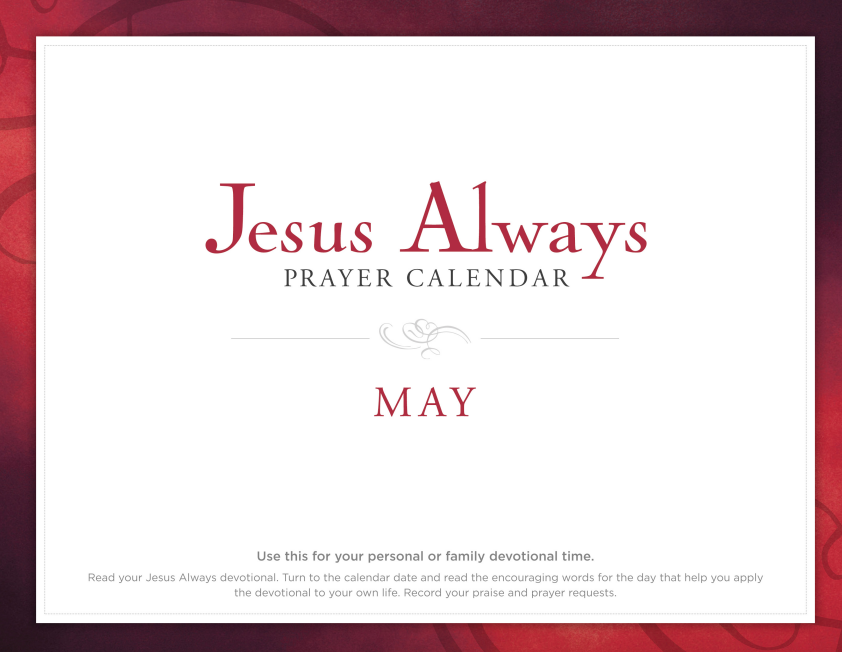 Are you looking for a way to keep track of your daily prayers along with Jesus Calling? The Jesus Calling family prayer calendar goes right along with your daily readings from Jesus Calling. Each day begins with a guided reflection, followed by a space for you to fill in your prayers of thanksgiving and special requests. You can get your free Jesus Calling Family Prayer calendar by visiting, JesusCalling.com/offer
---
Narrator: Our next guest is worship leader Kim Walker-Smith. Kim is passionate to see people transformed by experiencing God's love and the way He sees them, because that experience profoundly changed her life. Kim has been a part of Jesus Culture ministry since it began nearly 20 years ago, and today she tells us about her troubled early childhood years and how her relationship with God transformed the way she saw herself. She writes about this experience in her new book Brave Surrender.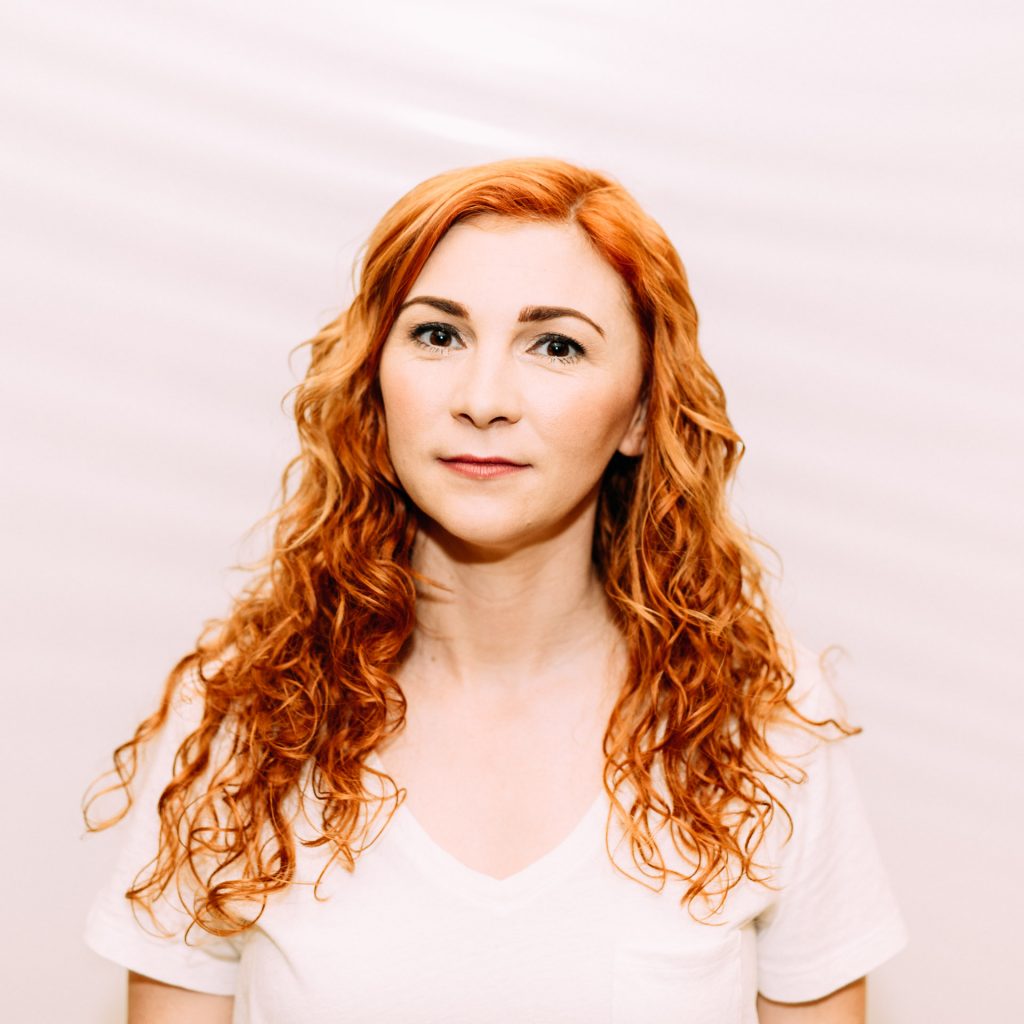 Kim Walker-Smith: My name is Kim Walker-Smith, and I am a worship leader, a wife, a mother of three children. I'm a founding member of Jesus Culture, which started as a youth ministry and evolved into a worldwide ministry and is now a church, where we just celebrated four years and where I lead worship and help with the speaking and other leadership within the church.
A Broken Childhood, a Loving Father
I was born in Albany, Oregon, which is a small town up in northern Oregon. I lived in a few different cities before we landed in Klamath Falls, Oregon, which is a very small farming community down in southeastern Oregon.
My parents had me when they were really young. And when I was 2 years old and my mom was pregnant with my baby sister, my dad was in a really serious motorcycle wreck that put him in a coma. The doctors didn't expect for him to survive that, but he did. But he came out on the other side with a lot of brain damage, and their marriage did not really survive all of that. And [when I was] four years old, they divorced.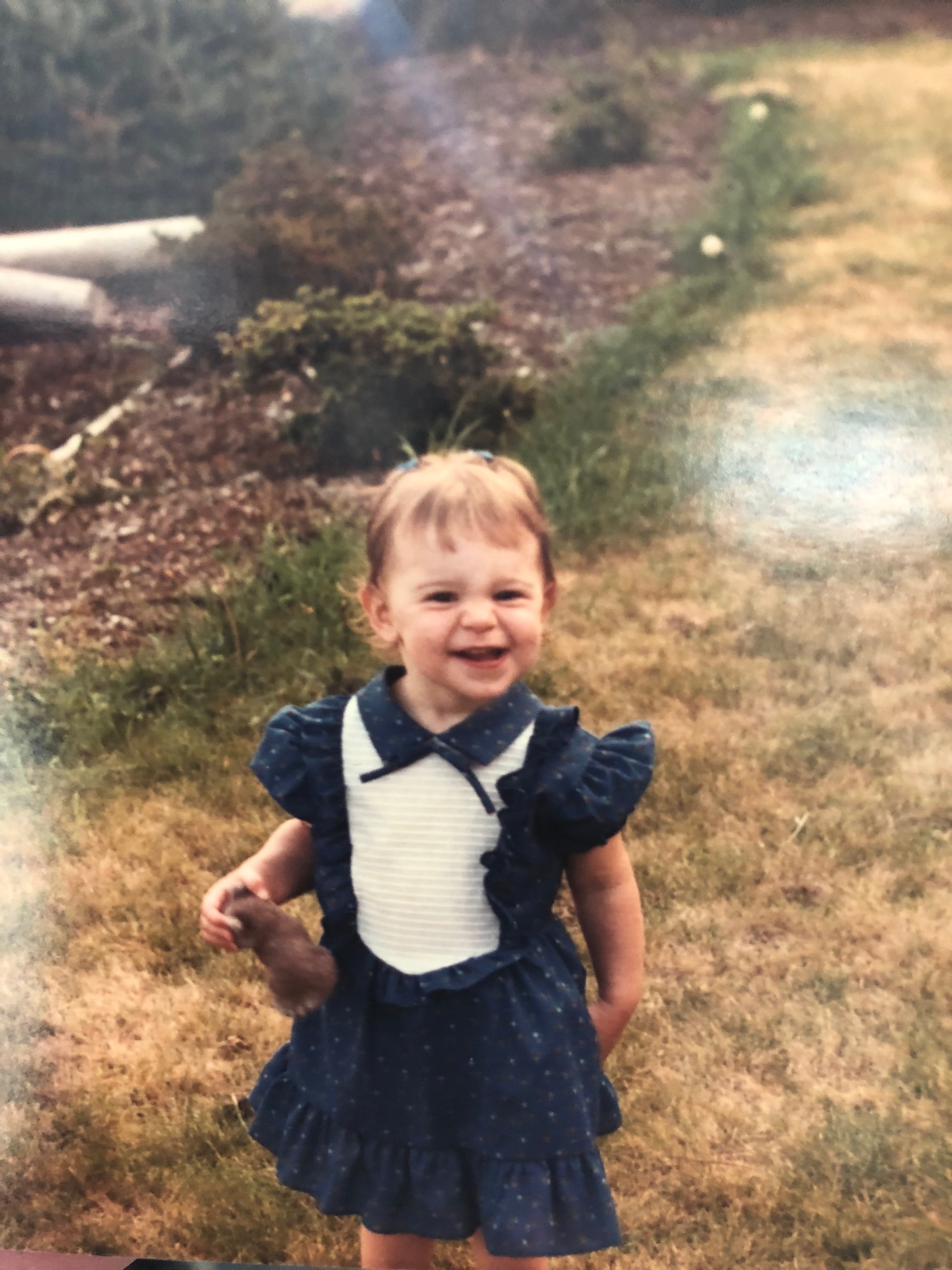 My sister and I were living with our mom and our grandparents, and from that point on kind of began a journey in my life where I had three stepdads after that. And my growing up, my two stepdads after my biological dad were really abusive, and it was a really difficult and a really hard childhood.
When I was about 11, 12 years old, right in there, my third stepdad came into our lives. He's the one who really introduced Jesus to us and really demonstrated the love of God to us. He was the one who got us attending a church faithfully and really everything changed from that point and it got better, got really different then.
He was a really incredible man to marry a woman with three children of her own and a lot of baggage, to take us all on. He was so gracious and loving and very patient with all of us. And I lived there in Klamath Falls with him and Mom until I graduated at 18 and headed off for California for warmer weather.
Following God to California
I had actually received a scholarship for music to Oral Roberts University in Tulsa, Oklahoma. And one day, I was out in my backyard praying, and I felt the Lord tell me to go to California, which I couldn't be more thrilled about because growing up in Oregon, we had some very brutal winters. I used to tell my mom, "When I grow up, I'm moving to California where it's warm!" And that is what I wanted to do.
I went in and I told my mom, "I feel like God just told me to go to California, specifically to Redding, California." And my mom thought it was an absurd idea to turn down a scholarship to go and to do this. But I felt it so strong in my heart that it was there.
I didn't know anything about Redding. I looked it up, and I found that there was a Christian college there called Simpson University. And I applied very late, not expecting I would get in, but I did. I get down there and begin college and just kind of waiting for God to reveal why am I here?
And things did not go well.
I was somewhat of a new Christian. I got in trouble a lot because I was still a little raw, and I wasn't really familiar with things I should or shouldn't say. I had a tendency to get in arguments with my classmates, disputes over different things. And I just felt very lost and confused. I wasn't making good grades.
One night in the middle of the night, I'm driving around town and I'm just crying out to God, so many tears, and asking Him, "Why did you send me here? What am I doing here? And more specifically, what am I doing with my life?"
I made a wrong turn trying to get back to this school, and I ended up driving right up to a church called Bethel Church. And it's a church that sits on a hill where the road just dead ends at the church. And at the time, they had just built a prayer house. It's open 24 hours just to go and pray and spend time with Jesus.
I was really curious, and I drove around the campus and realized it was a church and decided to come back on the following Sunday morning.
And I did. I was a little overwhelmed at first. I had never seen a church with that much passion or excitement in worship and all the instruments and just the love and the zeal for Jesus that was there.
I ended up going back and got introduced to a girl who lived on campus at the school I went to. She became a very close friend— to this day, one of my closest friends. She's the one who brought me to the youth group to introduce me to Banning, who is a youth pastor at the time. Banning is the founder-director of Jesus Culture. He and I became great friends and hit it off, and I have been working with him ever since.
That's kind of the start of where Jesus Culture began. But for me, it was the start of my inner healing and really growing my relationship with God.
I finished out my year at the university, and I ended up going to the school of ministry there the next year at the church. And that is where the work and the grit really began in getting set free and transforming my life with Jesus.
"How did God know I needed to read this?"
Jesus Calling was the very first devotional book I ever received.
A friend of mine actually had found it and read it, and she was so impacted by it. She said, "Kim, you've gotta read this book. It's called Jesus Calling and it's a devotional. It's the craziest thing. I read every day according to the date, and it seems that every day what's written in there is exactly what I needed to hear that day."
And I remember thinking in my head, How could that be? How could that could that happen?
She got the book for me and gave it to me, and I'd actually never read a devotional book or gone through a devotion like that. And I had the same thing [happen].
I remembered day after day crying and thinking, How did God know? How did God know that I needed to read this? How did God know and put it in this book? And at the time I remember thinking, And how profound that I don't even know when this book was written or when it came out, but here I am right now reading this, and it's having such a profound impact on me in this moment of my life. That was really powerful for me.
I actually just recently got the Jesus Calling for Kids, which I'm really excited to do with my children because now that they're starting to understand God and the things of God a little bit more, I'm really excited to go through that with them.
I'm reading the excerpt from Jesus Calling from May 1st. It says:
"You are on the path of My choosing. There is no randomness about your life. Here and Now comprise the coordinates of your daily life. Most people let their moments slip through their fingers, half-lived. They avoid the present by worrying about the future or longing for a better time and place. They forget that they are creatures who are subject to the limitations of time and space. They forget their Creator, who walks with them only in the present.
Every moment is alive with My glorious Presence, to those whose hearts are intimately connected with Mine. As you give yourself more and more to a life of constant communion with Me, you will find that you simply have no time for worry. Thus, you are freed to let My Spirit direct your steps, enabling you to walk along the path of Peace." – Jesus Calling
I love this portion because this is something that speaks a lot to me and my own journey that I've been on with God. One of my favorite verses is in Proverbs 16. It says, "Man makes his plans, but the Lord aligns his steps." And I find that to be so true.
"Man makes his plans, but the Lord aligns his steps." – Proverbs 16:9
There are so many times I'm trying to run ahead to worry about the future to worry about the how and the why and, "How is this going to happen?" or just getting too far ahead of myself and forgetting to be present in the moment. And I feel Jesus constantly pulling me back and reminding me to live in that moment with Him.
"I feel Jesus constantly pulling me back and reminding me to live in that moment with Him." – Kim Walker-Smith
The Journey to Jesus Culture
One day as I was standing in the back of our classroom at the school, the worship pastor walked by me. He stopped, came back, looked at me and said, "Do you want to sing?"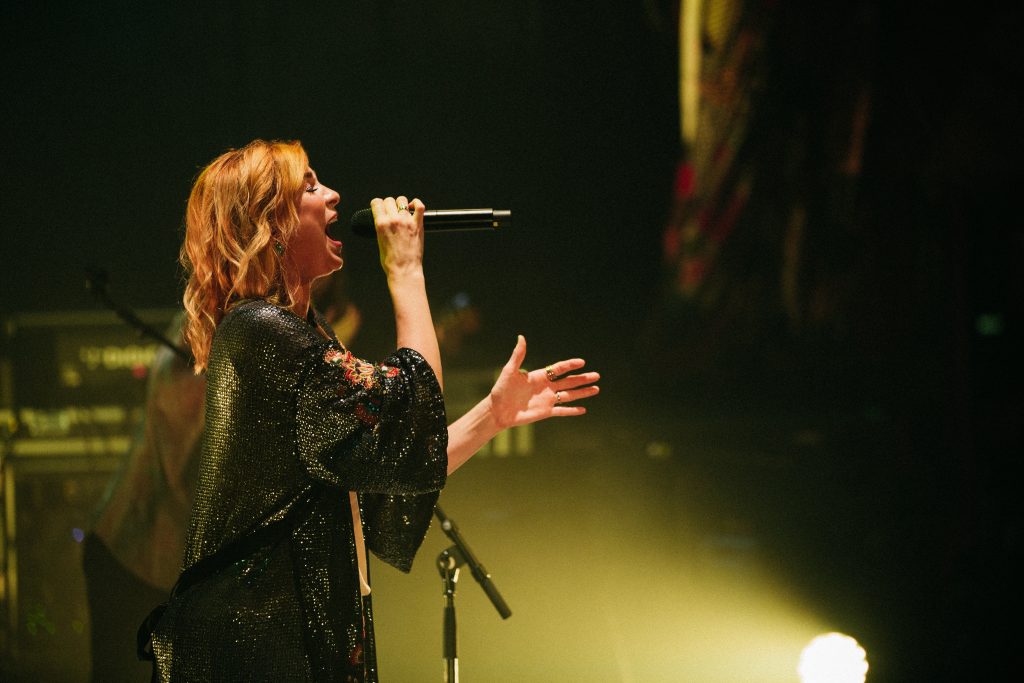 And I said, "Yes, I do!"
He said, "Why don't you go and look at the schedule and see when I'm leading next, and you can sing background vocals with me."
Which, as a side note, I'll say that can only be Jesus, because I don't know a worship leader in their right mind that would go up to someone they don't know and don't know whether or not they can actually sing and say, 'Hey, why don't you just jump up on stage with me the next time I'm leading?" I just felt like that was definitely God and His divine connection there.
And from that moment, I started getting opportunities to step out more in worship.
One of those opportunities was to help with the worship in the youth group. I had been working in there as a volunteer, as a social events director, planning all the parties and church outings for the kids and youth group.
Banning asked if I would join Chris Quilala, who is the other worship leader for Jesus Culture, in leading the youth worship and helping teach teenage girls how to sing, basically. And in that space, we had a kid in our youth group named Ian, who was learning the piano and getting better and better at that. We recruited him and brought him in to play keys with us.
Go forward a few more years, and we got another volunteer. It was a guy named Brandon who played the bass and, well, we needed a bass player. And he jumped in and started playing with us.
We started recording at our Jesus Culture conferences, and the music took off and went viral when "How He Loves" as a video got put on YouTube. And it went viral, and Jesus Culture's music took off. Our album started selling, and people started asking if we would come and put on a Jesus Culture Conference in their city and kind of do what we did where they lived and in their part of the world.
So we started doing Jesus Culture conferences all over. And after a few more years getting into the recording, our guitar player and our drummer came along, and that was it.
All of us have had been playing together and singing and writing together for many, many years. Chris and I have been working together the longest and working with Banning the longest. I've known and worked with both of them for 18 years. And this year Jesus Culture is celebrating 20 years. Our very first conference was 20 years ago, which is really incredible. Now all of us are are married and have children and families together, but still enjoying leading worship and now having a church altogether it's really incredible, actually, to have the honor to work with people for so long and to have good relationships and to really have family.
Worship with Vulnerability
One of my points of healing with the Lord, something that He said to me was how much He loved my worship and how He loved it when I was free and didn't hold back from Him and that it was beautiful to Him. And that was really powerful and significant for me to hear Jesus speaking to my heart and saying, "Yes, daughter, I love your worship, and I think it's beautiful, and I want you to be free."
Freedom and authenticity and vulnerability in worship is something that I have contended for in my life, and I feel like now as a worship leader, that's something that really marks who we are as a team and who I am as a worship leader is that freedom and the vulnerability.
"Freedom and authenticity and vulnerability in worship is something that I have contended for in my life." – Kim Walker-Smith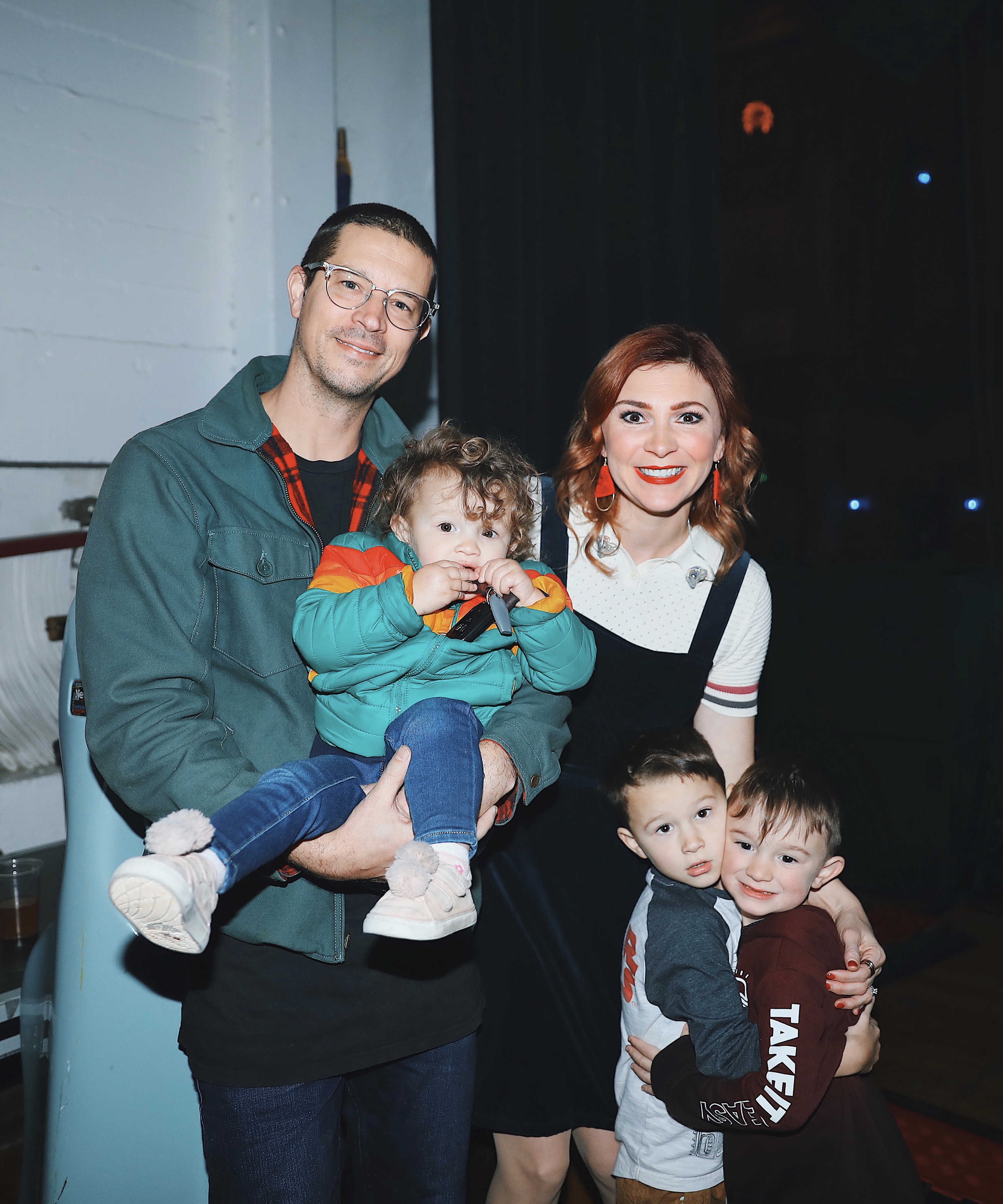 My sister one time said to me after a worship service I was leading, she said, "Kim, I feel like when you are singing spontaneously that you're singing straight out of your diary, that you're just singing your personal heart and thoughts to Jesus."
And that's true. It feels like that, it feels really vulnerable. But I feel like that's what we all want and crave in our relationship with God, is to be seen and to be heard and to be known and to be loved right where we are.
So I fight for that, because I feel like it's really important, and I want to lead by example. And so every now and then, I may feel nervous or I might feel that fear of man trying to pop its head up again, and I'll just kick it back to where it came from and push forward and worship with all my heart with all that I am and bring Jesus all the the worship and adoration that He's worthy of.
Give Yourself to God in Brave Surrender
My book Brave Surrender is my story and my journey with the Lord, everything that I've walked through with Him to get to where I am now.
I've never actually shared my story publicly. This is the first time. I've shared little bits and pieces here and there along the way, but this is the first time I've ever really shared the full story.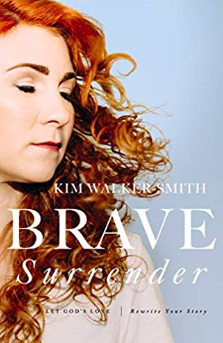 I really did not hold back. I poured out my heart into this book with as much vulnerability and honesty as I could, because I wanted people to see the the reality of Jesus in our circumstances, our pain, our mess, whatever it is we're facing. And from my experience as a worship leader, I know and I understand that people are drawn to authenticity and vulnerability, and it calls out to us and says that, "You too can be free. You too can be vulnerable you too can be authentic."
"I poured out my heart into this book with as much vulnerability and honesty as I could, because I wanted people to see the the reality of Jesus in our circumstances, our pain, our mess, whatever it is we're facing." – Kim Walker-Smith
I called this book Brave Surrender because one thing that I have learned in my journey with Him is that it's really easy to surrender when you feel beat down, broken, at the end of yourself. You're lying on the ground, cannot move, waving your white flag and just saying, "I surrender." But it's another thing, another kind of surrender, and I call it "the brave surrender," when it takes a lot of courage and trust and laying down your own strength to take up His.
"One thing that I have learned in my journey with Him is that it's really easy to surrender when you feel beat down, broken, at the end of yourself. " – Kim Walker-Smith
So what I mean by that is my childhood, the abuse that I walked through, the difficulties and the circumstances I walked through turned me into this very independent person who relied only on my own strength and feeling like "I can't trust Jesus to take care of me. I can't trust anybody to take care of me but me. And I don't know if I surrender to Jesus that He's going to take care of me the way that I want to be taken care of."
And it was a huge leap of faith and an act of trust and surrender that took so much courage for me to surrender to Him, even in my feeling strong and recognizing that I actually wasn't as strong as I thought I was. I was actually in a lot of pain and holding onto something that I thought was strength, but wasn't a source of strength to me. It was a source of pain, a source of weakness. And truly stepping out, trusting Him, surrendering to him and allowing Him to meet me right where I was.
My hope and my prayer for people when they read this book is two things, mainly.
One is I hope that as they are reading the book, that they feel the presence of God and they feel His love for them. I hope that the people read it and that every page, they are are feeling the love of a Father that sees them and knows them and meets them exactly where they are. Despite the mess, even if you made the choices it put you in that mess, He is a kind and loving Father who comes to us and meets us where we are and answers when we call out to Him.
"[God] is a kind and loving Father who comes to us and meets us where we are and answers when we call out to Him." – Kim Walker-Smith
And the second thing that I pray that people encounter with this book is the courage to live their lives daily in surrender to Him, to yield their hearts to Him and allow Him to bring freedom and to bring breakthrough and to set them free from their past. Anything that they've been holding onto, any dark place that they've been trying to hide or avoid that they would truly feel the courage to surrender that and allow God to come in and create beauty from the ashes and to give them a new perspective of the hard memories, the pain, the places that need healing to allow God to come in and and to set them free completely.
Also, I get so excited to think about that there is nothing that goes to waste with God, that He uses every piece of our story, every bit of our story. So even on the days when I feel like I've failed, or I've messed up, or I didn't do it right, that God, He can transform anything and He can take any difficult part of my story or any hard part of my story. And as I surrender to Him and [am] present with Him in the moment, that He can transform that and create something beautiful out of that.
"As I surrender to Him and [am] present with Him in the moment, He can transform that and create something beautiful out of that." – Kim Walker-Smith
Narrator: To learn more about Kim's book Brave Surrender, visit kimwalkersmith.com.
---
Narrator: Next time on the Jesus Calling Podcast, we host GRAMMY Award-winning worship leader Chris Tomlin and pastor and author Darren Whitehead. Chris and Darren share insight toward unlocking the mysteries in how we praise God, and how our lives are transformed when we learn to live a life of praise.
Chris Tomlin: If you kneel, it automatically puts you in a posture in your heart that is so different than when you're sitting or standing. If you kneel, everything changes inside. You cannot kneel before God and think, Wow, I am amazing right now. And you think, Wow, okay, I am . . . " It's a humble place. Yeah. When you lift your hands, it does something inside of you.