First Lady of Louisiana Donna Edwards Brings Hope to Incarcerated Women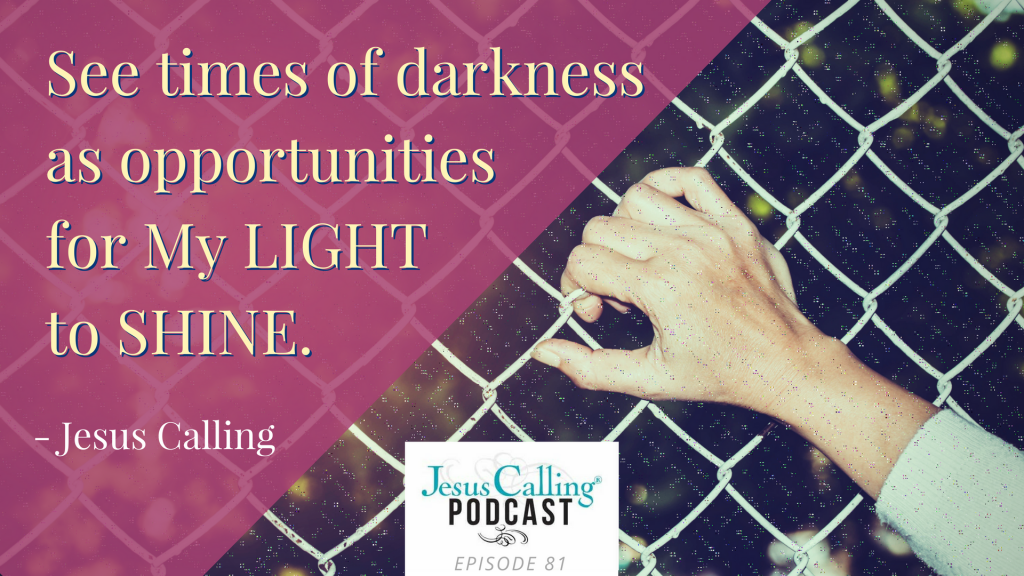 This week's episode features an interview with Donna Edwards, the First Lady of the state of Louisiana. Donna shares a little about her life and background, including partnering with her husband, Governor John Bel Edwards, in public service. As part of that service and in devotion to God, Donna felt led to share Jesus Calling with women inmates in her state, and visited them in person to deliver the books. She talks about that experience and the effect that gesture had on her and the women she encountered that day.  We also interview two women from the Louisiana Correctional Institute for Women who received The First Lady's gift that day. They candidly share heart wrenching stories of their past and the hope they now have in their futures.
First Lady of Louisiana Donna Edwards Brings Hope to Incarcerated Women  – Jesus Calling Podcast Episode #81
Narrator: Welcome to the Jesus Calling Podcast. Today we visit with Donna Edwards, the First Lady of the state of Louisiana. Donna shares a little about her life and background, including partnering with her husband, Governor John Bel Edwards, in public service. As part of that service and in devotion to God, Donna felt led to share Jesus Calling with women inmates in her state, and visited them in person to deliver the books. She talks about that experience and the effect that gesture had on her and the women she encountered that day.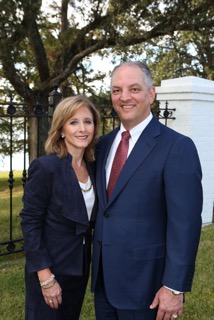 Donna Edwards: My name is Donna Edwards, I'm the first lady of Louisiana. My biggest blessing is that I've been married to my high school sweetheart for 28 years, and we have three children.
I was born in Mississippi. My mom, we always laugh and say she was a "domestic engineer." She is one of those women who can put out a spread of food and have it cleaned up before you go back into the kitchen. She is like the "hostess with the mostess." She was always there when I came home, and literally, I remember her having a Tupperware bowl of cookie dough. And it was pecan cookies, and she would scoop out everyday and have fresh cookies–I mean literally something out of a book.
My dad worked for International Paper Company. I was the youngest of two brothers, so I was the baby girl, and I was tough. He would take me out in the woods, taught me how to hunt, show me how to use a compass. He showed me how to hand shake really firm because he'd gone to one of those Dale Carnegie courses. So, he just taught me to be strong and who I am, and so together, I think, produced a pretty strong woman
I can remember on Sunday afternoons after church we'd go walking in the woods, especially in the fall, and swing on vines, and it's just a lot of fun growing up in the neighborhood and hanging out with kids and running the roads on bicycles. And then we moved to Amite, Louisiana when I was in fifth grade, and that's when I met my husband.
We started dating in high school, and then he went on to — he was a year older than I was — so he went on to West Point military academy. I went to school in Mississippi. And then we got back together, and after he graduated — well, he went to Ranger School — and then we got married. Our first tour of duty was in Hawaii… Schofield Barracks.
Then, we came back to the States after a couple of years and did some training and ended up at Fort Bragg, North Carolina. So we served a total of a little over eight years in the military. We decided come back after having two children. We came back to our hometown Amite, and that's when he went to law school and got a law degree. We came back and opened up a little practice in our small town. We both were involved in our community for the next eight years, being involved in the church group and youth group and PTO and all that great stuff.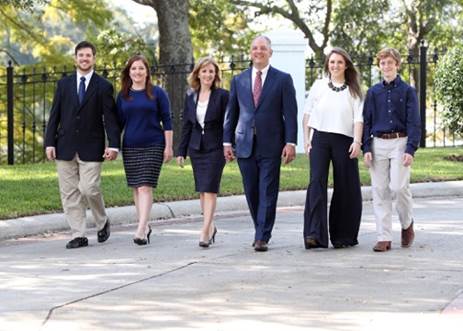 A Legacy of Public Service
My husband's family is from a line of public servants. His dad was the sheriff of our parish. His brother is currently the sheriff. His dad, his grandfather, his great grandfather, and his mom was an emergency room nurse for a charity hospital for 25-30 years. So, you know, he was brought up around that… that public service and giving of yourself and helping people. It was just almost a natural thing for him to be involved in it.
He was asked to run for state representative because the seat was open, and so he did. I, at the time, was raising three children and had gone back to school to get a certificate in teaching. I was teaching in school. So we were very busy, like many families. He served at the district level as a state representative for eight years, and he just saw a lot of things that he just felt like he couldn't change. He was either going to really go for it or just get out and do something different.
He decided just to run for governor, and to be honest with you, nobody really believed it. In fact, he got very little support from his party, very little support from a lot of the people around him. Of course, he had some support or he obviously wouldn't be governor, but he really worked hard. He knew this was something that he was called to do. And we decided to do it together, and here we are, a year and a half into the governor's mansion.
The one thing that that really came out of this campaign stronger than anything in regards to my faith and my marriage is that we were together as a team. John Bel and I would pray every morning, and we would find that strength together. We still do that. And, you know, that didn't start until then. Not that we weren't prayerful, but we didn't start every morning together holding hands and praying. It forced us to do that because we were both in this together, and we knew we were up against a lot.
I've seen us grow spiritually. I've seen us both really become planted, if you will, and firm. We've always been firm in our direction and what we felt were our morals and values. We have always been firm and set in that, but it's really just cemented. It's just like… this is who we are and this is how we believe and this is what we trust.
"We've always been firm in our direction and what we felt were our morals and values."
I've said this during the campaign: the second greatest commandment that Jesus said was to love your neighbor as yourself. And he never said who your neighbor was or is. He didn't say they're black or white. I feel like, as Christians, we haven't done a very good job in loving our neighbor.
Being Called to Love Others With the Love of Christ
To love your neighbor as yourself, what does that mean? That means I am not called to judge my neighbor. I'm not called to judge you. I may not agree with you. I may not agree with what you think. I may not agree with your political position. There's lots of things that we can disagree about — and we don't necessarily have to agree — but I'm called to love you regardless. I think that's where we're missing the boat as Christians. It's not for us to put our finger in people's face and judge. It is for us to love them. And I know that if we did more of that, we'd have more people coming to Christ.
"…we don't necessarily have to agree — but I'm called to love you regardless."
You bring people together by showing them how this works. How do you love people? You love them with the love of Christ, first of all. No one is perfect. We're all sinners. Jesus tells us in His scripture. "I was in prison; you visited Me." There's many places in scripture where He calls us to visit those in prison.
When I went to the NGA, which is the National Governors Association, we always get with the ladies, the First Ladies, and exchange ideas. It's really a wonderful opportunity to find out what other states are doing. So one of the other First Ladies from Tennessee had given us a flyer about sharing Jesus Calling with those imprisoned and women. I thought, "Oh, absolutely, I'll do this without a doubt."
So I came back and said, "Look, I want to do this. I want to do these books," and told them exactly how to do it. They said, "Well, we're going to be distributing, do you want to be a part of this?" I said, "Absolutely, I want to be there. I want them to know who cares about them and who's behind it." But just as God always is with me, He doesn't always show me everything.
I had this impression in my mind that I was going to walk into this room and talk to these few women and hand them a book and just spend some time with them. When I opened that door to the cafeteria and I stepped inside and 150 women who were imprisoned stood up and applauded the fact that I stepped into their life that day, it was the most humbling experience. I can't even explain it… that they were so impressed with the fact that I came.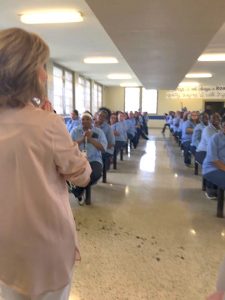 "150 women who were imprisoned stood up and applauded the fact that I stepped into their life that day,"
You know, it still sometimes shocks me because I'm just an ordinary person just like you and anybody else that's listening. It just goes to prove that those who are the least among us — those who are in prisons or in hospitals — are are so looking for somebody to look up to for hope… somebody to give them a little bit of attention and tell them they're worthy of who they are. So it was a very humbling experience that they stood up and applauded. I still wonder, "What is that about? What was that about?" I know, after visiting with them, we were a sign of hope for them.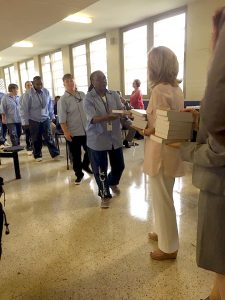 When I say hope, I mean hope that someone cared about them… that they weren't just thrown away. You know, we brought, through Jesus Calling, an opportunity for them to have hope. That was a very humbling experience.
Thoughts on Forgiveness
One particular lady had been incarcerated for 20 plus years. And to hear her story of how she came to know Jesus and how He had really taken over her life, that's humbling. That's humbling how God can change a person.
These ladies are incarcerated for a reason. They're serving their punishment. I don't know what they've done. I'd rather not know. There is a victim. There's a victim's family, and I can't even imagine what that must feel like to step into the shoes of a victim or victim's family. That would be the hardest thing, and I pray for those families that have been affected or have their lives turned upside down and possibly ruined by what another person incarcerated may have done.
And I'm so sorry for that, but we still have to love them, and we still have to forgive them because even Jesus himself, when they asked, "Jesus, give us a prayer." He says, "Our Father," which means He's the father of all of us. So those are our sisters in Christ. And He goes on for us to say, "Forgive us our trespasses as we forgive those who trespassed against us." We ask God to forgive us of our trespasses as we forgive those who trespassed against us. That's difficult. It's difficult.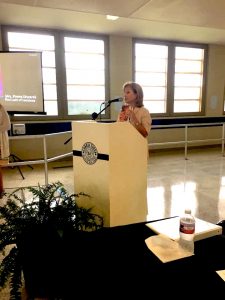 So, you know, I think it's like many things, we just say the words, and we don't really think about them. And we have to think about those words. And I think forgiveness is a really strong and hard thing to do in a lot of instances. It truly is only with God's help and praying and asking for God to help you, can one truly forgive.
"…only with God's help and praying and asking for God to help you, can one truly forgive."
Narrator:  The First Lady was able to bring hope to the women in the Louisiana Correctional Institute by answering God's call to walk among them and through the gift of Jesus Calling. She goes on to talk about how she makes Jesus Calling a part of her everyday life:
Donna Edwards: I feel like this is kind of like a little letter from God every morning in the mailbox. You know how you used to run to the mailbox as a kid to see what was there, and you were so excited. You don't get that so much anymore because you're just you're flooded with emails, but I feel like this is like a little note from God every day. I just can't even hardly leave without looking to see what it says. It's like I can't get up from my chair until I've made sure I've read Jesus Calling.
I do have one that I had just written about and talked about in my journal. It's August 10.
It says "Relax in My healing, holy presence and allow Me to transform you through this time alone with Me. As your thoughts center more and more on Me, trust despite this fear and worry. Your mind is somewhat like a seesaw. As your trust in Me goes up, fear and worry automatically go down. Time spent with Me not only increases your trust, it also helps you discern what is important and what is not. Energy and time are precious, limited entities; therefore, you need to use them wisely focusing on what is truly important. As you walk close to Me, saturating your mind with Scripture, I will show you how to spend your time and energy. My word is a lamp to your feet. My presence is a light for your path."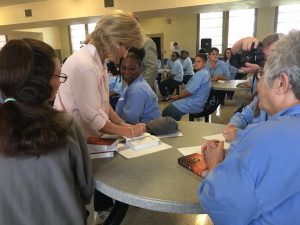 We never know the plans that God has for us. And, you know, that's what's so neat when you trust in God. You get on the path, and you trust in that path, and you walk that path with Him. And you don't know where it leads, and that's why everyday is a new day. And that's why every day is a gift.
Narrator: To find out more about how you can share Jesus Calling with someone who is incarcerated, visit TheNextDoor.org/Jesus-Calling. Also, to see the wonderful work Donna Edwards is doing for the state of Louisiana, visit GovernorsMansion.org. Be sure and stay with us as we interview two of the women that First Lady Edwards visited during her time at the Louisiana Correctional Institute and their incredible stories of hope and renewal.
---
As a special offering to you, the listeners of the Jesus Calling Podcast, Audible is offering a free audiobook download with a free 30-day trial to give you the opportunity to check out their service. Find your favorite Sarah Young titles, including Jesus Calling and Jesus Always in an audiobook version, and get it for free by trying Audible.com. Check out a small sample of the Jesus Calling audiobook featured at the end of this podcast. To download an entire free audiobook today, go to audibletrial.com/jesuscalling. Again, that's audibiletrial.com/jesuscalling for your full, free audiobook. Now, onto the second half of our show.
---
Believing What God Says About Us

Narrator: Next up on the Jesus Calling podcast, we speak with two women who are currently incarcerated in the Louisiana Correctional system. Both of these women were present the day that Governor's wife Donna Edwards came by with copies of Jesus Calling to give to all of the inmates. They each share about their own lives before and after their incarcerations and what the First Lady's visit meant to them and how they faced life in prison by daily trusting God.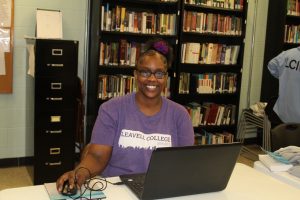 Sharonda: My name is Sharonda, and I'm 33 years old. I have one daughter. I was raised by my mother and my stepfather. I come from a Christian upbringing, but I ended up going astray.
I never had a real understanding of the Bible; so I was lost, and I also felt like religion was forced upon me at the time. It wasn't until I started going astray that I felt my heart crying out to God. It was kind of like my soul was just crying within my body because I was so lost.
"I was lost…it wasn't until I started going astray that I felt my heart crying out to God."
I went from bad relationship to bad relationship. I ended up losing a child when I was 17 years old. That sent me into a form of depression and rebellion against God because I felt like, "How could you take a life that was so precious and so innocent?"
I started looking to the wrong people for love and affection. I ended up trading God for money, basically, because I felt like I pushed Him on the back burner because I wanted material possessions in life. I ended up committing a crime, and I came to jail on a 50-year sentence.
I was broken. I've never been a person to harm somebody else, and for me to commit the crime that I committed, it was kind of like, "I can't believe that I just did that, you know? I hurt somebody." I was crying out to God. I remember being in a holding cell, and I was like "Lord, I need You. I'm so broken. I don't know who else to call but You." In the midst of it, I was given a Bible, a contemporary English Holy Bible. And I was able to understand the words that was in it and everything. I felt like the words were coming alive to me, like God was really talking to me through that Bible. And that's where I first found Jesus.
"Lord, I need You. I'm so broken. I don't know who else to call but You."
The void that I had… it's like God came and filled that void in me. I no longer looked to a person for love and affection when I already had it all the time. I started looking at it like God had been with me through everything, so why would I leave Him again? I wanna be where He's at, so let me get myself straight. He started pointing out more things to me… more things that needed to leave. I was harboring unforgiveness. I prayed and prayed on that, and He allowed me to be able to forgive people that hurt me, not just people that hurt me, but me forgiving myself, because that was the hardest thing.
It is just amazing to know God's love for you and to know that your fate is not in man's hands. You see, man gave me a 50-year sentence, but God didn't say that. Because whatever God feels fit for me, that's what I'm okay with, whether it's my earthly home I'm returning to or my heavenly home. I'm okay with that.
Give God A Chance For Your Future
I see my future as leading more people to God. I believe that I could lead millions to God. I want to be that person. It doesn't matter whichever field He puts me in, whether it's missionary work or whatever, because I don't always see myself inside these walls.
I always pray to God, and I say, "God, put people in my path that need Your guidance, that need your guidance. Allow me to be a light to somebody's path."
Narrator: Sharonda is now pursuing seminary studies through the Chaplain's program at her prison and wants to be a preacher. She longs to share with others the love and healing she has found in Christ, much as the First Lady of Louisiana shared Jesus Calling with Sharonda and others in her community.
Sharonda: We were all excited. Myself, I was really excited, like, "this lady is taking time out of her day to come and visit us inmates." And she was this little lady, and she was so filled with the Spirit.
It was amazing. She didn't act snobby with us or anything. She was just a God-fearing woman woman who came out there to give us some books, and it was amazing. She shook our hands, and she was very sweet to us.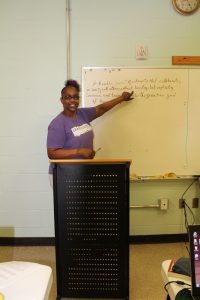 The Jesus Calling book, I read it every day. Like, the devotional for today really spoke to me.
I'm going to read this devotional for today, for August 16th, from Jesus Calling.
It says: "Meet Me in early morning splendor. I eagerly await you here. In the stillness of this holy time with Me, I renew your strength and saturate you with Peace. While others turn over for extra sleep or anxiously tune in to the latest news, you commune with the Creator of the universe. I have awakened in your heart strong desire to know Me. This longing originated in Me, though it now burns brightly in you.
When you seek My Face in response to My Love-call, both of us are blessed. This is a deep mystery, designed more for your enjoyment than for your understanding. I am not a dour God who discourages pleasure. I delight in your enjoyment of everything that is true, noble, right, pure, lowly, and admirable. Think on these things, and My Light in you will shine brighter day by day."
That's truly amazing.
I always pray, "God, strengthen my hunger for You. Strengthen my desire for You." That just lets me know that He hears me.
So many things that I prayed for started coming to pass. And it was amazing because I was like, "Hold on. I've been praying for that since I was a child when, and here He goes. He's making this a reality to me." And it was just amazing.
Like, my biological father. He found me, and he had been waiting for me to contact him. He had been looking for me my whole entire life, and it was just amazing. From there, I have siblings… so many siblings. It's just amazing the love that was coming from all over. He put people in my life to let me know that I've always been loved, and that's something that I was lacking.
If you give God a chance, He can straighten your life up just like he straightened mine up. When I felt like I was nothing, or I felt like what I've done was unforgivable, God gave me a second chance. You don't need a human figure to validate who you are. God is there, and He loves you regardless of your mistakes.
"If you give God a chance, He can straighten your life up just like he straightened mine…"
A Broken Life, Broken Choices
Narrator: Stay with us as we visit with another woman who shares her story of redemption and how she is learning to forgive herself, just as God and others have forgiven her.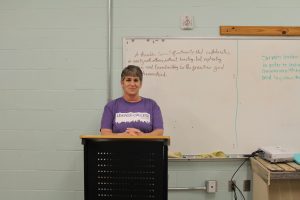 Tina: My name is Tina. I'm 50 years old. I have a son that's 26 and have a grandbaby that's 9. I was raised in a broken home. My natural father was an alcoholic. He was very abusive. My natural mother left us when we were little. I had a horrible life.
I was the oldest of three daughters. I would make my sisters go to church every Sunday. I felt like that's what I needed to do. And we never missed. Then when we were at my grandmother's, my grandmother would take us.
I was a very broken and very depressed person. I did not own my own Bible until I was in jail, and I didn't read it much then. When my son got to be a teenager, I decided I was going to be his Sunday School teacher, and the only time I read my Bible is when I had to do the lesson.
I guess what landed me here was a lot of wrong choices. I got in the wrong relationship. When I got put in jail, I just wanted to die. I didn't have any hope. When I went to court, they sentenced me. They sentenced me to a life in prison because I had taken my friend and her friend's lives.
I remember the day. I remember being in the back of a squad car and going through the town that I usually hung out in and realizing that I would never visit those places again. I think that's when I truly gave my life to God. My exact words were, "God, no human can help me now except You." And I gave my life to God. I went through a lot of changes in prison.
The Power of Forgiveness
One of my victim's cousins came to LCIW — she was at Phelps — and one day she came up to me and she said, "Ms. Tina, I'm from Delha." I picked up her name tag and looked, and her last name matched one of the ladies that I had killed. She told me, she said, "I've been watching you for a couple of months." She said, "I read a story about you in Unveiled, the magazine we had for prison. And she said, "I wanted to see whether you were living the life that they portrayed in this magazine." And she said, "I know you are." And I couldn't do anything but cry. I never expected that.
She told me she forgave me. For her to forgive me it was like, "Wow. How? I can't even forgive myself?" I'm not there yet. I know God loves me, and I love that He is allowing me to see Him work in my life. I mean, so many things are happening in my life that didn't happen at home. I would have never given an interview. I've given speeches… I never did that at home. But I think anyone, at home or here, needs to know that God is there. If you don't feel Him in here, just watch him work in your life. If you ask God to come into your life, He is going to come, and He's going to show out.
God Can Use Us Wherever We Are
When I first got there, I never looked at anyone. I walked with my head down. I cried all the time. I was scared. I had no hope. When I first got in prison, everybody kept saying, "Oh, you're a Christian. You have to love people." And I kept telling them, "No, I don't. I choose who I love." And one night I was laying in my bed, and I got woke up. I don't know if it was God talking to me or what, but what was said to me was, "You will love the seminary first."
I never wanted to go to seminary. I was a chapel worker, and I was happy being a chapel worker. I loved helping the seminary, and I knew my jobs were going to change. But I didn't know that most of my jobs would be given to somebody else.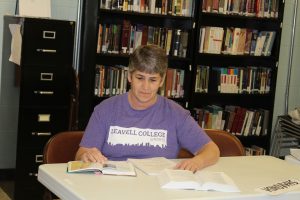 And one of the volunteers told me one day — I was talking to her about it — and she said, "Tina, when God closes one door, He always opens another."
And I said, "What do you mean by that?" I said, "I'm in prison. You know, I can't leave here."
She said, "Tina, it's time."
And I said, "Time for what?"
She said, "Time for you to go to seminary."
And I'm excited about going to seminary. I want to learn all I can. I was a chapel worker for three years, and I loved my job. I always wondered, "Why do I feel okay in prison?" I have an adopted mama and daddy, and my mama told me one day on the phone, "Baby, it's okay to be happy in prison." And I was.
I don't want to be here. But this is where I am, and I think God can use me.
When I think of the governor and his wife, I think of change. They are making changes.
I was excited, but I didn't really understand what was going on. But for her to stand up there and hand out each book to every offender, it was like, "Man, she does care." She kept saying that she's praying for us and all that, and I truly believed her.
Seek God and Watch for What He Will Do
Narrator: Tna describes how she got her first Jesus Calling while helping a group of ladies organize church services in her parish prison.  
Tina:  Miss Virginia, one of the ladies, came up to me, and she had a gift. She said, "Tina, I want to give you this." So I opened it, and it was Jesus Calling. And I started crying. I said, "Thank you so much." I mean, that meant so much to me for her to give me a devotional. And back then, I didn't read any devotionals. I barely read my Bible. But she gave it to me, and I read it. Then, when the governor's wife came, and I got another copy of it, I prayed about it. And I didn't really know what to do; you know, who would I give it to? I sent it to my Mom and Daddy. And they read it every day. My Mom says sometimes she'll look back at different days and read it, and that means a lot to me. I mean, they've always read their Bible, but now they have a devotional. And it's like they're sharing something with me, or I'm sharing something with them.
In Jesus Calling, it always talks about Jesus' presence. I didn't sleep well last night because I was thinking about this, and I sat on my bed. I played my game. I read my book. It kept tugging at me to read today's devotional, so I pulled it out and read it. And I'm thinking about it, and read it again. I know that He's there for us… in everything. I mean, you can't see Him, but you can sit back and watch what He does.
I read the devotional every day, and sometimes I have to read it two or three times to fully understand. But I know that He's there. He's here for everybody, but you have to want Him.
They need to holler out to God. They need to read their Bible. They need to read Jesus Calling.
I hope one day I get to go home. But if I don't, that's okay. Seminary is going to equip me with what I need to help these ladies on the compound. There's so many ladies here, and I want to help them.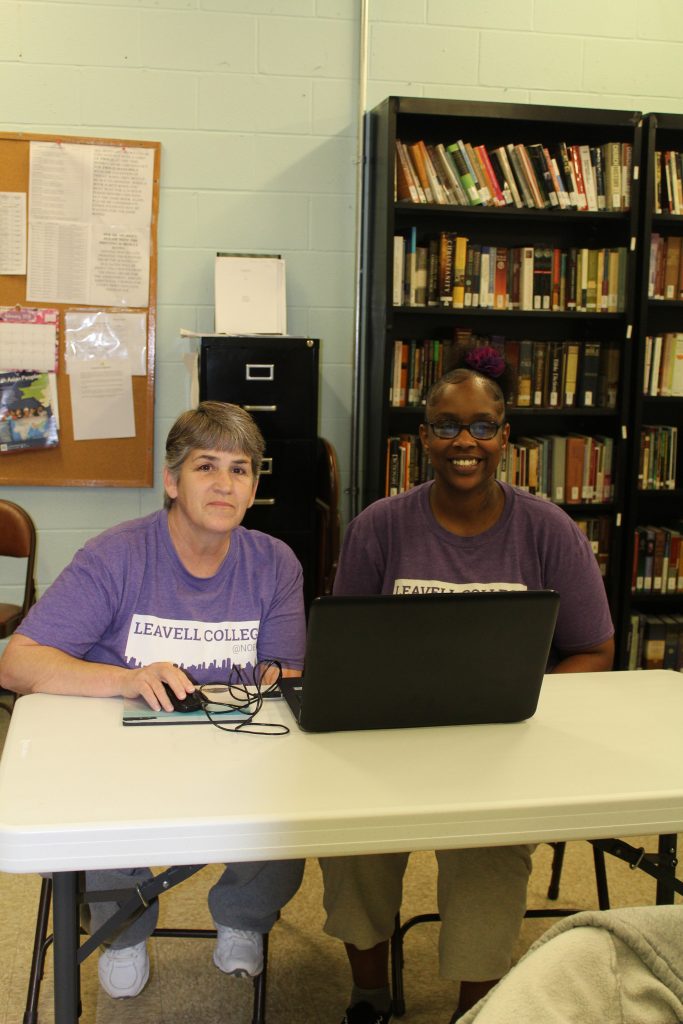 Narrator: To find out more about how to get copies of Jesus Calling to women and men in prison communities near you, please visit TheNextDoor.org/Jesus-Calling
Narrator: Next time on the Jesus Calling podcast, we visit with Clayton & Ashlee Hurst. The Hursts have been married for over 20 years and have 3 children. They have been on staff at Lakewood Church in Houston, Texas, since 2004, where they currently serve as the Marriage and Parenting Pastors. For many years, Clayton and Ashlee struggled in their marriage, not understanding how to make each other happy. They share about how they worked through that struggle and how they help others going through the same thing.
Ashlee Hurst: Those early years for us were very challenging, very difficult and we found ourselves in a place of hopelessness because we didn't know how to communicate.
The more counseling we've done, the more we found that a lot of couples find themselves in the same place we were at; just not knowing how to communicate with each other, not knowing how to share thoughts in your life, and difficulties, and how to forgive.
So that was really one of the biggest reasons we wrote the book.
Call to Action: Hear more great stories about the impact Jesus Calling is having all over the world. Be sure to subscribe to the Jesus Calling Podcast on iTunes. We value your reviews and comments so we can reach even more people with the message of Jesus Calling. And if you have your own story to share, we'd love to hear from you. Visit JesusCalling.com to share your story today.  
SaveSave