The Wickes Honor Their Mother After Her Cancer Battle
'Active and engaging' would be two words to describe our mom, Amy Wicke. Outgoing and personable, she made friends quickly, and most of those friendships lasted her entire life. Her real passion was exercise. She loved running, bicycling, swimming, weight training, and aerobics classes—anything to keep moving and be outdoors. Mom's age didn't slow her down either. We remember her lobbying our dad to get us a trampoline, but she probably wanted it more than we did.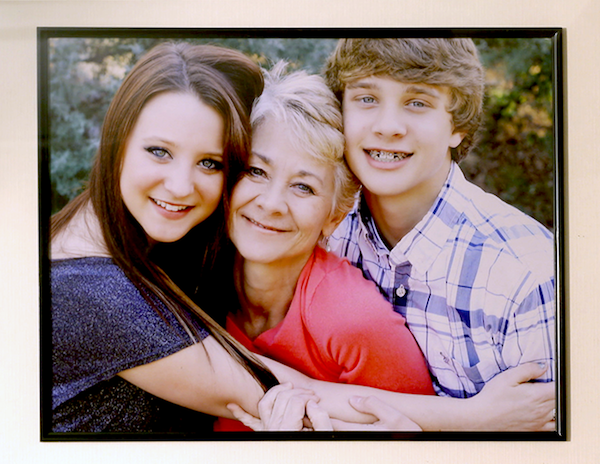 Our mom was also very competitive. When she was younger, she competed in gymnastics and swimming at a very high level. No matter what type of activity she was engaged in, Mom always wanted to improve. It turns out that her drive and competitive spirit would serve as an inspiration to many . . .
In October 2002, I (Monica) was eight, and my brother (Brent) was four. Just before church one Sunday, our mom had a seizure. After various tests and multiple hospital stays, we learned that Mom had a brain tumor. We were young and didn't really understand what any of it meant—except she needed surgery.
The tumor was located in the part of her brain that controlled her right arm and leg. The surgeons were aggressive but weren't able to remove the entire tumor for fear of causing permanent paralysis on her right side. Even so, Mom still had to do a lot of physical therapy to learn to use her arm and leg again. She would practice picking up small objects and grabbing cans of soup to get her motor skills back. Mom would be so excited when she could lift those cans. Her competitive nature came out as she worked to get back to her pre-surgery abilities.
Mom also had to relearn to lift her right leg. Her right foot would just shuffle; she had to really concentrate to lift her leg to walk normally. We helped her walk around the house and down the street, trying to develop her strength and ability. She was determined to get back to normal so she could start her exercise routine again.
It wasn't many months before Mom was running and going to the gym again. People would tell her what an inspiration she was—to come back from brain surgery and be outside running and living a seemingly normal life. Mom took a lot of pride in "conquering" the surgery and the tumor and continuing to be so active.
After the surgery, she did chemotherapy and then radiation to shrink what was left of the tumor. The tumor never went away, but what was left didn't grow for a long time. Other than periodic doctor appointments, the next several years were fairly normal.
However, in late 2011 Mom started having seizures again. She went through more chemotherapy and radiation treatments to slow the growth of the tumor, but one of the side effects was that she began to lose function of her right arm and leg.
Probably the most difficult thing for our mom to accept was the loss of her ability to be active. She became increasingly frustrated as the nerve damage prevented her from exercising the way she had in the past. She would often cry because the thing she loved more than anything was being taken. Her competitive nature wouldn't let her accept that things were different, which just further frustrated her.
By the middle of 2012, the deterioration in her motor skills, along with continued seizures, prevented Mom from driving and made it impossible to continue working at the job she loved so much.
A Helping Community
Not having something to do or somewhere to be was extremely difficult. Boredom set in quickly, which led to sadness and depression. Our mom was blessed to have a wonderful network of friends who would take her out to run errands, have lunch or coffee, or just fill the day visiting. Those friends helped her in so many ways. They lifted her spirits and helped her accept her new reality.
This was about the time she got invited to join a Bible study group at our church, First United Methodist Church in Grapevine, Texas. Around this time, one of Mom's friends and fellow Bible study members, Jani Barr, gave our mom a copy of the devotional Jesus Calling by Sarah Young. Little did we know, this small book would have a huge influence on Mom and our family in the years to come.
One of the fondest memories we have with our mom is our trip to New York City in September 2013. Her mobility had deteriorated to the point that she needed to wear a pretty big leg brace to help her walk. Her medicine also caused a lot of fatigue. We were worried about whether she could keep up with all the sightseeing and activities she had planned.
But once again, our strong mother rose to the occasion. The trip was perfect. We had so much fun together laughing and enjoying our NYC adventure. We saw two Broadway shows and did so many things. It was definitely a bucket list memory for all of us, especially our mom.
Our mom never let her illness and physical limitations define her.
God has a way of looking after all of us. We had been so concerned about Mom being able to make the trip to New York City, and it all went off without any problems. However, just two weeks after we got home, she began having seizures again. They became more frequent and lasted longer. An MRI revealed that a second, much more aggressive tumor had started to grow. Surgery and radiation weren't options. A new, very powerful type of chemotherapy was the last resort to slow the tumor's growth.
Within weeks, her leg became so weak that she was falling frequently. Mom's doctor informed us that it wasn't safe for her to be alone. An assisted living facility, where she could receive the support she needed as her health continued to deteriorate, was necessary. Within six weeks, she went from walking through Central Park on her own to being cared for around the clock. Our mom—the most independent, active, and proud person we knew—now had to ask for help for even the most basic activities.
Throughout this time of transition, she grew closer to her Bible study group. She loved the fellowship and being able to share her concerns and study the Bible. The group truly became her support system.
A Rapid Decline
Mom's health began to decline more rapidly in early 2014. It became more difficult for her to leave the facility to attend Bible study. So the Bible study decided to come to her! They held their weekly meetings at the assisted living facility so Mom could attend.
It wasn't just Mom's physical health that was deteriorating but her cognitive capacity as well. It became more difficult for her to do the reading and homework to keep up with the Bible study materials. She asked if the group could just study the daily devotionals from Jesus Calling. Everyone agreed. The generous spirit exhibited by her Bible study group allowed our mom to always feel like she was part of the group, even when it was difficult to fully participate.
Our mom never let her illness and physical limitations define her. However, she had a terminal diagnosis. At times she shed many tears and questioned why this was happening. Through all of the inner conflict and the many challenges she faced, the messages from Jesus Calling provided her with a sense of peace and encouragement. The book was truly a calming presence in her life.
Mom's Bible study group continued to meet at her assisted living facility until she passed away, on August 31, 2014. She was only fifty-four years old.
Our mom fought her cancer battle for twelve years. At many times, she became angry about the circumstances she was in. Even during those dark, sad times, she always found encouragement and peace in the pages of Jesus Calling. We think the short entries, ease of reading, and daily approach made it more accessible to her—even as her abilities faded. She would highlight certain lines and write a note or two on the pages that really spoke to her. As Mom's ability to concentrate declined, she turned more and more to Jesus Calling for spiritual guidance and hope.
Tragedy & Redemption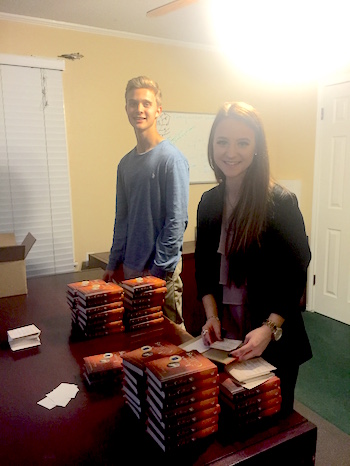 In January 2015, our grandfather—our mom's dad—passed away. We received an inheritance on behalf of our mom. It was so generous, but it was also bittersweet because of the losses that had brought it about. We spoke to our associate pastor, Cindy Ryan, about making a gift to our church as a way to honor our mom and also pay tribute to the generosity and compassion of her Bible study group. Dr. Ryan took it to the Bible study group, and they decided the best way to honor the group and our mom was to put Jesus Calling into the hands of as many people as possible.
Working with our church and the Bible study group, we will be able to distribute 2,000 copies of Jesus Calling to anyone who may have a need for its encouraging, uplifting words. We can't think of a better way to honor our mom.
Be sure to listen to the podcast interview with Brent and Monica Wicke about the legacy their mom left behind.