One Church's "Jesus Calling" Story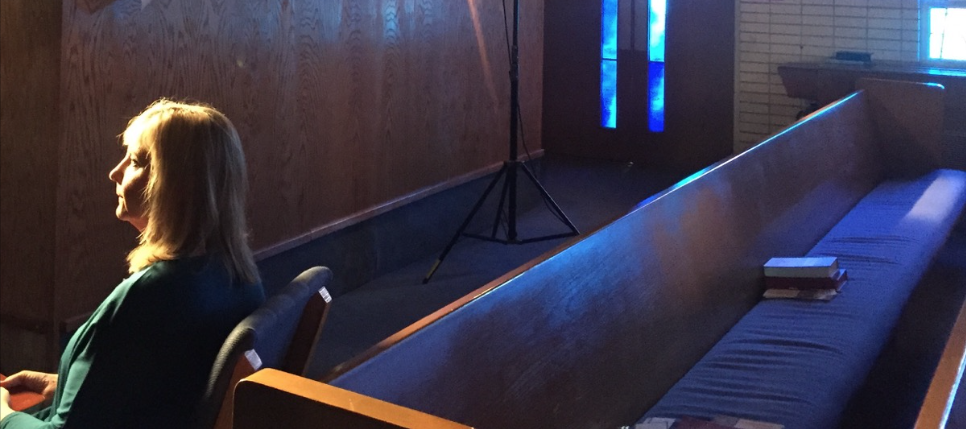 Sometimes the best view comes when looking backward. I am a pastor in a 2,800-member Methodist church in Texas. Like most pastors, my days are filled with typical church happenings: programs, studies, ministries, church members' needs, planning, and leading weekly worship.
Five years ago, I became aware that some women in our church were reading the devotional book Jesus Calling. They had been buzzing about the impact the book was having in their lives. But honestly, church members buzz often. They regularly tell their pastors about books or devotional materials we should read. With a full ministry plate and a busy family life, I'd had no time to read Jesus Calling, even to evaluate it. Their words and recommendations barely registered.
Little did I know, God had a different plan . . . Little did I know, with those few women reading this small book, our congregation was actually being prepared and equipped for a tragic and devastating season of loss.
In 2011, our church was enjoying a happy, fruitful time. A new senior pastor had arrived in 2005, and he was a just-right fit. Dr. Ken Diehm, with his honest, transparent, Spirit-led faith, had called our congregation to a season of risk-taking mission. We had begun reaching out to our local community and around the world in significant, fun, God-breathed ways. Our worship attendance was climbing. Leaders and volunteers were saying yes.
Personally, I found in Ken a once-in-a-lifetime ministry colleague. He was visionary, kind, and full of fun and practical jokes. He pushed me to be a better version of myself and to get out of my comfort zone. He once told me, "We don't have to work hard dreaming up what to do, Cindy. We just need to pay attention to where God's Spirit is moving and go there." And so we did. We watched for God to move and joined in. The church and our ministries thrived.
And then on one day, it all changed.
We had finished a normal workweek. We'd been shooting some lighthearted videos for that Sunday's worship. In the middle of the night, I got a phone call that changed everything: Ken was in the hospital. I remember hearing the words "serious" and "brain bleed." I could not take it in. He had been so happy and healthy the day before.
The next day Ken was transferred to the ICU. A doctor told the family that Ken was suffering from previously undiagnosed leukemia, which had come on suddenly and caused the brain bleed.
Our church gathered that night for a prayer vigil. We cried, prayed, and clung to each other. When we left the vigil, we got the news. Our friend, leader, and spiritual guide had died—suddenly, shockingly. The waves of grief and loss were suffocating.
On Sunday, February 20, 2011, we did all that we knew to do. We gathered for worship. We leaned on our rituals. We sang even though our voices hurt. I tried to preach to a packed house of stricken people.
Later, a therapist told me, "A bomb might as well have gone off in your congregation. This is a tragic loss affecting so many people on so many levels."
I barely remember how I functioned in those days. I do not know how I preached that Sunday or managed to preach a few days later at the biggest funeral I've ever been part of. Our campus was filled that day—every venue at capacity with the service streamed from our sanctuary to our Family Life Center and our chapel.
During the days following Ken's death, people reached out to me with cards, meals, texts, e-mails, and books. I must have received twenty-five different spiritual books from people trying to help.
One of our members, Pat Laster, a quiet, wise, spiritual woman, a praying woman, a cooking woman, came by. She brought a meal, a hug, and a book, Jesus Calling. She told me again how much the book had helped her and others. Again, I could not hear her.
Days went by. The grief was raw. The ripples in our church were only beginning to unfold; anxieties were so high. To right myself, I relied on routine. I woke up early every day wondering what to do. And then I'd remember: Just do what you've always done. Drink coffee, walk, write in your journal, read scripture, pray, go to work . . . repeat.
Amid those dark days, during a time of morning prayer, I noticed on my bookshelf all the books people had given me. For some reason, my eyes landed on Jesus Calling. I pulled it from the stack. I opened it. The entry that day began like this:
"Keep your eyes on Me! Waves of adversity are washing over you, and you feel tempted to give up. As your circumstances consume more and more of your attention, you are losing sight of me. Yet I am with you always, holding you by your right hand. I am fully aware of your situation." (Jesus Calling, February 27)
The day after Ken's death, when I stood up to preach to the devastated congregation, one of the things I said was, "We have to look up. Look up." That Jesus Calling entry was a soul-soothing reminder of my own words. I knew it was scriptural. God says over and over to us, "I am with you." This felt to me like the Word made flesh—actual incarnation. The Word was dwelling in my home. It was in my hands. It had been delivered to me in a short, powerful, personal entry that I could take in, even in my grief.
That Word made flesh, in the form of Jesus Calling, transformed me. It anchored me. It reminded me daily to calm down, to trust, to read God's Word, to lean on the Prince of Peace.
Sometimes the best view comes from looking backward. Now I can see that God provided our congregation with a transforming, healing, centering Word through Jesus Calling before we ever even knew how much we would need it.
The comfort this book has brought has changed me. It has healed me. It has prepared me for personal challenges I have faced in the days since. At the same time as I began reading it, Jesus Calling began spreading through our congregation, helping people in their individual struggles, our peace stories brushing up against one another in ways we would see in full only later.
Just a few weeks ago, I learned that Pastor Ken, at the time of his death, had one book on his bedside table, one book he was reading at that time.
It was Jesus Calling.
I never knew that. I couldn't have. But when I learned it, I thought, Of course he was reading Jesus Calling. Of course.
God will provide. God will empower us with the Word. God will find a way, a tool, a faithful person to deliver that Word to us every time. For me, that Word came in a little book, Jesus Calling. It changed me—and now I can see it that it changed our entire church.
Want to hear Cindy Ryan tell her church's story? Check out the "Experience Jesus Calling Podcast – One Church's Story". Our next blog in this series features members of Grapevine First United Methodist Church; Steve and Donna Rotenburg tell their story of how Jesus Calling helped them while dealing with their children's substance abuse issues.