Five Reasons We Need Christmas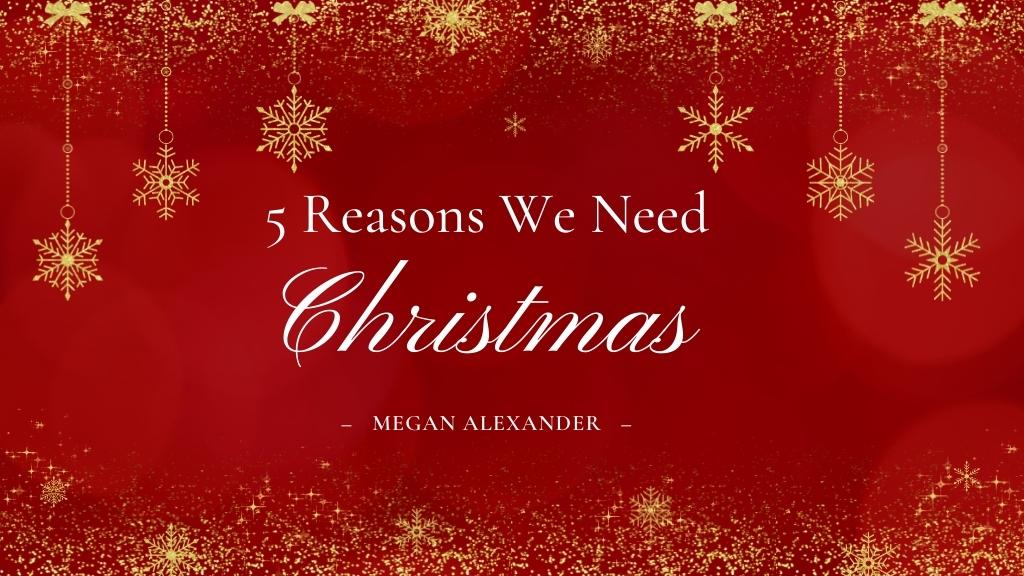 An old familiar song says that "we need a little Christmas," but the way I see it, we need a whole lot of Christmas this year.
Here are five things that make this season so merry and bright to me. And who knows—you might even find a few of yours mentioned!
---
1. Christmas puts us in a great mood.
One of my favorite things is to walk around in December and just hear people greet each other. In the grocery store, as you pay for your items, the clerk looks up, and cheerily says, "thank you and Merry Christmas!" I've seen countless people readily react to this greeting with a grin responding, "Merry Christmas to you!" 
Think about things you could to do share your good mood with others, like paying for the coffee order behind you in the Starbucks drive-thru line. Instant smile! Your good mood just became contagious.
2. Christmas reminds us how joyful it is to spend time with others.

I don't know about you, but one of the big reasons I appreciate and enjoy Christmas so much is the shared experience. 
I love watching holiday movies with my family, decorating a gingerbread house with my kids and laughing at the sloppiness of the candy and the icing. Have you ever tried to decorate a gingerbread house by yourself? Not nearly as fun when no one is laughing at your gum drop as it slides down the roof!
Think about how joyful it is to have a big countdown when you light a Christmas tree, whether it's with your family or your entire town. It's so much fun to join with other voices screaming "3,2,1!" as colors burst along the branches! And think about how meaningful it is to go to a Christmas Eve service, holding a candle and reaching out to the person next to you to receive their flame, then turn and do the same for the friend next to you. 
3. Christmas is a time to celebrate old traditions and try new ones.
One of my all-time favorite things to do at Christmas is to learn about other people's traditions. What makes the holiday special for them? Do you open your presents on Christmas Eve or Christmas morning? Does your mom or grandma make a certain dessert? My Grandma was known for her marble fudge and pineapple cookies. Every year I try my best to make them as good as she did.
I love hearing and seeing the way others celebrate this special time of year so much that I'm actually hosting a brand-new show about it! It's called Small Town Christmas, and it's wonderful to see all the unique ways we make this holiday special.

4. Christmas gets us thinking of others. 
In a world that's fast paced and can feel self-centered at times, Christmas brings an abundance of opportunities to think of others. 
My boys have learned that the morning of Christmas Eve means we head to McDonalds, buy some cheeseburgers, and drive around town and give them to folks who might be experiencing homelessness.
My kids also look forward to the "winter coat drive bin" at our church where we collect coats for people in need. They excitedly start talking about what coats they have in their closet that they can bring and donate.
Maybe your church bakes cookies or sings carols for nursing homes. Maybe there's a collection jar at work to buy toys for children who may not get any this year. Keep your eyes peeled for ways to help out, and you'll surely find them.
5. Christmas helps us celebrate our Savior.
Most importantly, Christmas helps us to remember the birth of Jesus, the One who gave up heaven to come to earth so that He could save us. Remembering that Love came down to save me fills me with more joy this season than I could ever express.
---
About The Author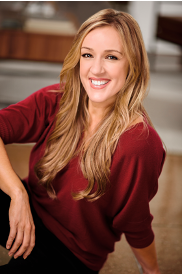 Megan Alexander is a national EMMY-nominated host, bestselling author and executive producer. She has worked as a national correspondent for the syndicated TV show Inside Edition for almost two decades. She covered Thursday Night Football for two seasons on CBS, has starred in dozens of movies and TV shows. She is married to Brian, and they have three adorable children. 
A Christmas fanatic her whole life, Megan plays Christmas music year-round and hosts an extravagant Christmas party every year for family and friends. Check out Megan's brand-new series, SMALL TOWN CHRISTMAS, airing on UPtv every Sunday night in December. 
Facebook: @ChristmaswithMeganAlexander
Instagram: @smalltown_christmas
Instagram: @MeganJAlexander1