Roma Downey & Andrea Logan White: Bringing Light to the World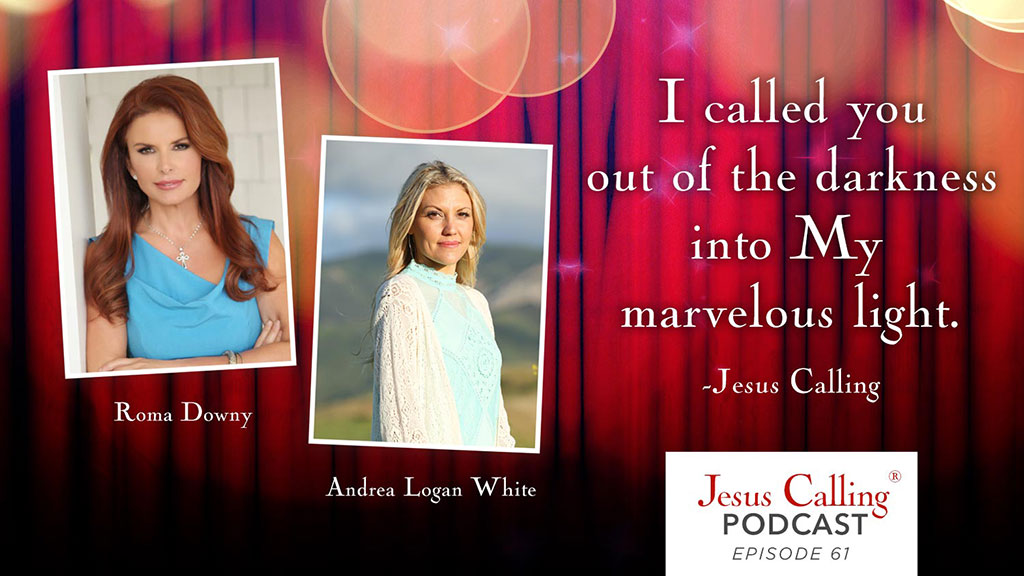 Roma Downey is best known for her role as an angel named Monica on the beloved television series "Touched By An Angel." She has earned multiple Emmy® and Golden Globe nominations as an actress and producer, and is now at the helm of new venture called Lighworkers.com. Andrea Logan White is a wife, mother, actress, producer, writer and speaker. Coming up as an actress in Hollywood, Andrea has walked through discouraging valleys, and emerged with an enduring passion to encourage people like herself who have struggled with issues of self-image and self-worth. Both of these women have a strong desire to bring stories of faith to the world through the mediums of film, television, books, and digital, radiating hope and light to those who are experiencing darkness in their lives.
Narrator: Welcome to the Jesus Calling Podcast. Today we speak with two influential women in the world of Entertainment. Our first guest is best known for her role as an angel named Monica in the beloved television series "Touched By An Angel." Roma Downey has earned multiple Emmy® and Golden Globe nominations as an actress and producer. Downey along with her husband Mark Burnett produced the Emmy® nominated miniseries 'The Bible' for the History Channel, which was watched by over 100 million people in the US alone. Downey continues to pursue her passion of bringing the Gospel to the world through the medium of television and film, and now has a new online community full of inspirational and uplifting resources called "Lightworkers.com."
Roma Downey & Andrea Logan White: Bringing Light to the World – Jesus Calling Podcast Episode 61
Roma Downey: Hello, I'm Roma Downey, and I was born and raised in Derry City in Northern Ireland, and I emigrated to the United States about 25 years ago now. I came over with a dream in my heart to be an actress and I had a really blessed career.
I grew up in a house full of faith and my mother had passed away when I was just a little girl. I was just a week shy of my 11th birthday and my mother died very unexpectedly of a heart attack. To say that it changed my life would be an understatement; it was as if my life had been in full color until that point, then suddenly it went into black and white. She had just been a joy in our home. She was the warm fire in the cold hearth and any of those metaphors could have described that loss. It was extremely painful and I don't know–if it hadn't been for her, our faith, and the fact that we as a family were able to lean into our faith, and found the comfort in our faith, and hope in our faith.
I grew up in a house where it was always the right time for a prayer and I honestly can say that throughout the journey of my life I've never made any decision big or small that I didn't approach prayerfully.
From Checking Coats To Touched By An Angel
One of my very first jobs, before I got any acting work or had any success as an actor, I was just a young girl with a dream; an Irish girl in New York City. One of my first jobs was as a coat checker. I was checking coats in a very fancy restaurant on the Upper West Side in Manhattan.
I remember one of the very first celebrities I ever met was Regis Philbin. He came in and checked his coat and at that time he and Kathie Lee had the Regis and Kathie Lee show together. I remember he checked his coat, and normally I might have gotten a quarter or a dollar a coat–if I was lucky–and Regis gave me $20. I thought I had died and went to heaven.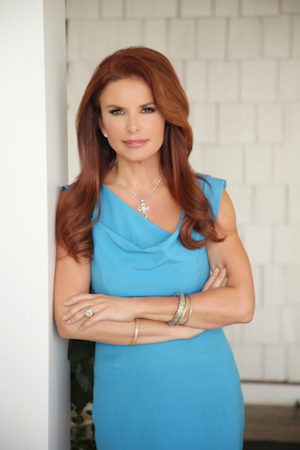 Five years later, I was starring on Touched By An Angel. That could only happen in America, I'm certain of it, that you could be a starving coat check girl one day and you could be a star of a TV show the next day. But anyway, I was invited on the Regis and Kathie show and I got to tell him that story. He laughed and he said "you're only telling me this story for two reasons," he said, "either I stiffed you, or I was generous." I said,"well I'd never come on your show and tell a bad story about you." So the kindness always comes around.
Kathie Lee, as you know, is a dear friend of mine and I've known her now for many years. She guest-starred way back when on Touched By An Angel. That was such a pleasure for me to get to work with her as a fellow actress and a pleasure for me to get to know her as a strong woman of faith.
For many years, I had the privilege of playing an angel on a CBS television show called Touched By An Angel. I played the character of Monica. Every week, I got to deliver a most important and joyful message and that is; that there is a God, and that He loves us, and that He wants to be part of our lives.
I think that I have learned, from having experienced deep and profound loss at such a young age, I was able to use it in playing the angel, because a lot of Monica's role on Touched By An Angel was listening. Listening, not just with her ears, but listening with her heart, and really trying to understand what it is that the person might be going through.
Every week, I got to deliver a most important and joyful message and that is; that there is a God, and that He loves us, and that He wants to be part of our lives.
Unlike any television show I'd ever been on before, we would pray. We would hold hands, and we would pray that the Holy Spirit would come through us, come through me, and we would minister to anybody watching whose heart was hurting in any way. So my prayer became "less of me, more of You." It's a prayer that I utter in all the work that I do to this day, because it was never about me, or Della Reese, or John Dye, or any of the actors who were on the show with me.
The People That God Brings Into Your Life
One of the greatest and most lasting gifts of being on Touched by an Angel was my beautiful relationship with my co-star; the wonderful Della Reese. Della, for anybody that's ever met her, people will know, that she's not a hand shaker. She's a hugger.
I remember when I first met her on the set, I came into the hair and makeup trailer and she was sitting, getting ready for that first scene. She's got a big personality, and a big smile, and a big heart. I came in and politely put out my hand to shake her hand to introduce her, and she stood up and she's much taller than I am. She stood up and she threw her arms open wide and she said "baby I don't shake hands. I'm a hugger." She wrapped me in her loving embrace, and I can tell you from all experience, there's no safer place in the world than in the arms of Della Reese. The relationship that you saw onscreen on Touched by An Angel was reflected very much by the relationship that we had off screen.
She has been such a wise mentor to me, a teacher, a funny, feisty guider. She's just been a joy in my life. She and I share something very special because as I mentioned to you, my mum had died when I was a little girl. So in many ways, I grew into a woman who has just always been looking for that relationship all these years. There's not a day goes by I don't think of my mother, but Della came into my life with such a maternal and loving warmth and energy, and she really took that place. When I was working with Della, her only daughter tragically passed away. Months later when we were walking together in quiet reflection, she took my hand, and she said, "you know baby, God is just amazing because I always knew that He brought me into your life because you needed a mother, I just didn't realize," she said, "that He brought you into my life because I was going to need a baby girl." She said "will you be my baby?" I said "yes," and she said "I am your mama." So from that day, she has been a mother to me, and I have been a daughter to her. That's just such evidence of God's goodness, because of course each of us still longs for—-she for her daughter and I for my mom–but we've been able to provide comfort and love and fill some of that need in each other. As Della would say "that's a God thing," that we were able to do that and be there for each other
A Hunger For Stories About God
Even though the show has been off the air for many years now, my relationship with Della has endured. I saw her just a few weeks ago. We continue to be very present and very much a part of each other's lives. It was very special to be part of that–it was such a beautiful show and a beautiful job to be able to take home at the end of each day. I learned so much from being on the show and playing Monica was such a gift for me.
We became such a family. We worked together for almost 10 years and we all loved each other dearly. I think we were collectively all aware that we were part of something that was considerably larger than all of us.
I know that my experience in the industry of show business with regards to faith has been an interesting one. From the early days of Touched By An Angel, I attended several events down in Los Angeles. On Touched by an Angel we filmed out of state. We filmed in Utah. We were there because it was less expensive for a production company to make a series there.
Consequently, we were a little bit like the "country cousins." We weren't living and shooting in Hollywood. So when we came in for events we were the "out of towners."
I remember once being at an event at the parent network at CBS, and one of the executives from the network, in a rather whispered voice said that he had "caught an episode of Touched By An Angel last week," and I said, "why are we whispering? Why are we whispering? It's the number one show on CBS." It's an audience of over 20 million people, and yet we were whispering as if there was something to be embarrassed about or ashamed of. I think that we've seen that over and over that perhaps in our industry, if it's telling a story of faith, it's not cool, or it's not going to be appealing to the masses. Yet I think that some of the shows that we've done that have had extraordinary ratings, show that there is such a hunger for these stories and that people are always hungry for God.
The Creation Of The Bible Series
I have gone on in my career to not just continue to be an actress, but to work as a producer and to work as a writer. In my producing life, I teamed up with my husband, Mark Burnett, and together we produced a television series for the History Channel called The Bible. The Bible series played over six weeks, and captured an audience of over 100 million people collectively tuned in, again, to hear the Word of God and to experience the Gospel. Half the series was about the narrative of Jesus and the life of Jesus.
Believe me, it was scary to tackle the Bible; to do it in such a way that would still remain true to the spirit of the Book. That would be the biggest challenge, probably in the creation of The Bible series, was selecting which stories were going to be in it, because we didn't have time, obviously, to do all of the stories. That took prayerful reflection. We also worked a team of consultants–pastors and influencers–to make sure that when we were telling these stories, that we were doing so accurately, remembering that we were dealing with the Bible and not adapting some fictional novel. We took the job very, very seriously.
…I think that some of the shows that we've done that have had extraordinary ratings, show that there is such a hunger for these stories and that people are always hungry for God.
At the time we were going out to pitch it, we had a number of friends and colleagues who were concerned for us. That either we would be subject to a great deal of criticism or ridicule or both. Other people thought that no one would be interested in seeing the Bible brought to the television screen, that it would not be successful and that an audience would not show up. There were times when we also probably felt fearful around those very issues. We felt the call, that started as a whisper in our hearts, get louder and louder and I think that was the value that there were also two of us to be stronger than one. We're good partners, my husband and I. We are good friends as well as being a husband and wife team. We have a really good understanding and we bring very different skills. We have quite different temperaments. I think that it was the combination of our team; sometimes a door needs to be opened with a bang, and there's no better man to kick a door down, when needed, than my husband. Sometimes that door needs to be knocked on gently, and I have a different approach. Together we got the job done and we gathered a incredible writing staff and crew and then a cast; a beautiful cast, and it all came together so well.
The Good News Channel: LightWorkers
Narrator: Roma has continued to be influential in the areas of faith and entertainment and was named by Variety magazine as one the "100 Most Powerful Women in Hollywood." She continues to pursue her passion of telling stories of faith with a new online community called Lightworkers.com. She talks about how she came to create this hub for uplifting and empowering resources, and how books like Jesus Calling inspire her each day to bring the good news of the Gospel to people everywhere.
Roma: LightWorkers has been a passion of mine for some time; inspired really by a number of things. I've lain in bed with my husband, some evenings, and we're channel surfing just to relax at the end of the day, and inevitably Mark will find the news and start watching. Repeatedly, I've said, "I don't think I can go to sleep watching the news, it's just so much heartache in the world and it creates such anxiety in me." I said, almost tongue in cheek, "I wish someone would start the good news channel."

So I think that was sort of the seed sown; that I was wanting something that could celebrate all that is good in our world, because if you turn on the news, half the time you'd think that there are only bad things happening, but there are also good people doing good things everywhere. That's what I wanted to celebrate with this.
We came up with Lightworkers.com, which is a digital platform. It's not on your TV, you just have to type it in on your internet and you will go into a site that's filled with short form content. It's short stories–two to five minutes of positive and uplifting content–that we're hoping will light up your day. There's a saying that I've heard that I really responded to. It says "it's better to light a candle than curse the darkness." Better to light a candle than curse the darkness. It's better to celebrate the good than to bemoan everything that's going wrong in our world.
These stories that are heartwarming and hopeful just remind us that there's goodness everywhere and that we need to make more noise about the good guys. We just have to. One of my favorite quotes is Mr. Rogers, who used to say, when bad stuff happened, his mother always said to him, "you know bad things will happen. But look for the helpers." At Lightworkers.com we want to celebrate the helpers, we want to tell those stories, we want to just encourage people.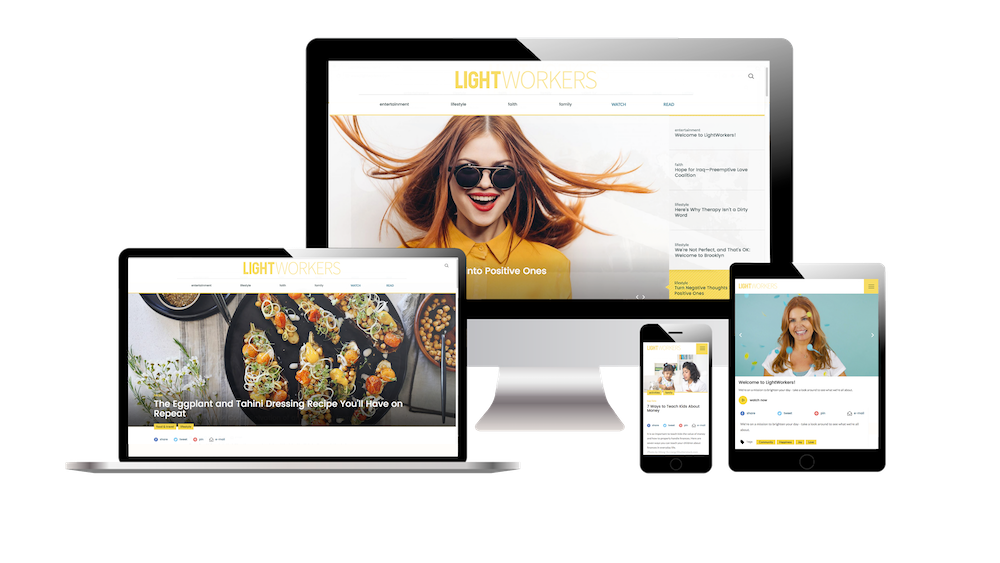 I always say love is a verb. You know it's easy to say "I love you," or it's easy to say "I love the Lord," but let it show up in your actions. Be kind. Be thoughtful. Be conscious. In these small ways when we all come together, I believe that collectively, we really can make a difference and I think we need to be heard.
Jesus Calling: A Blessing To Each Of Us
I'm so grateful to Jesus Calling. I read Jesus Calling every day—-I have the app on my phone. That makes it very convenient, particularly for traveling. I have so loved it and I just love how Sarah Young has written–it's the style of the writing–it creates such a personal and intimate point of engagement for me with Scripture and with the Word for that day. I always leave feeling enriched, and feeling very loved, and very comforted, and very encouraged. I try to make it part of my morning routine, so that I can take that with me through the day.
I love what Jesus Calling does. My husband also is a Jesus Calling devotional fan. He starts his day with Jesus Calling, and even though you supply the Scriptures for that morning on there, he loves to sit with his Bible and go to the Scripture in the Bible. He doesn't just read the quotes. He likes to read the paragraph around it. He makes it part of his really deep, deep, study in the word in the mornings, and it's been such a blessing to each of us and we're grateful.
I'd just like to share–I've been reading, obviously, and reading Scripture–I read my Bible every day. But you know, I've been looking recently at Scripture that's in support of and being supportive for my team as we move forward at LightWorkers. I came across in Ephesians 4:29:
"Do not let any unwholesome talk come out of your mouths, but only what is helpful in building others up according to their needs, that it may benefit those who listen."
I know that's what you guys are doing with Jesus Calling and that's what we're hoping, and intending, and praying to do at Lightworkers.com. I share that with your listeners, because that's something we all can do. So whatever you're doing, you can do it with love, and shine your light, and keep praying. Let's pray for each other, let's be supportive of each other and try to raise each other up.
Narrator: To find out more and to be a part of Roma's new online community, please visit Lightworkers.com.
We'll have more of the Jesus Calling podcast, with our next guest, actress, writer and co-owner of Pure Flix Films – Andrea Logan White, right after this message from Audible.
---
As a special offering to you, the listeners of The Jesus Calling Podcast, Audible is offering a free audiobook download with a free 30-day trial to give you the opportunity to check out their service.
Find your favorite Sarah Young titles, including Jesus Calling and Jesus Always in an audiobook version and get it for free by trying audible.com. Check out a small sample of the Jesus Calling audiobook, featured at the end of this podcast. To download an entire free audiobook today, go to audibletrial.com/JesusCalling. Again, that's audibletrial.com/JesusCalling for your full, free audiobook. Now, on to the second half of our show.
---
Narrator: Andrea Logan White is a wife, mother, actress, producer, writer and speaker. Andrea has walked through the discouraging valleys, including a life-threatening battle with an eating disorder, and emerged with an enduring passion to encourage women who experience similar anxieties with body image struggles and weight issues in particular. In her new book, Perfectly Unfinished, Finding Beauty In the Midst of Brokenness, Andrea shares her story of giving up the Hollywood ideal of perfection, and finding her worth from the perfect One that lives inside of her…Christ Himself.
Andrea Logan White: Leading Others To Christ
Andrea Logan White: I'm Andrea Logan White and I'm an actress, author and co-owner of Pure Flix entertainment.
So David and I, my husband, we are part owners of a company that produces and distributes faith and family content; TV, films theatricals. We do a little bit of everything. We are in the business of making films and projects and content that inspires the human spirit and brings redemption and hope to other people, and hopefully lead them to a greater understanding of who Christ is.
I'm from Burlington, Illinois. I always say Chicago, because nobody really has heard of Burlington. It's a small town in northern Illinois and it's a farm town. I was born and raised in very small town. My grandparents still live there, two brothers; I have an older brother and a younger brother. My parents divorced when I was 12-13 so, growing up in a home that didn't have, first of all a foundation of Christ. Second of all in a dysfunctional home.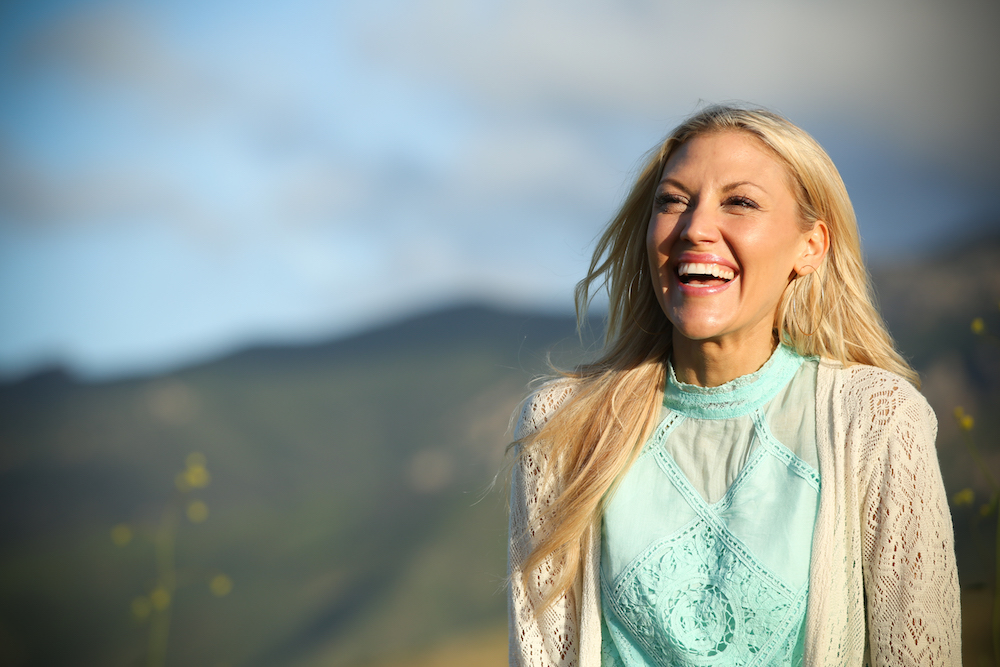 What really kept us forward focused at the time without having the Lord, was sports. So we were all huge athletes. From little on, I was in soccer and softball and played club volleyball in high school. That was kind of my saving grace. It was like the cool people were in sports–it wasn't cool to be an actor. So if you are in either of the drama program you are kind of like the nerd.
I just remember having really low self-esteem and being a sensitive person, and growing up with no foundation of the Lord, low self-esteem, kind of being the sickly kid, I was the one who if I was teased–my brothers would call me "bucky beaver" and "brace face"–I was the lucky one who got braces and glasses.
The Feeling Of Abandonment And Emptiness
I was the nerdy one–I just was. I didn't have confidence and that spun me into puberty and experimenting with drugs from a young age, because my parents were divorced, my dad was kind of off working, my mom got into dating, and I just remember feeling like "oh my gosh, I feel more mature than I should," and kind of having to be self-sufficient.
Went to church on Christmas and Easter. My grandparents were incredible. I lost my dad's grandparents at the same time my parents divorce, so I had the loss of both grandparents and the divorce of my parents and so it was like, "whoah, what's going on?" Some major brokenness and emptiness. That gradually progressed into an eating disorder my senior year in high school when my mom told me she was going to move away and marry my then stepdad. So I had this crazy amount of abandonment and emptiness and trying to figure out how to how to navigate life really by being my own parent. So I parented myself and kind of took my younger brother under my wing, and that went with a lot of drugs and a lot of sin. Let's put it that way.
When you don't get affirmed by anybody, you believe those voices especially when you don't know the voice of God.
After I graduated, I got all the way down to 78 lbs. So I was a walking skeleton. This is after I graduated high school, and I remember graduating high school thinking, "I have no vision for my life. I'm dying." I was–I was dying—and the eating disorder was a form of controlling my environment because I couldn't control abandonment. My first love. The divorce of my parents. Friends that were jealous. All of these relational issues that I just shut down and slowly started to die inside, which manifested externally through the anorexia.
No matter what I did, it wasn't good enough. When you don't get affirmed by anybody, you believe those voices especially when you don't know the voice of God.
Thankfully, I moved to San Diego with my dad right after high school and spent four to six months in bed. I did a little bit of outpatient therapy with the eating disorders, but I was 18, and I don't know what insurance is like now, but they considered it a mental illness and so insurance wouldn't cover it.
I kind of launched into the whole move to California, which was invigorating in a way, and it got me strong enough to get out of bed to go to junior college, and that's where I fell in love with acting. I fell in love with the theater class.
It was kind of cool, because I got to create a new identity when I moved to San Diego. I didn't know anybody. I was very shy growing up, but I hid under sports and so I got to create myself all over again.
I got an agent and did a little bit of auditioning down there, but I got to discover myself in a new way and I found that in acting I got to cover myself up and it was kind of amazing. I could escape my life and my stuff and jump into this other creation and character.
I moved to L.A. the day after I turned 20 with $350 in my account and my Isuzu Amigo, because I had this dream in my heart to act. I had no idea what I had coming, what was in the future, and what was in my path.
Feeling Broken: The Wake Up Call
You see these A-list actors, you see these beautiful blonde girls with plastic surgery, and on the outside, they're perfect and so I'm like "oh this is what Hollywood is. It's perfection and everybody's beautiful, and perfect, and running around.
I had a good two years of really scary events that led me to hit rock bottom with drugs, and men, and partying. Thankfully God did not take my life, but I was close to it.
If you call yourself a Christian, we are all always on this path to try to grow closer to Him, and hopefully let Him shine through more.
I had a year of being alone, and some even scarier circumstances with somebody that I was dating, and he was addicted to drugs and had a very close call to death for me. That was kind of my wake up call. I was like, "OK, this is not working. I am broken." The eating disorders had resurfaced. The person that I was dating was addicted to drugs and alcohol. I kind of was falling into that. I realized this was not a good path—-multiple signs. It led me to my "stop light moment," which is in my book, about coming to God and crying out to God at a stoplight. There happens to be a man in his car beeping his horn and I'm covered in tears and crying out, saying, "I am dying. I have no will to live. I don't I don't know what to do." I don't have anybody to turn to–I don't know anybody that can put me back on the right path or even speak hope to me. I cried out to God. There was a sweet little Mexican man pointing to the radio and it was literally a pastor– that's why I love radio so much because you could be in that moment—-it is my stoplight moment. God manifested in this man, and it was this radio station, I believe it was KKLA, which we listen to now, words repeating back to me, basically what I just cried out. That was really God saying, "I am here and I love you and I have a have a plan; with a future and a hope. So slowly but surely, my life started to turn around, and I started to go to church, and gave my life to the Lord. Thankfully I slowly got on that path.
It was another year of figuring it out, and I was waiting tables, and then I got certified as a personal trainer. There happened to be some trainers that were also Christians, and that helped. I started going back to church. I started watching Joyce Meyer. I would get up before I would go to work, and watch Joyce Meyer. What I love about Joyce is her transparency and I connect with her and my story, because I'm just as broken as I was as a kid. But I'm now able to say, "Okay, I'm here to seek God every day." I had no foundation of what truth was, and so it was a slow process of listening to sermons, going to church, falling, getting back up again. I think I'm still there today. Every day I'm like, "OK Lord, here I am. I know I'm not going to be perfect." Your life's never going to look like you want it to look like and you're never going to be perfect. If you call yourself a Christian, we are all always on this path to try to grow closer to Him, and hopefully let Him shine through more.
Glorifying God In Film
Narrator: Andrea is an advocate of bringing faith to others through film, through digital means, through books and more. She and her husband David, through their company Pure Flix, are doing just that every day. She believes books like Jesus Calling and her own book "Perfectly Unfinished; Finding Beauty in the Midst of Brokenness," help others to understand God in deeper ways.
Andrea: David started with a few other partners and our few first films were DVD. It was building a library of films that were straight to DVD, because at the time the budgets were much smaller, and the whole goal was to get the investor's money back, obviously, that's the goal for any film that you do. We didn't have access and resources to fund 25 million dollar films. So it was just the films that could produce DVDs, and that spun into a few years later starting Pure Flix.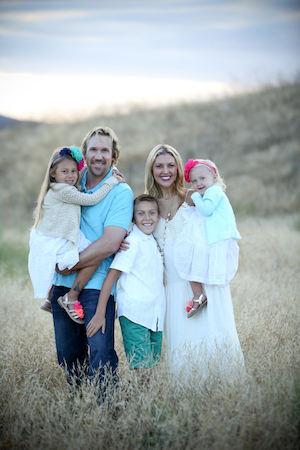 We had our years of questioning like, "okay we know that you've given this burden on our heart to do films that glorify You, but nothing's moving. Nothing. You know there's no fruit, Lord. The investors are getting their money back. The DVDs are great people are loving them. We have this great audience, these fans are amazing, but we're not really making a living from it." This was years of trying to figure this out. Thankfully, God allowed one of our films called "God's Not Dead," which was released, I want to say March of 2014, so not even three years ago. That was our first big week. We had done other theatricals with limited theatrical release, but that was our big theatrical release and it basically put everything on the line. We were either going to lose everything, or God was going to bless this film. Thankfully, God did the other and He blessed the film.
It really was not an overnight success–it was 20 plus years of David pounding the pavement making films that made a little bit, and planted seeds. So I believe it was God rewarding, and I'm a byproduct. I obviously was saved and want to glorify God in all things that I do, but it's always a work in progress.
It's exciting to see where the business is taking us because it is now mostly digital. For me and for my children, David and I are so aware of how much content and media that's out there that's not healthy for our eyes and our spirits. We want to give families and people an alternative to hopefully lead them to hope, because I truly believe, when God's Word and faith-filled messages are there, they don't return void.
Jesus Calling: A Practical Connection To God
We do this devotion with our kids every day. Jesus Calling for Kids. The devotions are my lifesaver, because I'm always in my head and I'm always trying to figure out, "OK, did God speak to me? Was that from God?" What I love about Sarah's work and the devotions, is that it's one page, it's one or two scriptures, and it's a few paragraphs that I can take any mom, any wife, any person can open up to the date and focus on that. It's so simple. What I love about the way she has designed it, is that it's so practical—I need practical. I feel like I have ADD. I have such a filter of, "you're doing it wrong, you can't do it, God's not attainable." For me, I can connect with God by this Scripture.
Right here, I'm looking at one. "The one who heals," in August. It says "He forgives all my sins and heals all my diseases." Psalm 103:3. It's literally just that scripture. I can focus on that and that's why I open up to it because I've been dealing with chronic illness actually since my second daughter was born. I might have these things screaming at me in my body and in my head, but I can have just this Scripture that I can focus on. "OK God, I don't know what to do in this moment, but I have this scripture to focus on today." It's really just little seeds of truth and I love devotions because, right now, to be honest, as a mom of three, I don't have time to be in the Word for an hour. So it's been such a blessing to me. Thank you, Sarah Young, for doing that, because even if it's a two-minute devotion, even if it's a 15-minute program, whether it's a podcast, whether it's something on Pure Flix, or TV, or a film that we do that's in theaters, our hope is to kind of infiltrate other people's spirits with hope.
The hope is that the perfect One lives inside of you. He lives inside of all of you and I have to trust that my life is this crazy, beautiful mess, and I'm here for one thing. I'm here to serve God. I'm here to glorify Him in my highs and in my lows, in my brokenness, in my sin, and I will never be who I think I should be. I just want other people and listeners to know that whether you have fallen into addiction–I come from a family of addictions–I was prone to addiction. It happened to be food and eating disorders. I believe the only thing that can heal any of us is the love of Christ. That doesn't happen overnight. That has to be by allowing other people to love you.
Perfectly Unfinished: Finding Beauty in the Midst of Brokenness.
The book is called "Perfectly Unfinished: Finding Beauty in the Midst of Brokenness." So it's really my life story of tragedy. A lot of tears, a lot of brokenness. Coming from being a perfectionist, I had to learn to surrender. I will never earn God's healing, God's love, and my salvation in my own strength Years of losing–I lost a child–I miscarried. We had the years of Job; building Pure Flix where we didn't get paid for two years, and so we had to start over. I can give you story after story. Nobody knows what anybody goes through unless we share them. I have this conviction in my heart, because I am such a perfectionist to this day. My car's a mess–I am the poster child for being the most imperfect, unfinished, messed up person that just really wants to love God.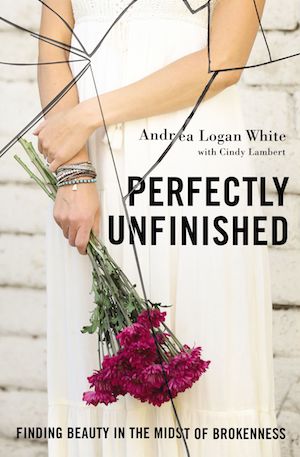 We're all hurting, and we all have this emptiness in our heart for only God to fill. Even now as a believer and in this age of social media that we feel like "oh my gosh, we need to do this and be this person on social media, and we need to promote this." We get so lost in that, and God is really a simple God. We are created to serve Him and to show others His love.
Narrator: To learn more about Andrea Logan White visit AndreaLoganWhite.com. Her new book, "Perfectly Unfinished: Finding Beauty in the Midst of Brokenness" is available wherever books are sold. 
---
Narrator: Next time on the Jesus Calling podcast, we speak with author, teacher and speaker, Lisa Bevere. Lisa and her husband are the founders of Messenger International. Lisa is a grandmother who has written a new children's book called "Lizzy the Lioness" that teaches little ones what it means to be brave.
Lisa Bevere: I just think there's no creature that makes little boys and little girls feel fiercer than a lion, so when you tell them, "you're as bold as a lion," they're like, "hey, I am as bold as a lion!" Proverbs 28, "The righteous are as bold as a lion," says to them, it's not your size, it's not your age– it's your standing with God that emboldens to you to be a lion–to be as bold as a lion.
Narrator: The featured passage for this week comes from the February 29th entry of the Jesus Always audiobook:
I called you out of darkness into My marvelous Light. I brought you not only out of darkness but into My royal family. I clothed you with My personal robe of righteousness, making you fit for My kingdom. You are one of My own special people: You belong to Me, and I delight in you.
I have chosen to use imperfect ones like you to proclaim My praises. I know you cannot do this as well as you would like. Actually, without My help it is impossible for you to do. This gap between My call on your life and your ability to respond is part of My plan. It heightens your awareness of your utter insufficiency. Because you are Mine, I allow you to connect your inability to My boundless sufficiency. Instead of focusing on your inadequacy, work on staying close to Me. In everything you do, consciously rely on My help, living in the joyous wonder of self-forgetfulness. As you look to Me for all you need, your face will reflect the Light of My surpassing Glory.
Narrator: Hear more great stories about the impact Jesus Calling is having all over the world. Be sure to subscribe to the Jesus Calling podcast on iTunes. We value your reviews and comments so we can reach even more people with the message of Jesus Calling. And if you have your own story to share, we'd love to hear from you. Visit JesusCalling.com to share your story today.