God Helps Us Rebuild Homes & Hearts: HGTV's Leanne & Steve Ford and Dr. David Vanderpool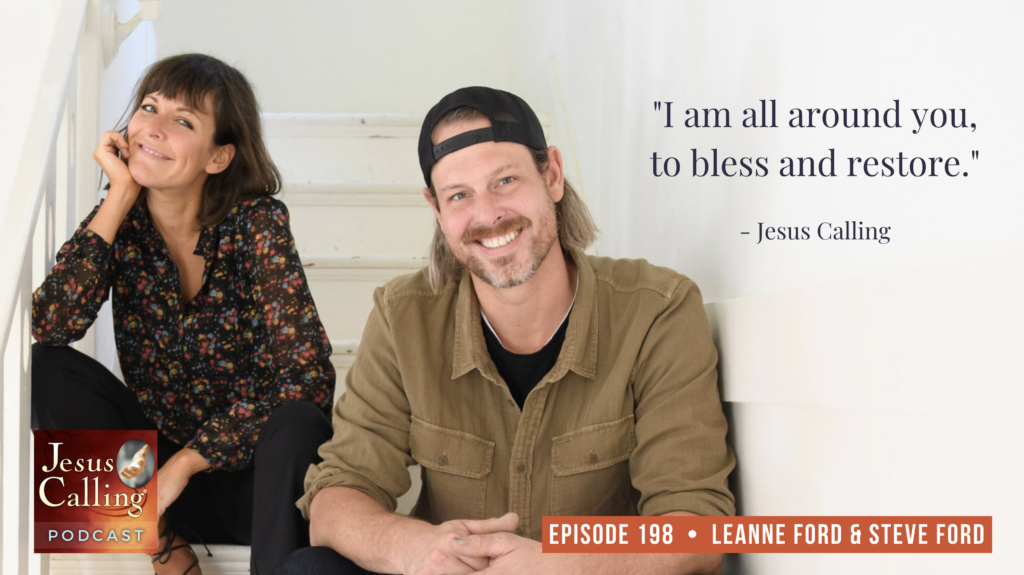 Narrator: In today's unsettling times, it's good to know that Jesus is walking with us in the present, and that there's hope for our future. Jesus Today is a devotional from Sarah Young that will inspire and encourage you—with assurances from Scripture that God is still in control. You can get Jesus Today at JesusCalling.com or your favorite bookseller.
---
Leanne: For me, my relationship with God is so important to my creative life, because when you're buddies with God, you're not worried about the little things. Right? You're not worried about the details of messing up or what people are saying or what they're thinking.

God Helps Us Rebuild Homes & Hearts: HGTV's Leanne & Steve Ford and Dr. David Vanderpool – Episode #198
Narrator: Welcome to the Jesus Calling Podcast. Our guests this week know what it's like to rebuild something from the ground up and how to rely on God through the process: sister and brother stars of the HGTV show Restored by the Fords, Leanne and Steve Ford, and humanitarian surgeon Dr. David Vanderpool.
First up, growing up in the suburbs of Pittsburgh, Leanne and Steve Ford never dreamed they'd have a nationally known restoration business—now famous thanks to their HGTV series Restored by the Fords. Leanne and Steve's parents encouraged their children to chase the interests, and the family's supportive environment paved the way for Leanne and Steve to blaze a trail with their unique brand of home design, which they talk about in the new book they've written together called Work in Progress.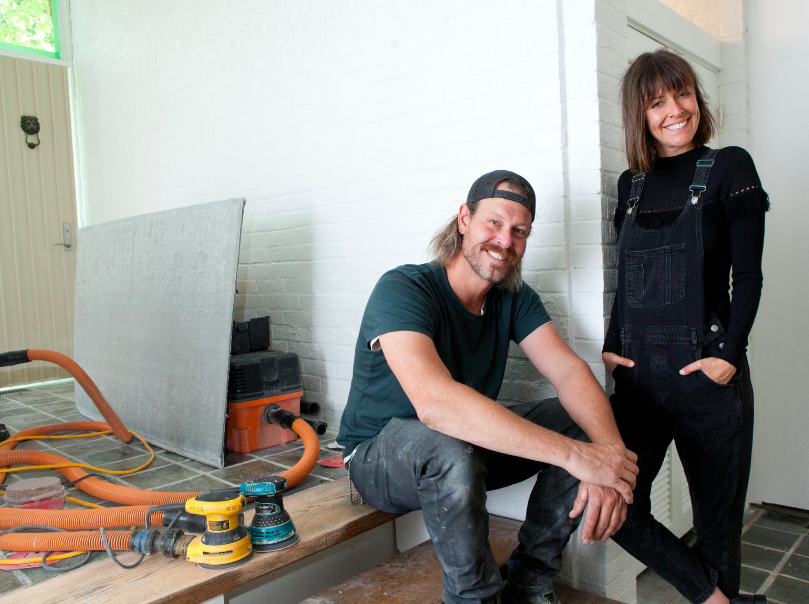 Leanne: Hi, my name's Leanne Ford and I am an interior designer, also a co-star with my brother on Restored by the Fords on HGTV.
Steve: Hi, guys, I'm Steve Ford. I'm a contractor. You've seen me alongside my sister Leanne on Restored by the Fords.

The Support of Family
Steve: Leanne and I grew up in the suburbs of Pittsburgh. We had both our parents, which was amazing. Our mother and father were very in love.
So having that background of our childhood allowed us to feel supported in everything that we did, and [our parents] really wanted us to succeed. Anything we were going to take part in it, whether they understood it or not, they always helped us to be successful in those things.
Leanne: And not even successful as even just trying. You know, they were really supportive of us trying soccer, we didn't go about trying instruments back then.
Steve: The saxophone.
Leanne: The saxophone! So they really let us kind of try everything, and then supporting us however they could. And we felt no pressure to ace it.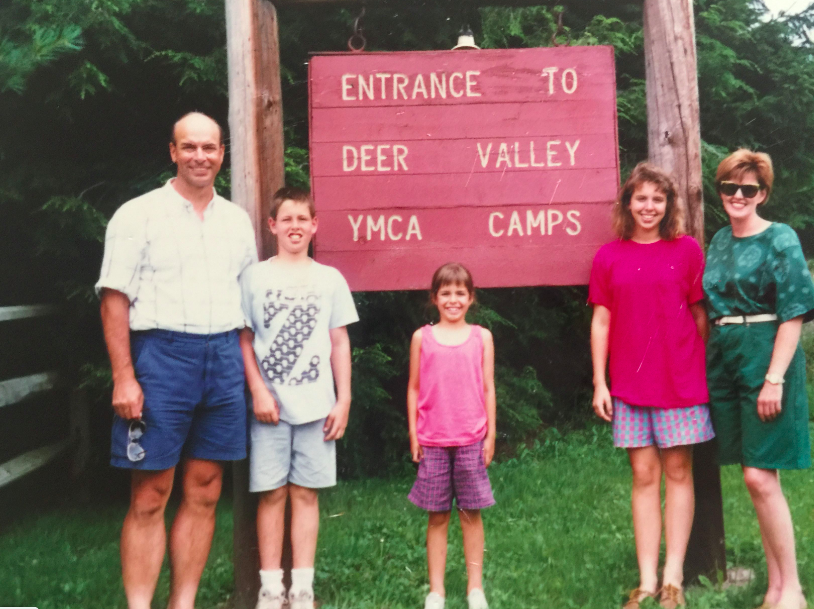 My favorite story—which I didn't even write about in this book—is I had all A's as a kid in middle school and elementary school. And when I was going to high school, my mom said, "Get a B early. Relax, and have a nice time."
She told me to get a B early, and then have time for all A's. And you know, I thought that was a strange thing to say. And then I was like, You're right. I'll see your B and I'll take it. I'll give you a C.
Steve: I think I really listened to Mom before you got there, Leanne. You know, I was lucky to get C's.
Leanne: I liked that she kind of was like, "Your experience and your joy in high school is equally, if not more important than grades." And guess what? She was right. We're doing just fine, you know?
I realized that it was our family and our faith that created this life where we didn't care what anyone else thought. Is that what it was all about?
"I realized that it was our family and our faith that created this life where we didn't care what anyone else thought." – Leanne Ford, remembering her childhood
I have my original Bible from 1995, which is the Teen Study Bible. And unfortunately, it's neon. But I won't give it up, because all my notes are all over it, and I have notes from 1995, from teenage [years] to now, to last Sunday. So I am looking for any chance to dissect any and all words, especially when it comes to one of my favorite subjects, which is God.
So the Jesus Calling book has been lovely, and it's easily digestible, I'd say. I've had many Jesus Calling books gifted to me. I know our mom gave Steve and me a copy. My husband's mom gave me a copy. Friends have given me a copy. So I guess there's a common theme going there.

A Passion for Design Is Born
Leanne: As a child, I was always rearranging my bedroom. I mean, a new formation daily. I convinced my mom that we needed to paint the avocado refrigerator white, and we did it. That story's in the book, because that was such a monumental day for me. We painted the refrigerator, and it needed to be white. And then a couple maybe years later, it's like, "We need to paint these cabinets. They need to be white." I look back, and I was always doing something around our childhood home. I was ripping up the carpet. I mean, everything.
It's crazy that I did not think to get into interior design. I went into school for fashion, and I was in the fashion field for fifteen years. Meanwhile, I was always fixing up my rentals, fixing up my dorm rooms.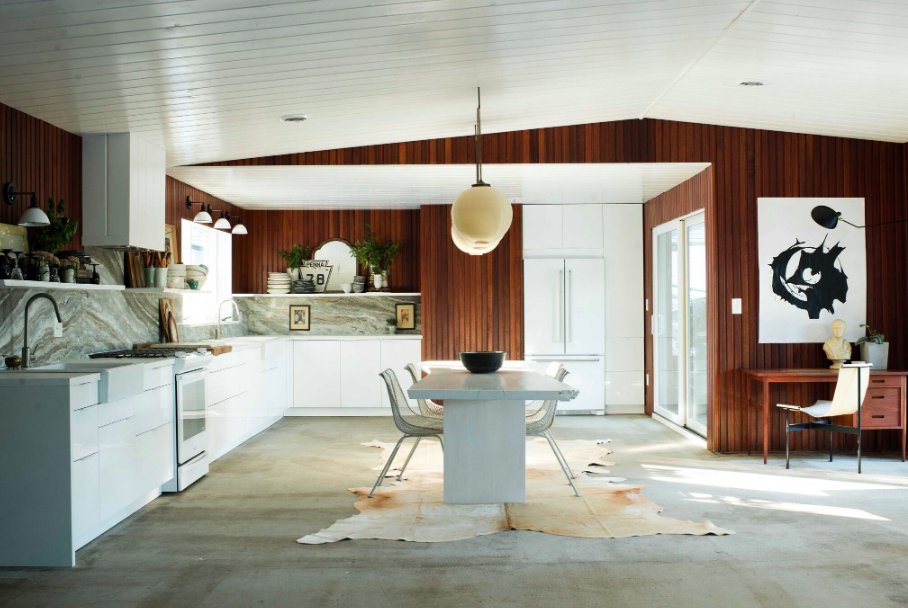 Around 2010, I bought this old school house outside of Pittsburgh, a tiny little house, and was finally able to rip out walls and rip out the ceiling and make it exactly how I wanted. And Country Living Magazine found out about it, and they came and shot it. And then when that came out, people started calling and saying, "Will you design our house? Will you design our office?" And I just said, "Yeah." I really just made it up as I went along. I just said, "Yes," to all these opportunities. And then along the way, I dragged my brother in.
Steve: My role is more of a contractor than designer. So Leanne wanted things done, you know, most contractors don't do, based on that they're . . . they're just not the norm. So, you know, as a brother, you can't really say 'no' to your sister, can you?
So all that kind of happened. And before I was doing work, I was doing a lot of set displays, prop styling with American Eagle. So a couple of restaurant build outs, store build outs, things like that. It came fairly easily.
Leanne: I had all these outside-the-box ideas that I wanted to do, and all these contractors were saying, "No, you can't do that. You can't do that." So I called up my big brother, and I said, "Can you help me figure this out?" And to this day, he still figures it out. And I told him, I was like, "Your biggest mistake was figuring it out," because now I just keep giving them these new challenges. But I always say that when I present the idea, he's very anti-idea. And then the next day, he comes back [and says] "I figured out how to do it." And I think that helps me as a designer. You know, I'm really not afraid to try things. I mess up, you know, if it doesn't work. Worst case, you move on. It's not the end of the world, but especially in a creative field and for me as an interior designer, you have to be willing to push forward and be risky, or else you're sitting in a very boring puddle.
We are in a society where if you mess up, it's looked down upon. And the problem with that is that the fear of failure kills creativity. If you're trying to move forward or try new things, you are inevitably going to fail, and that's okay. And I think the more the world understands that failure is just a tool pushing us forward, they can embrace it and kind of live a little. "Be kinder," I'd say to others and to themselves. I say, "Stay loose." You know, as soon as you try to control it, you're in trouble.
"We are in a society where if you mess up, it's looked down upon. And the problem with that is that the fear of failure kills creativity." – Leanne Ford

Discovered by HGTV
Leanne: A friend of mine, Peter Barbee, was watching what we were doing in the schoolhouse, and told his friend about it, who happened to be looking for new talent for HGTV, about it. I mean, it was just a total off-the-cuff conversation. And this woman, Lindsey Whitehorn, calls and wants to talk. And it was a very long path to turn it into filming something. Honestly, at this point, it was four or five years between this first conversation and a camera showing up in Pittsburgh. And multiple times they said, "No, you're not it. Never mind. This isn't the right fit."
And one time, for better or for worse, I told him, "I work with my brother. Let me know if you guys want to show that." They loved it. And here we are. So it was about five years, I'd say, before they kept up.
And I said, "I'm here. We're here when you're ready. This is what we do for a living. We're not going anywhere. And if this works out, great. And if not, guess what? We get to still do our fun job that we already love."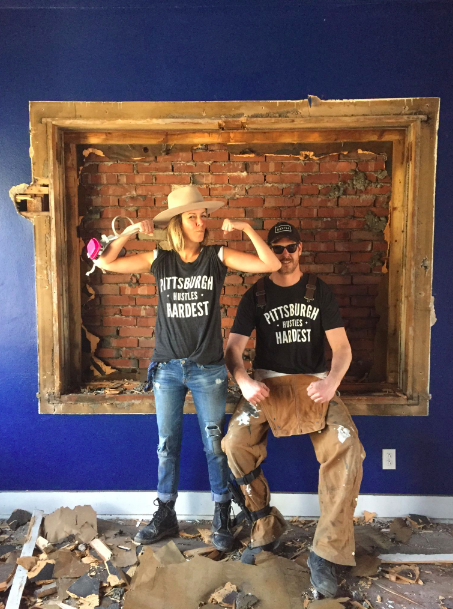 So looking back, I'm thankful that I wasn't stressed about This has to happen. You know, This has to happen now. And the reality is, I had five more years to hone my craft. You know, it was really neat to design that schoolhouse project. So for five years, I was able to do what I do for a living and get better at it and try new things and make a name for myself outside of the TV show. So it turned into a really important blessing, to have that time.
My favorite thing about what I do is inspiring people to love their homes and to create a life that they love. So it's really a lot bigger than just designing, especially with this television show. The opportunity is there to inspire people to think differently and to not be afraid to be different from your neighbors, and forget what the Joneses say, and do what you love in your home. Because I really believe that when you love your home, it really translates into the rest of your life.
"I really believe that when you love your home, it really translates into the rest of your life." – Leanne Ford
You know, it's down to when your house is clean, you feel better. Right? So I just want more people to be proud of where they live. And it has nothing to do with price point. You know, it can be low or high budget. It's irrelevant to really having a home that is beautiful, that you're happy to be at.
Steve: Yeah, I mean, for me, it's impactful to have a place that you're happy to go home to, a home you're happy to wake up in. Entertaining has always been something I feel like [I need to have], a space where I could bring my friends over and be proud of.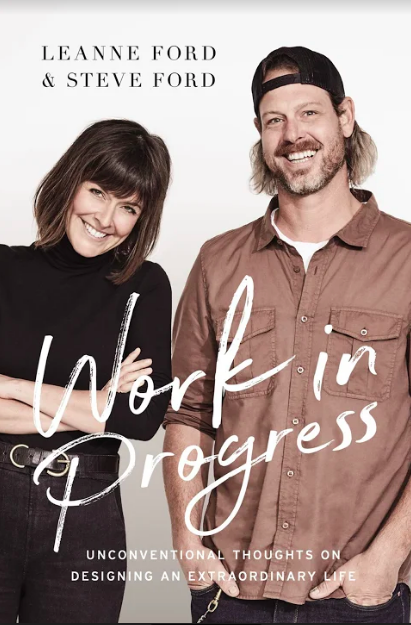 Even when I had a rental, I had Leanne come over and design my rental space, and that makes me feel so much happier to be in that space that I didn't own that now felt like it was mine. And now owning my first home and having it exactly like I wanted, every day I wake up happier than ever before. I love to be able to do that. I like being able to do that for a client, too. We go into their house, and this is their opportunity to make it exactly how they want. And we get to help them. It's pretty special.


"The ability to bring joy and happiness to people, whether it be a giggle or a laugh or a house they're proud of or an idea that gets them inspired, what an awesome gift that we're able to do that." – Leanne Ford
Narrator: To see when Restored by the Fords airs on HGTV, check your local listings, and you can get Leanne & Steve's book, Work in Progress, everywhere books are sold.
We'll be right back with more of the Jesus Calling Podcast with our next guest, humanitarian and surgeon Dr. David Vanderpool, after this brief message.

---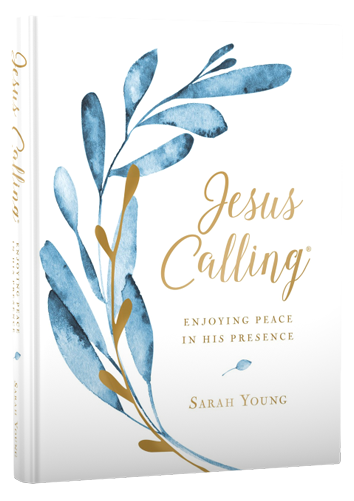 Commercial: Need a last minute gift for Mom, grandmother, sister or wife for Mother's Day—or, really, any time of the year? Jesus Calling has a new edition that's perfect for a woman's way of life. This cloth bound edition features beautiful foil inlay and a lovely botanical design—a gift that celebrates the special women in your life every day, bringing them closer to God through prayer and devotion. Jesus Calling, the new botanical edition, is available at JesusCalling.com or wherever books are sold.
---

Narrator: Dr. David Vanderpool has chosen a life of radical service, giving up the comfortable life he used to know. Growing up in a family blessed with faith and security, Dr. Vanderpool had a strong desire even at a young age to help others who didn't have the same blessings he did. In 2005, he and his wife Laurie created a medical disaster relief organization called Live Beyond that serves 14 countries worldwide today. And six years ago, the Vanderpools sold everything they had and moved down to Haiti following a massive earthquake there so they could help rebuild the physical and spiritual needs of the world's most vulnerable people who call this country home.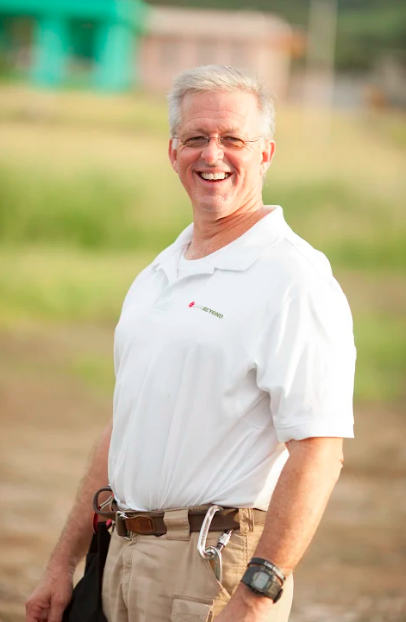 Dr. David Vanderpool: I'm David Vanderpool, and I'm a trauma surgeon by training. We started a medical disaster relief organization in 2005, and have been in fourteen different countries working, most recently in Haiti where we live full time, providing health care, clean water, and nutritional support to the people around us.


Finding a Life of Service
Growing up, I had the best of everything. My dad is a surgeon, and we're generations from Dallas, Texas. My parents are wonderful leaders in the church, and they passed that on to me. The schools that I went to were the very top schools. And you know, I really wondered growing up, Why? Why was I so blessed in every way? And I think that people either embrace that for themselves, or maybe try to find a way to use that preparation for other people. And that's sort of the realm that I fell into. I felt like that this was not for me, that this was for me to use for the kingdom of God.
I was about fifteen years old, and we were visiting Nazareth in Israel, and I was speaking with a girl who was about my age and she was very bright. She had taught herself English, and we were talking together and she asked me what I wanted to be when I grew up.
And I said, "Well, I guess I'll be a doctor. You know, I guess I'll be a surgeon," sort of flippantly, really.
And I saw that it really offended her. And I said, "Well, what do you want to be when you grow up?"
And she looked at me and she said, "I'm a girl, and that means I'm going to have babies and carry water for the rest of my life."
And in 1975, that was the reality. And I thought of the disparity between what she was going to do and what I was going to do, and I just sort of flippantly came up with an answer. And yet, she would long for that opportunity and didn't have it. And that really impacted me as a fifteen year old. It really made me realize that there was an enormous disparity in this world that Jesus came to fill. Jesus came to fill the gap between this disparity.
"Jesus came to fill the gap between this disparity." – Dr. David Vanderpool

Living Beyond Ourselves to Help Others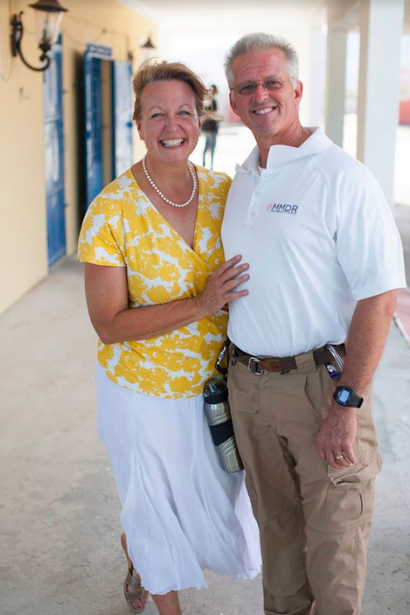 My wife and I had dreamed of serving the poor for many years. And so after I graduated medical school and finished residency, we developed an entire lifestyle of taking care of the poor so that we might minister the gospel to people. You know, it was quite a transition, leaving the lifestyle of an American surgeon. We sold everything almost six years ago now, including our car, our house, everything—and moved full-time to Haiti. We live among the poorest of the poor.
In our area, there's almost no electricity. Most of Haiti is that way. There's no faucet that you turn and clean water comes out. There's no sewage control in our entire area. Most of the transportation is done on foot or by donkey. About half of the children in our area are malnourished. Many of the pregnant ladies in our area are malnourished, and they are struggling to survive.
As a disaster relief organization, we went into Haiti two days after the earthquake in 2010, and we established a large hospital there. And so basically, we have a maternal health program. We have about 350 ladies in this program. We provide them with nutrition. We provide them with education, with health care. We also have a child nutrition program. We are presently feeding about 1,000 children a day in our location. We have a hospital that we've built, and we see about 1,000 patients a month in this particular location. And these people are all prayed for. So everybody who comes in, whether they're voodoo priests or believers, they're prayed for. And many of them receive the gospel because of that.
It is difficult to articulate how our world view has changed. You know, our culture shock now i coming back to the United States. We've given everything away, we've sold everything, so we really don't have very much. And we live that way. We chose that life. That's not a thing somebody forced on us. But we live very simply. Down in Haiti, everybody lives simply, and there's no excess of anything. When you divest yourself of material things and Plan B starts to fade away a little bit, I think what happens is the Lord becomes nearer and He becomes a whole lot more apparent.
"When you divest yourself of material things and Plan B starts to fade away a little bit, I think what happens is the Lord becomes nearer and He becomes a whole lot more apparent." – Dr. David Vanderpool

Walking Where God Wants You to Go
Narrator: One of the tools that's helped Dr. Vanderpool grow closer to God is time spent in devotion and prayer, with the help of Jesus Calling.
Dr. Vanderpool: I think we first found out about it from a team member who came down, and had one of the books and left it for us. These daily devotionals and inspirations are so wonderful, and they really helped guide our lives. They give us a lot to think about and to ponder and we love that.
So this is Jesus Calling from December 12th. And it says:
I am taking care of you. Feel the warmth and security of being enveloped in My loving Presence. Every detail of your life is under My control. Moreover, everything fits into a pattern for good, to those who love Me and are called according to My design and purpose.
Because the world is in an abnormal, fallen condition, people tend to think that chance governs the universe. Events may seem to occur randomly, with little or no meaning. People who view the world this way have overlooked one basic fact: the limitations of human understanding. What you know of the world you inhabit is only the tip of the iceberg. Submerged beneath the surface of the visible world are mysteries too vast for you to comprehend. If you could only see how close I am to you and how constantly I work on your behalf, you would never again doubt that I am wonderfully caring for you. This is why you must live by faith, not by sight, trusting in My mysterious majestic Presence.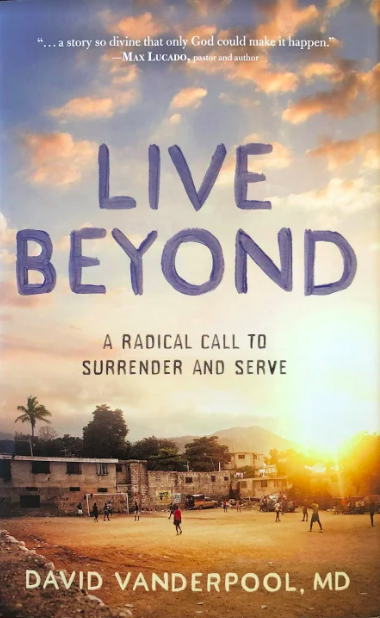 You know, one of the things I think that's really inspiring to me and keeps me going is that we know we're in the very center of God's will. This is exactly where He wants us to be. And there's nothing that is more gratifying or supporting than knowing that you're walking exactly where God wants you to walk.
"There's nothing that is more gratifying or supporting than knowing that you're walking exactly where God wants you to walk." – Dr. David Vanderpool
Narrator: To learn how you can help Dr. Vanderpool's organization, and to read his book called Live Beyond, please visit livebeyond.org.
If you'd like to hear more stories about others who have built beautiful things on a foundation of faith, check out our interview with philanthropist Melinda Gates.
---

Narrator:Next time on the Jesus Calling Podcast, we talk with Olympic gold medal gymnast Shawn Johnson East. From the time she was little, Shawn felt her purpose was pushing her body to become the best athlete she could be. And when Shawn finally reached the pinnacle of her career, she was surprised at what she found waiting for her at the top.
Shawn Johnson East: I feel like I struggled with purpose and identity for so many years. But I think it had to do with my career as an elite athlete. I remember going to the Olympics, winning an Olympic gold medal, standing on the medal podium with a gold medal around my neck, and feeling almost empty, thinking like, I have given up my whole life for this moment. But I still felt empty, and I felt like I should have felt fulfilled. And I didn't.
---
Narrator: Do you love hearing these stories of faith weekly from people like you whose lives have been changed by a closer walk with God? Then be sure to subscribe to the Jesus Calling: Stories of Faith Podcast on Apple Podcasts, Stitcher, or wherever you listen to your podcasts. If you like what you're hearing, leave us a review so that we can reach others with these inspirational stories. And, you can also see these interviews on video as part of our original web series with a new interview premiering every other Sunday on Facebook Live. Find previously broadcasted interviews on our Youtube channel, on IGTV, or on jesuscalling.com/media/video.