Fighting the Good Fight: Michael Chandler & Steel Lafferty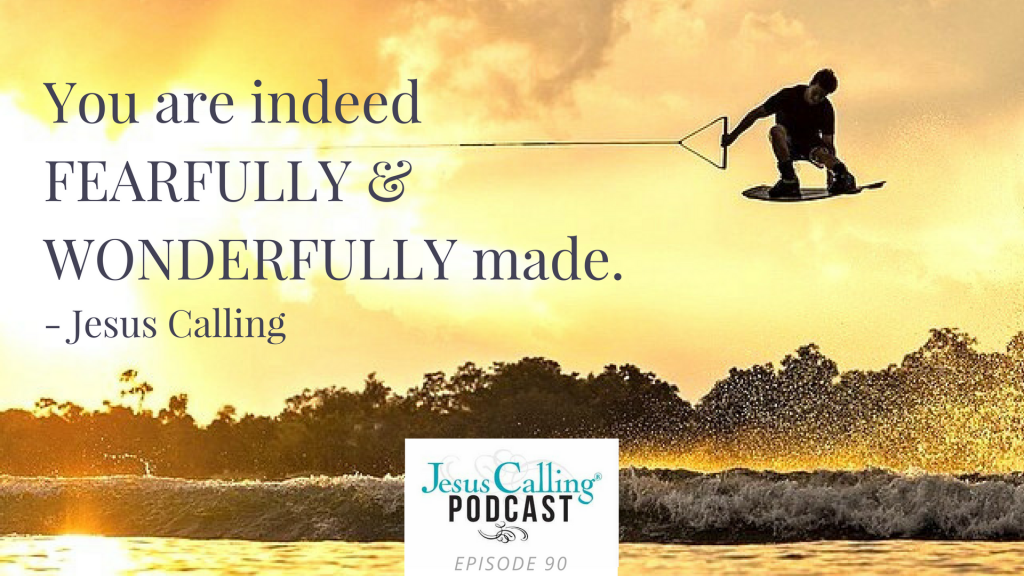 Today's guests exemplify excellence in their sports and a desire to honor God for their talents. Michael Chandler is a professional mixed martial artist who has garnered many wins since he came on the MMA scene in 2010. Michael is determined to use his platform to show the world that his strength comes from following Christ. Steel Lafferty has been wakeboarding since he was 12 years old and is considered to be one of the best in the world. His commitment to give God all of the glory for any accolades or achievements he receives in his sport is an example to young people everywhere.
Fighting the Good Fight: Michael Chandler & Steel Lafferty – Jesus Calling Podcast Episode #90
Narrator: Welcome to the Jesus Calling Podcast. Today's guests strive for excellence in all areas of their lives and are top competitors in their respective sports. Michael Chandler is a professional mixed martial artist who has been fighting for almost 10 years. Bursting onto the MMA scene in 2010, Michael was successful in 12 consecutive wins including three in the Bellator tournament becoming the Season 4 Lightweight Tournament Champion. Michael recognizes that "the fight" isn't only about his skill as a mixed martial artist, but that all of us are fighting every day for our families, for our friends, and for our faith. He strives to carry himself as man of God and an example of strength and discipline as he uses his platform to reach people for Christ.
Forming a Foundation of Faith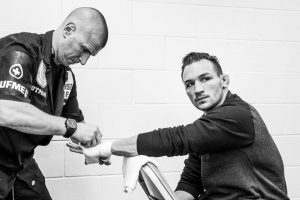 Michael Chandler: My name is Michael Chandler. I'm a professional mixed martial artists. I've been fighting now for almost ten years, and I live in Nashville, Tennessee.
For me, growing up was a lot of fun. I was the oldest of three boys, so you can imagine our life was very hectic. Our house was very loud and very chaotic. All three of us–me and my two brothers–have very similar personalities. We were all very active and rambunctious. My parents both worked two jobs to make sure that we had every opportunity that we needed. We were always in sports. We were always in activities. We were always having big family parties and get togethers. My dad was a carpenter. My mother was a secretary and worked at my grandpa's restaurant. My dad would pick up side jobs on the weekends, and if we weren't in the woods or on some kind of sports field somewhere, we were at home causing a ruckus and wrestling and pulling out the mattresses and getting in wrestling matches and all that kind of stuff. So, it was very fun, very chaotic.
We grew up Catholic. We went to Catholic Mass on Sundays, and we we did our First Holy Communion, and we did our Confirmation and all that kind of stuff. That was until eighth grade, and then for a couple of years we still went, but there wasn't that structure.
Then, right about the time I was a freshman, maybe a sophomore, I got invited to a spirit-filled church in St. Louis with my friend Kenny Bowen who I wrestled with.
Like most of us who go to church, we got invited by a friend… somebody that we trusted… someone that we knew or that we liked. There was something attractive about that person, and Kenny Bowen was one of those guys. He was a leader, and he was nice to people, and he was athletic, and he was accomplished; but he was also one of the coolest, most humble human beings I've ever met. I was like, "Heck yeah, I'll go. Let's go." So I started going to the youth group every week on Wednesdays. Kenny would pick me up, and we would go, and it was a lot of fun. I would come back home and tell my parents about it and my brothers about it.
"Like most of us who go to church, we got invited by a friend… somebody that we trusted… someone that we knew or that we liked." – Michael Chandler
Then, before you know it, my brothers wanted to go to the youth group, so we started going. My parents started seeing how much we liked it, and they said, "Well, hey, let's start going on Sundays." So then we started going to church on Sundays as a family right there in St. Louis at Twin Rivers Ministries.
Going For the Biggest Goal
You know, for me, I can sit here and say, "I'm a world champion, and I'm the man I am today" because of how hard I've worked — and I have worked extremely hard, and I have done a lot of the necessary steps to make sure that I am successful — but without two amazingly hard working parents who taught me… I was just taught from the very beginning, before I knew how to walk, my parents were instilling in me the hard work, you know? Hard work, determination, and achievement. If you work hard and you do the right things, you're going to achieve big things.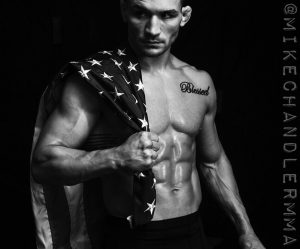 When I was a hundred pounds and five feet tall as a freshman in high school, football and basketball weren't exactly going to be my strong suit. I did play football, but I was the smallest guy on the team and didn't really play much, but wrestling was where I knew I was going to excel. My dad was a wrestler, and backing up… my dad actually had to quit wrestling because his parents said, "Either get a job or walk to school." So I think it was that also a burning desire for both of my parents to make sure that all of us kids had an opportunity to do great things in sports. But wrestling was something I knew I was going to excel at. I wanted to do it because my dad did it.
I started as a freshman and went to state and went to state all four years but kind of fell short every single year. Even my senior year, I was ranked #1 going into the state finals and lost in the state finals and thought my wrestling career was going to be shattered because I wasn't a state champion. It was that desire to continue to prove to myself that I could be a champion that kind of carried me into to college wrestling. I went to Mizzou and walked on at Mizzou. Everybody around me kept asking me, "Why? Why are you going to go try to wrestle Division 1? Why are you going to go to a school that you know you probably can't start? Why? Why don't you just take this scholarship to the Division 2 school or the junior college where you can maybe start? Maybe you could become an All-American or national champion."
I knew when I went into college I wasn't just going to major in wrestling. A lot a lot of guys on the team were coasting and majoring in general education or undecided and this and that, but I wanted to find a degree and a program that was really going to benefit me. For a while, I wanted to own my own financial firm. I wanted to handle people's finances. I wanted to learn from myself about real estate, about personal finances, about the stock market, about stocks and bonds, and all this kind of stuff because that's that's something that we don't learn.
So I chose a hard major because I knew it was going to better me as a person and better me as a man, and I tried my hardest to get good grades because that's what that's what my parents taught me.
This isn't a 40 or 50 year career. This is a 10 to 15 year career, and it's about that long. It's a blip on the radar of your full life, so you only get a very short amount of time to make the best decisions you possibly can with the information that you have.
"This isn't a 40 or 50 year career. This is a 10 to 15 year career…a blip on the radar of your full life, so you only get a very short amount of time to make the best decisions you possibly can with the information that you have." – Michael Chandler
There was this burning desire in me that I knew if I was going to wrestle, I wanted to wrestle at the highest level, and I wanted to put myself out there and really go for that big goal… the biggest goal I could possibly go for. And it was scary, but I walked onto the team, became a starter as a freshman, and was a four time starter, four time national qualifier, and All-American my senior year.
The First To Show Up, The Last To Leave
Like anything, you're just thrown into the fire in college wrestling, and college wrestling has very much made me the man I am today. And it's those four walls and that roof where you're stuck in that pressure cooker of a situation where it's "dog eat dog," and it's "may the best man win." I came in with like 12 guys in my recruiting class. Fast forward to graduation day, there was only about four or five of us left. But through that, of those 12 guys, probably six or eight of them were state champions from different schools: Pennsylvania, North Carolina, New York, California, etc.
They were all state champions, and here was this little guy from Missouri who was kind of a failure. He worked really hard, and he wasn't that talented… He didn't have those accolades. He didn't have those gold medals. He didn't have those state championship rings. He didn't have those pictures of him on the podium, and he wasn't the big man on campus. He was a guy who came in and really had to prove himself through grit and determination.
Coach Brian Smith was the head coach, and he and I had didn't really have a conversation at all. He didn't say two words to me the first 365 days I was there — and rightfully so. He's trying to run a top ten wrestling program, and I was one of those guys who needed to prove myself before I'd deserve to be to be looked at or deserve to be taken seriously as an athlete. And just through hard work and always being available — always being the last guy to leave and the first guy to show up — I got noticed, and I knocked off the guy who was ahead of me and became a starter.
So mixed martial arts is… it sounds… I mean, it is a brutal sport. It's it's one man versus another man or one woman versus another woman inside of a cage. There's rules, and there's a lot of things you can't do, but pretty much, it's a "no holds barred" type of fight. There's a mixture of boxing and kickboxing and wrestling and grappling and submissions, and there's the ground game, and there's the standup game, and there's knockouts, and there's submissions, and there's decisions, just like boxing. For me, it's a brutal sport. It's a bloody sport at times.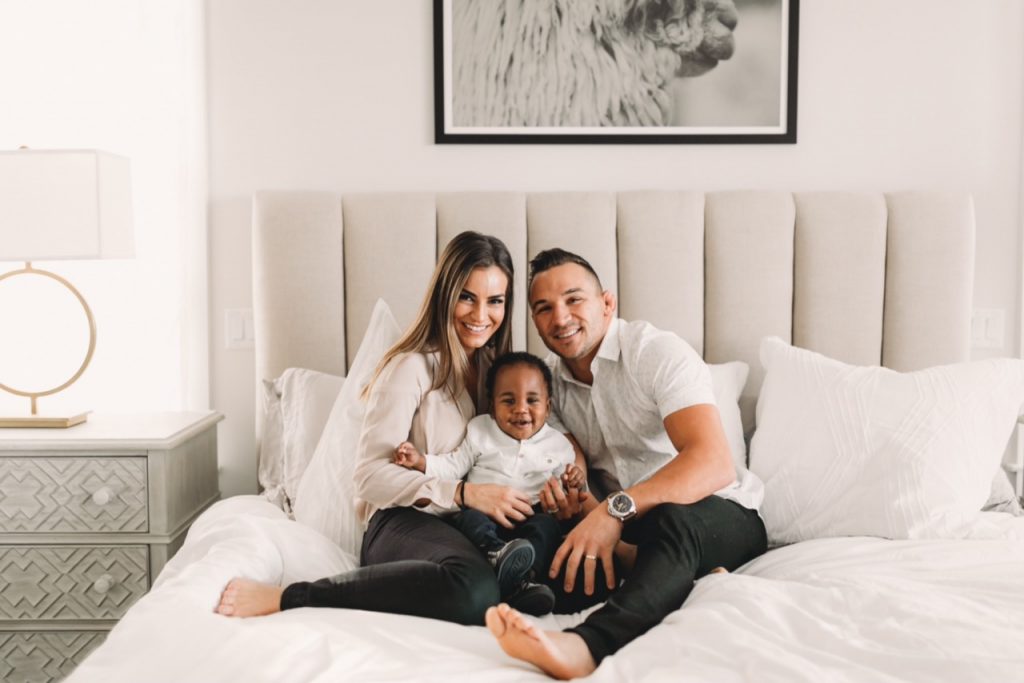 Called to A Bigger Platform
And now, it's very much transitioned into a mainstream sport with a lot of rules, and you see guys like myself who didn't have to fight. I could have used my degree — I got my college degree — and could have went off into the business world, but I decided that I was being called in this direction to be able to be put on a platform to reach people. It just so happens that I'm pretty pretty good at it, so I decided to fight, and the rest is history.
"I was being called in this direction to be able to be put on a platform to reach people." – Michael Chandler
The crazy thing about mixed martial arts is, I mean, I feel like I'm a pretty normal, humble, fun-loving guy, you know? We can sit here, and we can have a conversation. I could tell a joke, and we could laugh, and you can see that I'm a kind of normal guy, but when you see me in the cage, there's something different. You see that warrior spirit. You see that tenacity. You see that meanness come out. As soon as the fight is over, I go back to my normal self. I've never looked at a fight like I want to go in there, and I want to hurt somebody, or I want to do this or want to do that. I want to simply score points, and I want to finish the fight as dominant as possible because that's what God put put me on this earth to do.
"I want to finish the fight as dominant as possible because that's what God put put me on this earth to do. " – Michael Chandler
Even the sport of Mixed Martial Arts in the last 10 years has grown tenfold. It's the fastest growing sport in the world. It's on big networks like Spike TV and Fox and Fox Sports 1, and they're still doing million pay-per-view buys and all those kind kinds of things in this sport because people are drawn to the sport.
In It To Win It
With that, comes that platform that all of us get. I've spoken at churches. I've spoken at men's conferences. I've spoken at all kinds of things. There's not a certain demographic of this sport anymore. It used to be the the 18 to 30 year old males who maybe loved violence or were diehard sports fans, but now, I can't tell you how many fans have come up to me like, "Oh, you're my grandpa's, my grandma's favorite fighter." "Oh, you're you're my mom's favorite fighter." "Oh, my wife. She loves you. Could she take a picture with you." Or, "Oh, my kids. They watch it all the time. You are their favorite fighter." And it just goes to show you that this sport has grown, and with that growth comes platforms and with that platform comes impact on people.
I think the MMA environment is no different than being a firefighter or being a policeman or being in business or in the Stock Exchange on Wall Street. I mean, you're around men. You're living in a fallen world.
There's no more crazy, insane, nasty guys in MMA as there is in any other industry, especially these days. I mean, you're seeing so many more people get into this sport because they love the sport not because they love to fight. I mean, I look at myself like a dominant athlete who wants to go out there and put on a dominant performance. But like I said, I'm not in there to hurt anybody or show my manhood by beating somebody up, you know? It's just part of the sport, and it's part of the A plus B equals C… the black and white. These are the rules, and this is what you have to do to go out there and win. And that's what I do.
A Warrior and A Fighter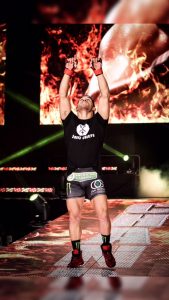 So there is always that, like, "Well how are you a Christian and you're going to beat people up?" If I can reach people by doing what I do — even though what I do might not be the way that you look at a Christian or the way that you think a Christian man should act or the kind of activities that a Christian man should engage in — who are you to look at that and say, "I'm doing something wrong" when thousands and hundreds of thousands of people are being impacted.
I can't tell you how many messages I get, how many people come up to me face to face, how many people I meet that say, "Man, I love the way you carry yourself. I love that you are a warrior and a fighter, but you're also a man of faith, and you're also a devoted husband and devoted father."
So, if I can be a husband and a father and a Christian man and have a platform to be able to reach people, and then also take that platform and use it inside of a cage in front of millions of people and see how the ups and downs and the wins and losses and the pain and the anguish and the triumph of this crazy MMA career can reach people…
You know, losing a fight the way that I lost the title was, in some ways, very, very tough, but in other ways, easier than losing a legitimate fight if you will. Losing a fight because of an injury is… sometimes you just chalk it up to bad luck. Sometimes you just chalk it up as a loss and a learning experience. I mean, the way that I lost it… it is crazy to talk to the heads of Belator or talk to people in the MMA world and see the reaction from so many fans and see see the messages pouring in and all that kind of stuff. I feel like I gained more fans and gained more clout and more respect in the sport by losing that fight than I did if I would have won. Being literally disabled in the cage with my left leg–the bottom half of my left leg literally paralyzed — and I couldn't move, and my ankle kept rolling, and my opponent was going after the leg and going after the leg and going after leg. But just standing in front of him and telling him, "Kick it." Look at him in the eyes as I say, "Go ahead. Kick it." It was almost like that warrior mentality of "You're going to have to kill me to to get me out of here." And I still landed the biggest punch in the fight. I still think and swear up and down that I would have won that fight on one leg had the ref not stepped in there. So it just gave me an opportunity.
Created In The Image of Almighty God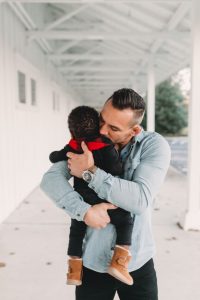 I've shown my power. I've shown my toughness through tough fights. I've shown my athleticism. I've shown my dynamic-ness, and I've shown how exciting I am. But that was another opportunity to show how tough I am and how resilient I am and how unafraid I am. And that's something that that men need to see. That's something if I have to take a loss to show tens of thousands of people that no matter what you're going through, no matter how disabled you feel, no matter how down in the dumps or how deep in the valley you are, your best days and blessed days are still out ahead of you, and if you keep fighting, good things are going to happen…so many people watch, and they see. They see how we carry ourselves, and they see the life that we live, and they see the accomplishments that we have, and it gives them permission to go out and do great things. It gives them permission to believe in themselves and believe that they were made and created in the image of an almighty God, and they deserved to be winners.
We were put on this earth to accomplish great things, and that's what I'm trying to do. And I've looked at myself too small way too many times, and I've continued to build myself up and try to get myself to a place where I am accomplishing such great things that so many people can be impacted by it.
"We were put on this earth to accomplish great things, and that's what I'm trying to do." – Michael Chandler
I mean, what an awesome scenario and what a great way to live out my testimony and have a platform.
Making Time For What's Important
In life we always talk about how busy we are, and people always think: "I'm so busy." And I try to never use that as a crutch of "I can't do this because I'm so busy." There there's so many men and women who have accomplished so many more things than I have with way busier schedules than I have. If you can wake up every morning knowing that someone's outworking you, and someone has less time than you, but they're doing more than you, and you keep that hunger–that motivation–you're going to do great things.
So I've always tried to hold myself to that high standard of "Make time for yourself. Make time for your faith. Make time for your family. Make time for your sport. Make time for your future." Having that Jesus Calling devotion with me, having it when I'm traveling and I don't have my big, thick study Bible, I can pop open the Bible app on my phone. I mean, these days, there is absolutely no excuse for not staying built up, not getting fed every single day. Whether it's YouTube, whether it's some website, whether it's your favorite motivational speaker, whether it's a podcast, whether it's a paperback book, there's no shortage of information and uplifting material out there. And Jesus Calling is one of the cornerstones of my life.
I first heard of Jesus Calling because my good friend Jeff Broin who owns Poet Energy up in South Dakota — they're one of my sponsors, American Ethanol — he sent us, myself and all the American Ethanol team, a Christmas gift. It was the Jesus Calling devotional. I've had it now for a couple of years, and it's crazy to remember reading it back the first year that I got it, and now fast forward a couple of years, and now I'm married for a couple of years now, and I have a son, and I've been through some ups and some downs in my career, and my different perspective of what that devotional was the first year and what it is now. You know, God's word is the same yesterday, today, and forever. So that first day that I read it compared to now, my perspective has changed, my outlook on life has changed in certain ways, and the words on those pages have impacted me in different ways. That's how I got introduced to it, and it's such an awesome, versatile, uplifting, daily ritual that I like to have. If I can open that book and read it and a certain thing gets spoken to me in my brain or in my spirit, and that one word can change your day for the better or change your perspective for the better. It's part of my daily routine.
Jesus Calling – November 16th
"As you look at the day before you, you see a twisted, complicated path with branches going off in all directions. You wonder how you can possibly find your way through this maze. Then you remember the One who is with you always, holding you by your right hand. You recall My promise to guide you with My counsel, and you begin to relax. As you look again at the path ahead of you, you notice that the peaceful fog has settled over it, obscuring your view. You can only see a few steps in front of you, so you turn your attention more fully to Me and begin to enjoy My presence. The fog is a protection for you, calling you back into the present moment. Although I inhabit all of the space and time, you can communicate with Me only here and now. Some day, the fog will no longer be necessary, for you will have learned to keep your focus on Me and on the path just ahead you. Psalm 73:23 & 24. First Corinthians 13:12.

If you can focus on responding to life instead of just reacting to life and respond like a champion and just continue that faith and that belief that good things are going to happen to you, then you can win the fight, even if you lose the first round or you lose the second round or you lose the third round or you lose the fourth round. You know you can continue in the later rounds in the next year or the year after or the decade after. If you continue to put in the work, if you continue to to be the best person you possibly can and the best version of yourself, your best days are going to be out ahead of you." – Jesus Calling
I look at myself like a guy who who loves to train, who loves to live his life right, who loves to be a husband and loves to be a father, and if I can help lead and help talk to people about the way I live my life, it's a bonus.
I want to continue to get big fights and continue to win fights and continue to prove that whether you're winning or whether you're losing, you're going to conduct yourself like a leader and like a man. And that's what I want to do. I want to inspire and motivate people as long as God will let this body hold up.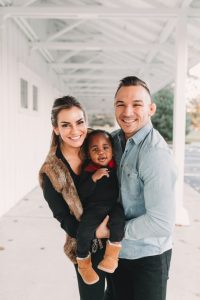 Narrator: To find out more about Michael Chandler, please visit MichaelChandler.com. We'll be right back with more of the Jesus Calling podcast after this message about a free offer from Jesus Calling!
---
Calendar Commercial: Are you looking for a way to keep track of your daily prayers along with Jesus Calling? The Jesus Calling family prayer calendar goes right along with your daily readings from Jesus Calling. Each day begins with a guided reflection, followed by a space for you to fill in your prayers of thanksgiving and special requests. You can get your free Jesus Calling Family Prayer calendar by visiting, JesusCalling.com/offers. Visit JesusCalling.com/offers to download your free Family Prayer calendar today.
---
Steel Lafferty's Priorities: Jesus, Family & Wakeboarding
Narrator: Our next guest is Steel Lafferty who is considered to the best wakeboarder in the world. As well as winning first place at the nationals, Lafferty dominated the Masters and PWT wakeboard competitions, gaining huge credibility among his peers along the way. Steel pushes himself to be the best by not only competing, but by creating innovative challenges for himself with never seen before wakeboard moves. Wakeboarding since he was 12 and competing since he was 14, Steel found himself in the spotlight at a very young age. The faith modeled to him by his family has kept him grounded, and his priorities in life are Jesus first, family second, with and wakeboarding coming in third.
Steel: I'm Steel Lafferty. I'm 25 years old. I'm a professional wakeboarder, and I live in Orlando, Florida.
I grew up in Fort Lauderdale, Florida. I have an amazing family, and we grew up doing everything together: sports, going to church, etc.
My faith was everything in my upbringing, and my family based everything back to Jesus and God and church. I grew up in a very loving and God-first environment. And that is huge for me because it gives me something to fall back on and to look forward to as well. It's just something I can always stay in. It's my constant.
"My faith was everything in my upbringing, and my family based everything back to Jesus and God and church." Steel Lafferty
I grew up wakeboarding on the water the whole time and on the boat. I would just go out and bond like that with my family and friends, so that's kind of my childhood. It was a bit different for me because when I was ten, I started wakeboarding just for fun. My dad brought a wakeboard home because it was a new cool thing. I started doing that, and it just clicked when I was about 12, and I was like, "I want to do this professionally." I didn't even know you could do something like that professionally, right? It was just like one of those weird things… It was a fun thing to be on the boat. And I was like, "I want to do this professionally." My parents backed me 100 percent and were like, "Whatever you want to do, we got you. We know you can do it."
They were so supportive of what I wanted to do wakeboarding wise. When you're 12, you really don't know what you want to do, but I just I wanted to quit everything else. I played baseball, soccer, tennis, and a bunch of other sports, and I was like, "I just want to wakeboard now." And they were like, "All right. Go for it." So they backed me.
There wasn't even a doubt in my mind. I just knew that's what I'm doing. This is my career. It's like I started when I was 12.
I think it was just that freedom, like you're behind a boat… it's you, the water, and you just kind of forget about everything else.
You have the freedom to pretty much do whatever you want on your board. There's no one telling you, "This is how you score points. This is how this works. This is your team." It's me out there, and I just I loved that. I got good at it pretty quick, and I liked the progression of it. My brothers were good at it, so I got to compete against them with it. I progressed a little faster than them, so I liked that even better. And then one day it just kind of clicked, and it started all coming together, and I fell in love.
I qualified for the Junior Pro Tour, right? And you can qualify when you turn 14. You have to be at least 14 to qualify. I qualified at 14, which is really cool. There was no jealousy with my friends or my family. It was all just excitement, at least that's how I perceived. You know, I'm not sure that age, but I could tell everyone was happy for me, and that's kind of where everything changed for me as an athlete and a student. Wakeboarding was one of the first things for me. You know, it was like God, family, wakeboarding, and then everything else. So it kind of got pushed up in the list. It was a lot of traveling, a lot of missing school and having to do homework in the car rides to tournaments, and stuff like that — which is cool, but completely different than a lot of people's childhood.
My school, Westminster Academy down in Fort Lauderdale, they worked with me and made it pretty much possible for me to miss a lot of school but stay up with the work. They're a good school. It's a small private Christian school, and they really help me be able to go to these contests without having to worry about if I'm going to fail Chemistry or something, which I almost did. But I made it through. But yeah, it's definitely a balancing act, but I was able to get through it.
Pushing The Boundaries of Your Sport
There's been a lot of firsts for me and for the sport of wakeboarding, and something that's big for me is to be an innovator in my sport and progress wakeboarding to the next level with tricks and whatever else it is. But recently, it's been with tricks. When I was 16, I landed the first ever wake to wake 1080, so that's three rotations, passing the handle — one, two, three, four… it's a lot of times. I can't even count. But yeah, and then you land with the handle behind your back, and I was the first ever to do that, and I was 16, which is like wild. I had just learned how to drive a car, and I'm inventing tricks on a wakeboard, so that was super cool.
So with wakeboarding, in any sport, things can stay stagnant, and it's so easy for someone to not want to push the boundaries of anything really because you're comfortable, and when you get comfortable in a sport, that's when it just gets plateaued. And always wanting to push and take things to the next level is kind of what drives me because I love to see progression. To be able to be in the history books and leave my footprint in wakeboarding, that's how I'm doing it is by innovating and creating new tricks. So when people think back, "Oh, the double mute mobe. Steel did that first." It's kind of cool to just know that that's there.
Aligning Yourself With The Right People
In wakeboarding it's a bit, in any sport really and in action sports especially, it's tough because there's a lot of partying. That's the hard thing about my sport is there's a lot of partying. There's a lot of stuff you can get mixed up in. There's a lot of good people in wakeboarding as well, though, and in action sports. And if you surround yourself with the right people, it's easy to not get caught up in it. And I think it's fine to go out and have fun with your friends and celebrate a good day or a good week or something and have fun, but still glorify God in what you do. I think there's a good balance you have to find and really surround yourself with the right people because if you're out there doing it alone, there's no way you can do it. It's hard to want to stay in the Word and do it when you have these opportunities to go party with crazy people, so you really got to find the right group of people.
"It's hard to want to stay in the Word and do it when you have these opportunities to go party with crazy people, so you really got to find the right group of people." – Steel Lafferty
When We Fall, God Picks Us Back Up
It's just awesome to have a base that I have with my family and with always kind of grown up in church. And trust me, for a few years I didn't want to go to church, and I didn't want to do the whole Christian thing. And I didn't fall out of my faith. I always believed God and Jesus, but it took a little bit of falling down and making a bunch of mistakes to really be like, "Alright, God, You're really in control." And whenever I'm in the Word, things are going way better.
Whenever I'm out of the Word, I feel like I'm scrambling to figure out what's going on and why is this happening and why am I so stressed out. Why do I have so much anxiety? So just to really think on like, "Hey, Steel, when you're in the Word, things are good: you're happy and you understand what's going on. Whenever you start — and I find this kind of hard too — when you're doing really well at your top, you kind of lose track of why you got there, and you're like, "Okay, cool, everything's going good. I don't need to be in the Word." You don't think to yourself, "I don't need to be in the Word," but it just kind of like fades out, you know? And I think God always has something that hits you and says, "Hey, you're not in the Word. Come back to me. I want you in the Word, and I want you to start praying again." So something always happens — and it could be a little thing or could be a big thing — but He always gets me back, and then I realize everything's better when I'm reading about Him and talking to Him more.
Sometimes it's hard staying in the Word, and a devotional is the easy way to do it. It gets you thinking, and it's not just you reading the Bible with no reference to anything.
"Sometimes it's hard staying in the Word, and a devotional is the easy way to do it." – Steel Lafferty
Jesus Calling, I heard a little bit about it, and my good friend Brian White hit me up and said, "Hey! Are you into Jesus Calling?" I was like, "No. I mean, I've been looking for devotional."
So he sent me the book, and I actually read — I felt guilty because I read more than what I was supposed to read. I was like, "Can I just catch up to where I am?" Sometimes you're just feeling it, and you want to learn, you want to read, you want to stay in. But yeah, I read a lot of the devotionals, and it's easy. It really is. It makes it easy for you to want to read and stay in the Word and pray. And it's something that you can just wake up and be like, "Alright, I'm going to have breakfast, and I'm going to read Jesus Calling and pray." And you can just start your day off with it, you know? I think it's good to always start it in the morning, for me at least, just because I can remember that right when I wake up: God loves me; here's the passage. This is what I can work on today, and that's with me throughout the whole day.
First off, my grandma is going to love this. She's going to listen to this devotional every morning now probably, so this for you.
Jesus Calling – September 29th
"I'm with you and all around you and circling you in golden rays of light. I always behold you face to face. Not one of your thoughts escapes my notice because I am infinite. I'm able to love you as if you and I were the only ones in the universe." – Jesus Calling
Wow, that's cool.
Can I just talk about that for a second? That's cool if you really think about that. There's so many people in the world, and He's telling you right then, "I can love you like there's no one else in the world–like it's just Me and you. Let's get going."
"Walk with me in intimate love steps, but do not lose sight of my majesty. I desire to be your closest friend, yet I'm also your sovereign Lord. I created your brain with the capacity to know me as a friend and Lord simultaneously." – Jesus Calling
Wow, that's cool.
"The human mind is the pinnacle of My creation, but so few use it for the primary purpose of knowing Me. I communicate continually through my Spirit my Word and my Creation. Only humans are capable of receiving me and responding to my presence. You are indeed fearfully and wonderfully made." – Jesus Calling
That's awesome. And then the verses to go along with that are Psalm 34:4-7, 2 Peter 1:16-17, John 17:3, and Psalm 139:14.
That's so cool, though, because if you really think about the brain and how it's made, and you think about like how we were created… there has to be a Creator.
The Golden Hour of God's Creation
"I think the most spiritual for me is when I go ride, and we call it the 'Golden Hour.'" – Steel Lafferty
We call it the "Golden Hour" because it's when the sun is dropping, and it just lights up the whole lake gold. It's incredible. So I'm out there riding on what looks like a lake of gold when the sun is right there. That's when I see how beautiful God's creation is, and I'm just like, "How can there not be a God. Look at this."
It's all about giving my glory back to God. It's really not for me even though I land some, and I'm like, "Oh, yeah, I just did that." At the end of the day, it's God that wanted me here, He preordain it, and I'm doing kind of what He set out for me to do. So to say I've done all this by myself is so wrong because I've had so much help, and God put so many people in my life to get me to where I am.
It's been really just a crazy ride, and I've been having a lot of fun just traveling the world and wakeboarding and making a living that way and sharing what God has done for me with as many people as I can.
Just knowing I have a Creator that is graceful and forgiving is incredible.

Narrator: You can check out Steel Lafferty and some of his wakeboarding videos at SteelLafferty.com
——————————————–
Narrator: Next time on the Jesus Calling podcast, we have a special guest returning to the podcast. Roma Downey is the beloved star of the classic hit TV series "Touched By An Angel." She and her husband Mark have been a force for faith in Hollywood with faith centered productions that have touched millions. Roma has now written a book entitled Box of Butterflies: Discovering the Unexpected Blessings All Around Us. Roma shares what "discovering unexpected blessings" has looked like in her own life.
Roma Downey Preview: Many years ago, when I was just 10 years of age, my mother unexpectedly died. And as a child, it was an incredibly traumatic and heartbreaking event, as you can imagine.
My father took me up to the city cemetery in Derry, my hometown. We brought up a bunch of pansies because those were her favorite flowers.
She always said they looked like little butterflies. And as I knelt down to place a bunch of pansies on her grave, a real butterfly flew up from behind the tombstone, and my father said, "Would you look at that wee butterfly over there? That could be your mother's spirit." And when I tell you that that pierced the darkness and brought me so much comfort as a child to think that I wasn't alone, that I wasn't having to deal with this loss by myself, and that God was with me.
Call to action: Do you love hearing great stories of faith each week via the Jesus Calling Podcast? We want to hear from you. If you haven't already subscribed to the Jesus Calling Podcast, visit the Jesus Calling page at iTunes.com and hit the subscribe button. While you're there, we'd love for you to leave us a review and tell us how you feel about the show and what future guests you'd love to see. Your reviews and subscription help us share these stories of faith to more people who need the hope and encouragement of Jesus Calling. If you have your own story to share, we'd love to hear from you. Visit JesusCalling.com to share your story today!
SaveSaveSaveSave
SaveSave
SaveSaveSaveSaveSaveSave
SaveSave
SaveSave